Tuesday
Student dress up for Railsplitter Day at school.

Judging of floats, 3:30 p.m.
Wednesday

Students dress up for Presidential Day at school. (Senior dress-up day; juniors wear blue; sophomores wear white; freshmen wear red.)

Senior class picture, 7:45 a.m.

Cookout, 5:30 p.m. by the football concession stand

Wacky Olympics, 6:30 p.m. on the football field (in the gym if raining)
Thursday

Students dress up for Top Hat and Beard Day at school.

Bonfire and snake dance, 8 p.m. at the football field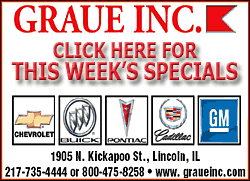 Friday

Students dress up for Watermelon Day at school (red and green clothing).

Pep assembly, 12:45 p.m. in the gymnasium

Early dismissal after assembly

Homecoming parade through downtown Lincoln at 2:30 p.m. Lincoln resident and historian Paul Beaver has been selected as this year's grand marshal.

Lincoln Railers vs. Springfield Southeast Spartans, 7 p.m.
At halftime, this year's homecoming royalty and class float winners will be announced.
Saturday
Homecoming dance, 8-11 p.m. in the gymnasium
[Report from file received from LCHS]