Speed limit increasing for truckers in Illinois

Send a link to a friend
[December 07, 2009] SPRINGFIELD (AP) -- The Illinois Department of Transportation says that early next year it will remove 55 mph speed-limit signs aimed at truckers along rural interstates, as the speed limit for trucks that weigh more than 4 tons increases to 65 mph.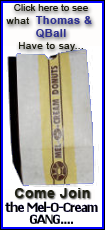 Transportation Department spokeswoman Paris Ervin says workers will begin removing and modifying the signs the week of Jan. 4. Ervin says the effort should cost about $75,000. The 55 mph signs need to be removed on about 1,800 miles of Illinois roads.

Enforcement of the new speed limit for truckers starts Jan. 1. The Illinois State Police says that to avoid confusion, it asked the state transportation department to wait to change the speed limit signs until after that date.

Copyright 2009 The Associated Press. All rights reserved. This material may not be published, broadcast, rewritten or redistributed.