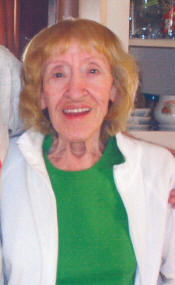 Helen Merreighn

Send a link to a friend
[December 31, 2009] Helen J. Merreighn, 81, of Lincoln, died Wednesday, Dec. 30, 2009, at 8:42 p.m. at her home.
Her funeral will be at 10:30 a.m. Tuesday, Jan. 5, at Fricke-Calvert-Schrader Funeral Home in Lincoln. Visitation will be one hour prior to the service.
Burial will be in Zion Cemetery.
Mrs. Merreighn was a homemaker.
She was born Jan. 26, 1928, a daughter of Fred W. and Pearl Leona Howard Wade. She married Francis Merreighn on Oct. 24, 1976, in Lincoln.
She is survived by her husband, in Lincoln; her children, Robert Frye of Lincoln, Mary Frye of Lincoln, Helen Taft of Lincoln, Charles Grimsley of Springfield, John (and Joyce) Grimsley of Lincoln and Joe Grimsley of Lincoln; stepchildren Ronnie (and Diane) Merreighn of Chestnut, Patricia (and Leroy) Cobb of Lincoln, Greg Merreighn of Lincoln, Danny Merreighn of Lincoln, Jack (and Roberta) Merreighn of Lincoln and Francis (and Kathy) Merreighn Jr. of New Holland; 24 grandchildren; and many great-grandchildren and great-great-grandchildren.
She was preceded in death by one daughter, Kandy Frye; a stepdaughter, June Krook; five brothers, Fred "Buster" W., Jess, John, Frank "Ben" and Clayton Wade; and two sisters, Mary Webb and Alberta McCleary.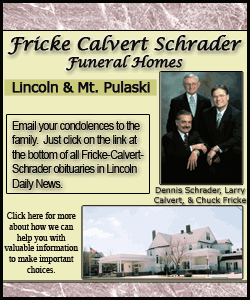 She was a member of Lincoln Christian Church.
Memorials may be made to the Merreighn Family Fund.
Click here to send a note of condolence to the Merreighn family.