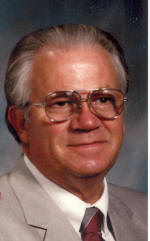 Tom BeVard

Send a link to a friend
[January 12, 2009] Thomas E. BeVard, 76, of Lincoln, died Sunday, Jan. 11, 2009, at 11:12 a.m. at The Christian Village.
His funeral will be at 2 p.m. Wednesday at Fricke-Calvert-Schrader Funeral Home in Lincoln, with Jim Allen officiating. Visitation will be one hour prior to the service.
Burial will be in New Union Cemetery.
Mr. BeVard was a retired car salesman. He worked for Graue Chevrolet in Lincoln and was owner and operator of Tom BeVard Chevrolet in Potomac. After his retirement he was employed by Fricke-Calvert-Schrader Funeral Home in Lincoln, where he assisted with visitations and funerals.

He was born Oct. 31, 1932, in Atlanta to Edward and Martha Young BeVard. He married Carolyn D. Merrill on July 14, 1951, in Lincoln. She preceded him in death on March 16, 2003.

He is survived by three daughters, Jan (and Jerry) Pickett of Mount Pulaski, Jill (and Bobby) Awe of Lincoln and Joy (and Mark) Coyne of Perth, Ontario; two brothers, Ed (and Marilyn) BeVard of Aurelia, Iowa, and John BeVard of Mount Pulaski; eight grandchildren; and 12 great-grandchildren.

He was also preceded in death by his parents; one brother, Bill Johnson; and a son-in-law, Melvin Buchholz.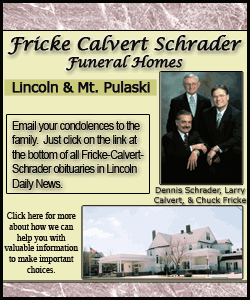 He was a member of Lincoln Christian Church and a former member of the Lions Club in Lincoln. He participated in the Railsplitter Coin Club, was a Boy Scout leader and coached youth baseball.
Memorials may be made to Lincoln Christian Village or Lincoln Christian Church.
Click here to send a note of condolence to the BeVard family.