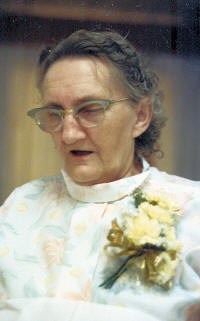 Eleanor Hutchcraft

Send a link to a friend
[January 20, 2009] NEW HOLLAND -- Eleanor B. Hutchcraft, 92, of New Holland, died Monday, Jan. 19, 2009, at 7:51 a.m. at her home.
Visitation will be 5-7 p.m. Wednesday at Fricke-Calvert-Schrader Funeral Home in Lincoln. Her funeral will be at 10:30 a.m. Thursday at the funeral home, with the Rev. Robert Long officiating.
Burial will be in Harmony Cemetery, Beason.
Mrs. Hutchcraft worked at Stetson China and at Lincoln Developmental Center, where she was a clothing aide.
She was born March 4, 1916, at Grantsburg, Wis., to Carl George and Christine Eide Jensen. She married Carol "Pete" Hutchcraft on Dec. 1, 1934, at Grantsburg. He preceded her in death on March 23, 1998.
She is survived by five daughters, Eloise Slayton of Lincoln, Patricia (and Leroy) Welker of Kingston, Ga., Laura (and Marvin) Riewerts of Hillsdale, Sharon (and Ronald) Shull of New Holland and Karen Jo Anzara of Kingston, Ga.; one sister, Eileen (and William) Tolbers of Hewitt, Minn.; a sister-in-law, Violet Jensen of Rockford; a brother-in-law, William Rumps of Garden City, Mich.; 27 grandchildren; 39 great-grandchildren; and six great-great-grandchildren.
She was also preceded in death by two sons, George and Gene Hutchcraft; one daughter, Janice Hutchcraft; one granddaughter; three brothers, Alton, Ellsworth and Melvin Jensen; and two sisters, Melva Rumps and Arnelia Carlson.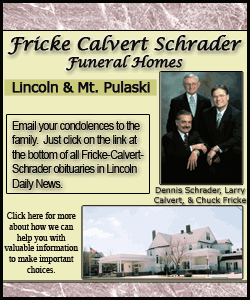 She was a member of the English Lutheran Church of Grantsburg, Wis.
Memorials may be made to St. Jude Children's Hospital, March of Dimes or any children's organization.
Click here to send a note of condolence to the Hutchcraft family.