M. Lillian Bliss

Send a link to a friend
[September 21, 2009] M. Lillian Bliss, 86, of Lincoln, died Saturday, Sept. 19, 2009, at Abraham Lincoln Memorial Hospital.
Her graveside service will be at 11 a.m. Wednesday at Lawndale Cemetery, with Father James Cravens officiating.

Holland Barry & Bennett Funeral Home is handling arrangements.

Mrs. Bliss was employed by General Telephone until her retirement in 1980.

She was born Oct. 26, 1922, in Blueford, W.Va., to Claude and Ethel Johnston Ireson. She married Archie B. Bliss Jr. on March 17, 1944, in Williamson, W.Va. He preceded her in death on Jan. 8, 2000.

She is survived by two nieces; friends Linda Bree of Lincoln and Chris and Joy Gray of Lincoln; and her many friends at Trinity Episcopal Church and Cracker Barrel.

She was also preceded in death by her son, Archie B. Bliss III; her sister, Beryl Mechtly; and her dear friend Pat Chrismore.

She was a member of Trinity Episcopal Church in Lincoln.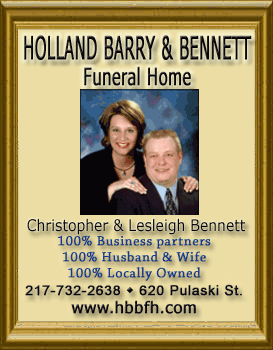 Memorial donations may be made to her church.
Click here to send a note of condolence to the Bliss family.