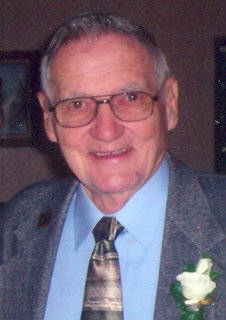 Paul Verderber

Send a link to a friend
[September 26, 2009] Paul Joseph Verderber, 86, of Lincoln, died Friday, Sept. 25, 2009, at 12:50 p.m. at his home.
Visitation will be 2-5 p.m. Sunday at Fricke-Calvert-Schrader Funeral Home in Lincoln, following the rosary at 1:45 p.m.
His funeral will be at 10 a.m. Monday at Holy Family Church, with the Rev. Jeffrey Laible officiating.
Burial will be in St. Mary's Cemetery with military rites.
Mr. Verderber was a retired self-employed contractor in tile and linoleum. He had done that work in many homes and businesses in Lincoln and Logan County since 1955. He previously worked for Feldman and Co.
He was a U.S. Navy veteran of World War II. He served in the Pacific Theater on the USS Laurens, APA-153, as a radioman.
He was born May 30, 1923, at Deaconess Hospital in Lincoln to John and Augusta M. Hassenstab Verderber. He married Betty Burns on Nov. 27, 1947, at St. Patrick's Church in Lincoln.
He is survived by his wife, of Lincoln; his children, Bob Verderber of Middletown, John (and Theresa) Verderber of Springfield, Theresa (and Matt) Young of Lincoln, Nancy (and Jim) Martin of St. Louis, Mo., Chuck (and Lynda) Verderber of Vermont, Katie (and Jeff) Stollhans of Michigan and Barbara (and Kent) Bowlby of Lincoln; his grandchildren, Michael, Jacqueline and Laura Verderber, Alyse and Andrew Verderber, Michelle Derek (and Howie Fuiten), Erik and Kyle Young, Liesl, Louisa and Jens Ulrich-Verderber, Anna Stollhans, and Reuben and Edward Bowlby; his stepgrandchildren, John and Tony Martin, Travis and Tera Bowlby; and a great-grandson, Carson Fuiten.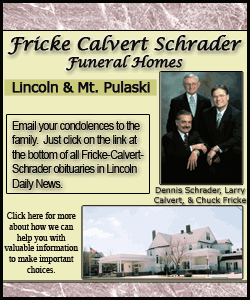 He was a member of Holy Family Church.
He enjoyed his hobbies of carpentry, photography, bowling, woodcarving and bass fishing. He received the "Favorite Artist" award by vote at the first Lincoln Art Fair for his original bird and duck carvings.
He supported his children and grandchildren in their many school activities. He attended and enjoyed their basketball, baseball, soccer and football games and track and field events.
Most of all, he was a loving husband and father.
Memorials may be made to Carroll Catholic School or Home Care of Central Illinois
Click here to send a note of condolence to the Verderber family.