Isabel Stout

Send a link to a friend
[August 11, 2010] LINCOLN -- Isabel M. Stout, 95, of Lincoln, died Wednesday, Aug. 11, 2010, at 12:05 a.m. at St. Clara's Manor.
Her graveside service will be at 10 a.m. Friday at Lawndale Cemetery. Her niece, Dawn Begolka, will officiate.
There is no visitation.
Fricke-Calvert-Schrader Funeral Home in Lincoln is handling arrangements.
Mrs. Stout worked in the laundry department at Abraham Lincoln Memorial Hospital for 15 years, worked as a store clerk for John Green and farmed with her husband in the Elkhart and Lincoln areas.
She was born Nov. 4, 1915, in Lincoln. Her parents were Clarence and Mamie Cuzick Ackerson. She married Earl H. Stout on July 18, 1932, in Clinton. He preceded her in death on Nov. 21, 1974.
She is survived by two brothers, Robert Ackerson of Lawndale and Jack (and Margaret) Ackerson of Lincoln; and a brother-in-law, Frank Altman of Fort Walton Beach, Fla.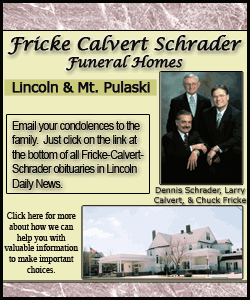 She was also preceded in death by one son, Earl Thomas Stout, and two sisters, Erma Naugle and Essie Marie Altman.
Memorials may be made to Memorial Home Hospice or St. Clara's Manor.
Click here to send a note of condolence to the Stout family.