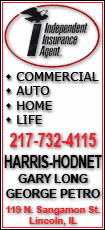 On everyone's mind these days and just one week out is the Lincoln Art & Balloon Festival. Scheduled events begin Friday, Aug. 27, and go through Sunday, Aug. 29. Organized by the Lincoln/Logan County Chamber of Commerce, it is the biggest annual event of the year, attracting thousands of visitors to Logan County.

This year's events and activities have once again been expanded and are spread throughout town from the airport to downtown to Postville Courthouse. Kicking off with a parade, features include hot air balloons, the juried art fair, Illinois wine tasting, a children's art fair, an 1800s craft show, professional wrestling, carnival, rock wall/dual bungee jump, paintball, bounce house, craft and flea market, food concessions, and musical entertainment of all varieties.
Abraham Lincoln Tourism Bureau of Logan County director Geoff Ladd reported to the board that the bureau has just completed a five-year strategic plan and an annual budget.
Reviewing tourism activity, Ladd said that hotel receipts are rebounding and this week motels are seeing state fair usage. The measurements are a comparative to prior years. A year ago the director forecast a slump that was seen a couple of months ago, which was due to a brief exceptionally high period last year.
Ladd said the county can look forward to continued tourism-related successes with a number of upcoming special events: the Art & Balloon Festival at the end of this month, the National Railsplitting Contest and Festival a couple of weeks later, and one day after the Atlanta and the Mount Pulaski fall festivals is the Fall Farm Day on Sept. 12.
Featured during this year's Fall Farm Day open houses, Ladd said, is the new Lincoln Corn Maze, shaped like a hot air balloon.
Ladd reported with pleasure about site development and improvements continuing on Lincoln's west side, both at The Mill and the Abraham Lincoln covered wagon. Another workday was completed at The Mill last weekend and a couple of grants have been submitted for new windows and flooring.
Considerable maintenance has been under way at the giant Lincoln wagon. Volunteers have been staining boards, painting, re-covering the wagon and adding landscaping materials around the area to create a park-like atmosphere.
"Best Western has been footing the bill for recent improvements," Ladd said. He's thankful for their enthusiasm and support.
He added that a new wayside exhibit for the wagon should be in place in about three months.
___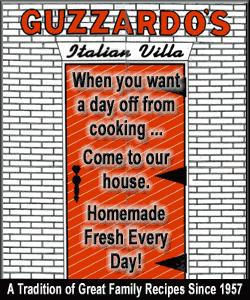 Lincoln & Logan County Economic Development Partnership director Joel Smiley reported the following:
He is working with three wind energy companies and they all have meteorological test towers up. He expects that applications for two of these companies will begin coming in this fall and the other later next year.

A draft of the Logan County Economic Development Master Plan has been completed and is scheduled to be presented to the public on Sept. 30 at Lincoln Christian University from 6 to 8 p.m.

A $99,000 grant application has been submitted for a business incubator. The grant is through USDA for national funding. Sen. Dick Durbin and congressman Aaron Schock are providing support letters for this.

Partnership consultants came across a grant that the city of Lincoln could request. The Housing and Urban Development grant would look for mixed uses for the former LDC grounds, including housing, and how its development could be intertwined with the surrounding community.

The partnership director would help write the grant application, which is due Aug. 23.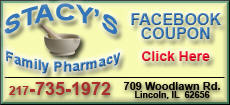 The partnership just had its first audit completed. Smiley said the purpose of the audit was "to show that your dollars are going to where we say they are going to go." He said it came back as a good, clean audit.

Through its business incubator program, The Center of Success plans to launch a competition. The goal is to raise $5,000 in prize money for the winner, and $3,000 has already been raised. The "Best Business Plan" contest would begin this fall and wrap up around April.
[By JAN YOUNGQUIST]