Joan Morgan

Send a link to a friend
[January 07, 2010] EMDEN -- Joan E. Morgan, 92, of Emden, died Tuesday, Jan. 5, 2009, at 7:35 p.m. at Abraham Lincoln Memorial Hospital in Lincoln.
Her funeral will be at 2 p.m. Saturday at St. Peter Lutheran Church in Emden, with the Rev. David L. Hofer officiating. Visitation will be from noon until 2 p.m. at the church.
Burial will be in Hartsburg Union Cemetery, Hartsburg.

Arrangements are by Fricke-Calvert-Schrader Funeral Home in Lincoln.

Mrs. Morgan currently was a correspondent for the Bloomington Pantagraph, Lincoln Courier, Pekin Daily Times and Peoria Journal-Star. She was formerly mayor of Emden for 12 years. In the 1940s she worked at Emden News and as a telephone operator. She also worked as a bookkeeper for Marten Motors in Emden and retired from Farmers State Bank of Emden, where she worked as a teller.

She was born Feb. 22, 1917, in Lincoln to Orla and Jennie Rademaker Hitchcock. She married Earl Frederick Morgan on Sept. 12, 1941, in Union, Mo. He preceded her in death on April 13, 1992.

She is survived by one daughter, Jackie Bruketa of Lincoln; one son, Don Morgan of Emden; two grandchildren; and two great-grandchildren.

She was also preceded in death by one brother, Raymond Hitchcock. She was the last of her immediate family.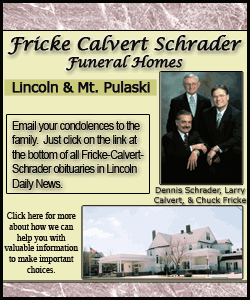 Joan was a volunteer for the SHARE food program and Lincoln Food Pantry. She was a member of the Legion Auxiliary of Emden.
Memorials may be made to St. Peter Lutheran Church of Emden, the Historical Society of Emden or to the family.
Click here to send a note of condolence to the Morgan family.