E. Opal Poffenbarger

Send a link to a friend
[January 07, 2010] MOUNT PULASKI -- E. Opal Poffenbarger, 91, of Mount Pulaski, died Thursday, Jan. 7, 2010, at 11:17 a.m. at Vonderlieth Living Center.
Her funeral will be at 11 a.m. Monday at Fricke-Calvert-Schrader Funeral Home in Mount Pulaski, with Bill Shanle officiating. Visitation will be from 9 to 11 a.m. at the funeral home.
Burial will be in Lake Bank Cemetery.
Mrs. Poffenbarger was a homemaker.
She was born March 30, 1918, in Hawesville, Ky., to Webster and Delilah Craig Butler. She married Oscar Poffenbarger in Decatur on Aug. 28, 1938. He preceded her in death on Dec. 23, 1998.
She is survived by two sons, John (and Janice) Poffenbarger of Mount Pulaski and James (and Cheryl) Poffenbarger of Mount Pulaski; two daughters, Nancy (and Bill) Shanle of Mount Pulaski and Janet (and John) Cherry of Elkhart; eight grandchildren; and seven great-grandchildren and two step-great-grandchildren.
She was also preceded in death by an infant daughter, Wanda; six sisters; three brothers; and one grandson.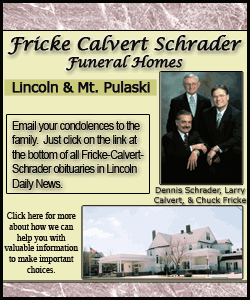 She was a member of Buffalo Christian Church.
Memorials may be made to Mount Pulaski EMS or Vonderlieth Living Center.
Click here to send a note of condolence to the Poffenbarger family.