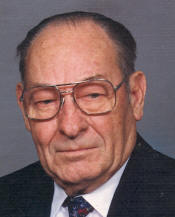 John Chambers Sr.

Send a link to a friend
[July 12, 2010] LINCOLN -- John W. Chambers Sr., 91, of Lincoln, died Saturday, July 10, 2010, at 9:35 a.m. at St. Clara's Manor.
Visitation will be 4-7 p.m. Tuesday at Fricke-Calvert-Schrader Funeral Home in Lincoln. His funeral will be at 10 a.m. Wednesday at the funeral home, with Pastor Maurice Stribling officiating.
Burial will be in Richmond Grove Cemetery, New Holland.

Mr. Chambers retired from the Internal Revenue Service in Springfield as an Exec III in operations. He previously was employed with Central Illinois Electric and Gas, Lincoln Glass Bottle Co., Lehn & Fink Products Corp., Logan Farm Service Co., Ford County Service Co. in Melvin as assistant manager, Marion County Service Co. as general manager, and as executive secretary for Morgan County Farm Bureau. He was a real estate agent for Werth Realtors and farmed for a number of years at New Holland.

Serving in the U.S. Air Force during World War II, he was a pilot and attained the rank of captain.

He was born Feb. 21, 1919, in New Holland. His parents were Jim and Annabelle Chambers. He married Ethel M. Osborn on April 29, 1942, in Victoria, Texas. She preceded him in death on Jan. 20, 1999.

He is survived by one son, John (and Shirley) Chambers Jr. of Lincoln; one daughter, Linda (and Joe) Aiello of Houston, Texas; five grandchildren, Jason Chambers of Lincoln, Joseph (and Miranda) Aiello Jr., Michael Aiello, Christi (and Landon) Knapp and Christopher (and Elizabeth) Aiello, all of the Houston, Texas area; and 10 great-grandchildren.

He was also preceded in death by one daughter, Mary Anne.

He was the last of his immediate family.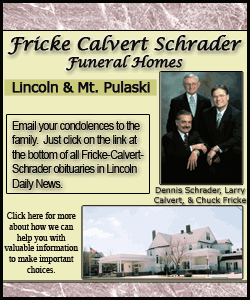 He was a member of Cumberland Presbyterian Church in Lincoln.
He was a master Mason in the Morgan County Lodge.
He was a graduate of New Holland Community High School and Lincoln College, where he received his degree in business administration and mathematics.
Memorials may be made to the American Heart Association.
Click here to send a note of condolence to the Chambers family.