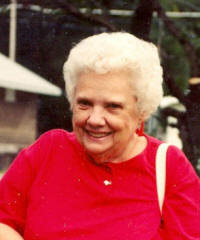 Emma Robbins

Send a link to a friend
[October 15, 2010] LINCOLN -- Emma Marie Robbins, 90, of Lincoln, died Friday, Oct. 15, 2010, at 10 a.m. at The Christian Village.
A memorial service will be at 11 a.m. Monday at Zion Lutheran Church in Lincoln, with the Rev. David P. Ramirez officiating. Visitation will be 9-11 a.m. at the church.
Burial will be in Zion Cemetery.

Arrangements are by Fricke-Calvert-Schrader Funeral Home in Lincoln.

Mrs. Robbins worked at Lincoln Garment Factory for many years.

She was born Jan. 20, 1920, in Lincoln. Her parents were Michael and Amalia Klask Dutz. She married Harold M. "Curly" Robbins in Lincoln on Sept. 11, 1939. He preceded her in death in 1994.

She is survived by two sons, James W. Robbins of Lincoln and Thomas G. (and Frances) Robbins of Columbus, Ohio; two sisters, Helen French and Betty Eaton, both of Lincoln; four grandchildren; and three great-grandchildren.

She was also preceded in death by three brothers, Charles, Lewis and Mick Dutz; and one sister, Louise Terrey.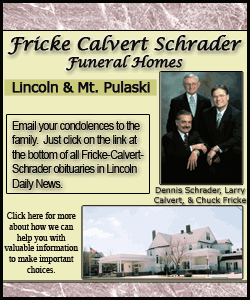 She was a member of Zion Lutheran Church of Lincoln.
Memorials may be made to the Alzheimer's Association, Zion Lutheran Church of Lincoln or Lincoln Christian Village.
Click here to send a note of condolence to the Robbins family.