Douglas Hullinger

Send a link to a friend
[October 16, 2010] LINCOLN -- Douglas A. Hullinger, 61, of Lincoln, died Thursday, Oct. 14, 2010, at the VA Medical Center in Indianapolis, Ind.
Visitation will be 5-7 p.m. Tuesday at Holland Barry & Bennett Funeral Home in Lincoln.

His graveside service will be at noon Wednesday at Camp Butler National Cemetery in Riverton, with a military detail.

He proudly served his country in the U.S. Army.

He was born Dec. 6, 1948, in Lincoln. His parents were Clyde and Edna Fullriede Hullinger.

He is survived by his daughters, Lynnette Hullinger-Lee of Springfield and Jo Ellen Benson (and Eric) of Pekin; four grandchildren, Jourdan Hullinger, Nathaniel Cobb, Taylor Benson and Chase Benson; two brothers, Galen Hullinger of Petersburg and Mark Hullinger of Springfield; and his caretakers and very dear friends Debbie Graue and Tim Heath, both of Lincoln.

He was preceded in death by his parents.

He enjoyed bowhunting, shooting pool, loved Corvettes and was an avid artist. His drawings grace the walls of VA medical centers, brightening the way for other veterans and their families.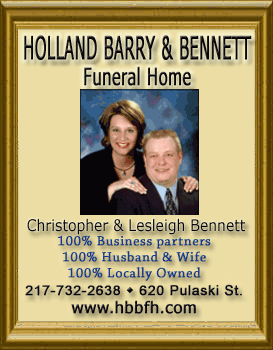 Memorial donations may be made to the VA Medical Center in Indianapolis, Ind.
Click here to send a note of condolence to the Hullinger family.