Send a link to a friend
[May 18, 2011] LINCOLN -- Carol J. Logan, 89, of Lincoln, died Tuesday, May 17, 2011, at 12:25 a.m. at St. Clara's Manor.
Her funeral will be at 11 a.m. Saturday at Fricke-Calvert-Schrader Funeral Home in Lincoln, with Tim Searby officiating. Visitation will be one hour prior to the service.
Burial will be in Zion Cemetery.
Mrs. Logan worked as a registered nurse at Lincoln Developmental Center and also at Abraham Lincoln Memorial Hospital.
She was born on Feb. 28, 1922, in Canton. Her parents were Robert and Luella Parks Crabtree. She married Thomas Eldon Logan on Oct. 27, 1945, in Lewistown. He preceded her in death on Nov. 26, 2003.
She is survived by two sons, Phillip Logan of Lincoln and Alan (and Chris) Logan of Burlington, Wis.; one daughter, Laura Logan of St. Louis, Mo.; four grandchildren, Beth Logan of Lincoln, Rebecca (Kurt and) Frerichs of Litchfield, and Adam and Ben Parli of St. Louis, Mo.; and one great-grandchild, Caleb White of Lincoln.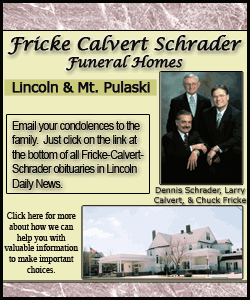 She graduated from Canton High School in 1940 and from Graham Hospital School of Nursing in 1943.
Memorials may be given to Cumberland Presbyterian Church or the donor's choice.
Click here to send a note of condolence to the Logan family.