posted daily OVER THE NOON HOUR (CDT)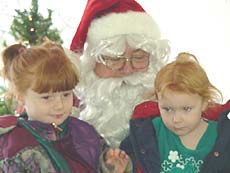 [Tiffany and Callahan Decker of Hartsburg and Stephen and Richard Brown of Lincoln take their turns with Santa at the Mainstreet hosted event, Cookies and Cocoa with Santa]
---
Click here for news from other
sources regarding the presidential election
---
Lincoln College Museum
ready for Christmas
[DEC. 9, 2000] "Christmas at the Museum" is the theme during the 2000 Christmas season at the Lincoln College Museum.
---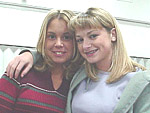 Lunchtime policy
[DEC. 9, 2000] Question: Should the high school have an open campus policy during lunch periods?
---
Ahead of his time in predicting the trends
Emil Stahlhut helped Lincoln
reach excellence in health care
Part
3
[DEC. 9, 2000] Emil Stahlhut, the first administrator of Abraham Lincoln Memorial Hospital, who stayed in the job for 30 years, contributed a great deal to this community, and his career brought the area a level of excellence in health care not often found in a small town.
---

Olympia vs. University High
Lincoln vs. Taylorville
Illini Central vs. Athens
Mount Pulaski vs. Riverton
---
Hear it here!
TODAY: Saturday, Dec. 9
2:30 p.m. — Lady Railers take on Quincy at Lincoln
7:45 p.m. — Lincoln Railsplitters at Peoria Manual
[click here to hear the games]
Sponsored by Mitchell-Newhouse, Gleason's Dairy Bar, J&S Auto
---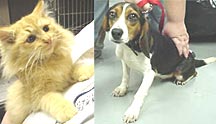 HOME AND FAMILY
Animals for adoption
---

---

---
Thanks for help with Festival of Trees
---
Court reports
[DEC. 9, 2000] The Law and Courts page includes a new set of weekly court reports, marriage licenses and dissolutions. In court reports, the Lincoln Daily News does not list the names of the individuals unless convicted and age 18 or older.
---
A holiday contest for you!
As a participant in the Ho-Ho-Dough holiday contest, Lincolndailynews.com has lots of tickets to give away to its loyal readers. Starting today and running through next Thursday, LDN will provide five daily questions, pulled from current ads and yesterday's stories, for you to answer. Each correct answer earns one ticket. Just e-mail your responses back to Lincoln Daily News, and we will save your tickets for you to pick up late next week. A drawing for $5,000 cash and other prizes will be at 5 p.m. Sunday, Dec. 17, at the Logan County Courthouse. Good luck!

Questions for Saturday, Dec. 9:
(Today's questions are worth 3 tickets each!)
1. When and where is Homework Club held?
2. How much does a XXL Blue Dog Inn T-Shirt cost? (without tax and shipping)
3. When was the Abraham Lincoln Medical Group first formed?
4. What ad was placed in the "Citizen of the Year" article?
5. Who is the stay-at-home mom who helps out at Homework Club every week?
Click here to submit your answers
---
---
New LDN page!
---
Hear it here!
Fax Machine: Mike Fak and Jim Ash host a community call-in show. Their show airs on Lincoln Daily News over the MediaOne link every Wednesday night beginning at 7 p.m.
Sponsors: Mitchell-Newhouse, Gleason's Dairy Bar, J&S Auto
---


[click here for top stories for the day from around the world]
---
World/national news coverage
---