Central School on endangered list
[MARCH 23, 2000] The Landmarks Preservation Council of Illinois has announced that Lincolnís Central School is on the list of the Ten Most Endangered Historic Places in Illinois for the year 2000. The announcement was made yesterday in Springfield at the state capitol, but was repeated this morning at a press conference at Union and Broadway, across from the school building.
---
From pizza, pizza to money, money
New bank scheduled to open in Lincoln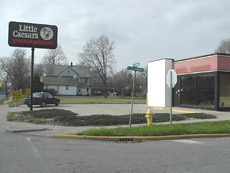 [MARCH 23, 2000] If banks are an indicator of a cityís growth, then Lincolnís
future continues to look promising. Central Illinois Bancorp, (CIB) Inc., is scheduled to open the doors of its 20th branch in Lincoln
on May 1, at the former Little Caesarís
restaurant location on the corner of Keokuk
and Kankakee. Branches will be opened in
all of the major cities in Illinois.
---
Ag scholarship announced
Logan County ag committee has funds for ag students
[MARCH 23, 2000] Thanks to the generosity of many Logan County businesses, local students pursing degrees in agriculture or agribusiness may get a break on next yearís tuition bill. The new scholarship opportunity was announced at the first Logan County Ag Day Breakfast held March 22, 2000.