Lincoln Daily News.com
601 Keokuk St.
Lincoln, IL 62656

TEL: (217) 732-7443
FAX: (217) 732-9630
Lincoln Daily News publishes daily news about the Lincoln/Logan County area on the Internet at www.lincolndailynews.com. (We are not a print publication.) All subscriptions are free!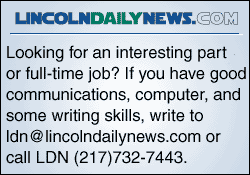 Our mission:
The mission of Lincoln Daily News is to tell the stories of Logan County in a contemporaneous manner, with lively writing and a predilection for simple truth fairly told. Lincoln Daily News seeks a relationship with the good people of Logan County that is honest, neighborly and never patronizing. Lincoln Daily News presents news within a full context that contributes to understanding. Lincoln Daily News is more interested in the marketplace of ideas than the competition of personalities. Without shrinking from the bold delivery of unvarnished fact, Lincoln Daily News operates from the premise that God's creatures deserve the presumption of right motive. Lincoln Daily News eschews malice and cynicism; it approaches every person with dignity and every subject with equanimity. In short, Lincoln Daily News informs, stimulates and entertains.
Content:
The articles published in Lincoln Daily News are the result of research and interviews. Any opinions expressed are those of the writers.
Corrections:
Please contact us by phone, fax, mail or e-mail with any information about mistakes, typos or erroneous information. If the error is in an item which is still in the paper, we will correct it online immediately. All corrections will be shown on the "Corrections" page.
Our services:
Lincoln Daily News provides daily news, sports, features and commentary on Lincoln, Logan County and the surrounding area.
To promote local businesses, we offer display advertisements at very reasonable rates, and links to business websites. Call (217) 732-7443 or e-mail ads@lincolndailynews.com.
"Happy ads" are a special feature to enable our readers to celebrate birthdays, graduations, anniversaries and other good news. Call us for details.
For employment information, contact Lincoln Daily News at their offices.


Our staff:
In the office
Managing editor: Jan Youngquist
ldneditor@lincolndailynews.com
Administrative assistant, writer: Jean Ann Carnley
Copy editor, writer: Mary Krallmann
Technology assistant: Don Buckner
Advertising sales and promotion staff
Marty Ahrends : mjldn@lincolndailynews.com
Mike Fak : mfldn@lincolndailynews.com
Nicki Green: ngldn@lincolndailynews.com
---

Developer has plans for property across from Tropics
4-11-01
Dear Editor:
In light of Mike Fak's recent story and mention about the eyesore at the corner of Lincoln Parkway and Woodlawn Road, I would like to share some of what I have learned when I asked current Mayor Joan Ritter about the same building.
Her reply to me is that a business developer is currently working with the estate of the former owners, and associated attorneys, and his plans are to bring a large store to that location.
As you can imagine, working through the legalities does take some time, but it was my understanding that he has already invested thousands of dollars into this property through EPA site testing, etc.
I hope this helps to shed some light on this subject.
Fun Fun Fun and Good Vibrations for everyone,
Jason Harlow
---
District representation 'is not as complicated as it is made out to be'
4-11-01
To the editor:
You are absolutely right, Mike. If districts are not necessary for the county board members, why not elect state and national representatives on an at-large basis. Then when you have a problem that needs a solution you can contact all of them, and then you will probably hear from none of them. This is not as complicated as it is made out to be. There is a solution, but there will never be one unless someone is willing to spend some time on the matter.
Jerry Shockey
Sahuarita, Ariz.
---
Reader wholeheartedly agrees about the property across from the Tropics
4-9-01
To the editor:
I wholeheartedly agree about the property across from the Tropics. It's an eyesore that should have been renovated or torn down years ago. It's long past time to do something about it!
Clare Gramley
---
Please send your letters by e-mail to ldneditor@lincolndailynews.com or by U.S. postal mail to:
Letters to the Editor
Lincoln Daily News
601 Keokuk St.
Lincoln, IL 62656
Letters must include the writer's name, telephone number, mailing address and/or e-mail address (we will not publish address or phone number information). Lincoln Daily News reserves the right to edit letters to reduce their size or to correct obvious errors. Lincoln Daily News reserves the right to reject any letter for any reason. Lincoln Daily News will publish as many acceptable letters as space allows.