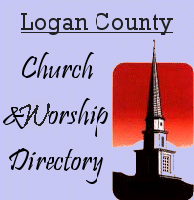 Lincoln Christian Church
204 N. McLean
217-732-7618
Preaching Minister:
Tom Gerdts
Worship:
8:30AM & 11:00AM
Trinity Episcopal Church
402 Pekin St., Lincoln
217-732-7609
Pastor: James Cravens
Worship:
7:30 & 9:45AM Sunday
9:00AM Tuesday-Friday

Full Gospel Evangelistic Center
426 N. Monroe St.
217-735-3148
Senior pastor: O.S. Owens
Associate pastor:
Steve Owens
Worship:
11AM & 6PM Sunday
Sunday School:
10AM Sunday
Bible study:
7PM Wednesday
Solid Rock youth group:
7:30PM Wednesday
(in Fellowship Center)
website: http://www.FullGospelRevival.org
Immanuel Lutheran Church ELCA
1409 Pulaski St., Lincoln
217-732-6777
Pastor Joe Bleakley
Worship:
9:00AM Sunday

Zion Lutheran Church
Lutheran Church-Missouri Synod
205 Pulaski St., Lincoln
217-732-3946
Pastor Mark Carnahan
Pastor Kirk Cunningham
Worship:
8:00 & 10:30AM Sunday
7:00PM Wednesday
Radio, WLLM-AM 1370:
8AM Sunday
TV, Cable Channel 15:
10:00AM Sunday
5:00PM Monday
First United Methodist Church
302 Broadway St., Lincoln
217-732-2204
Pastor: Larry Maffett
Worship:
Sept-May: 8:30 & 10AM
June-Aug: 9:00AM
website: www.gbgm-umc.org/
lincoln1stumc/index.html
United Pentecostal Church
1422 Pekin St., Lincoln
217-732-4662
Pastor: David Mitchell
Worship:
10:45AM & 6PM Sunday
Sunday School:
10AM
Bible Study:
7PM Wednesday
To inquire about listing your congregation's worship information, please e-mail us at ldn@lincolndailynews.com or call us at 217-732-7443.
---
[AUG. 4, 2001] Full Gospel Evangelistic Center at 426 N. Monroe St. in Lincoln is hosting a revival Aug. 15-17 with evangelist Shane Pippin. Meetings will be at 7 each night. The theme is "Expecting the Unexpected."
For more information, see www.fullgospelrevival.org.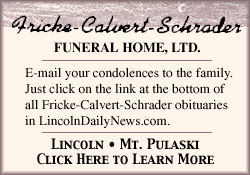 ---
[JULY 31, 2001] The Vineyard Cafe at the Vineyard Christian Fellowship in Bloomington welcomes "Lift" on Saturday, Aug. 18. "Lift" plays edgy pop touched with rock, with one eye on the dark side of life and the other on God. Admission is $3 at the door, and doors open at 7 p.m. For more information or directions, call Steve at (309) 663-4943, send e-mail to b-nvinecafe@msn.com or visit the website at http://communities.msn.com/TheVineyardCafe.
---
Forward in Faith to host women's conference Aug. 9-11 in Decatur
[JULY 28, 2001] Forward In Faith Evangelistic Ministries, 2180 South Shores Drive in Decatur, will host their annual women's conference Aug. 9 to 11. The special guest speaker will be Pastor Fannie Wallace from Del City, Okla.
Services each evening will be at 7 p.m. An "at the feet of Jesus" prayer hour will be Saturday morning.
At 1:30 Saturday afternoon there will be a luncheon at Webster-Cantrell Hall. The luncheon speaker will be Dr. Cynthia Thomas from Springfield.
For tickets to the luncheon, call 423-4147 or 422-9377.