Lincoln Daily News.com
601 Keokuk St.
Lincoln, IL 62656

TEL: (217) 732-7443
FAX: (217) 732-9630
Lincoln Daily News publishes daily news about the Lincoln/Logan County area on the Internet at www.lincolndailynews.com. (We are not a print publication.) All subscriptions are free!
Our mission:
The mission of Lincoln Daily News is to tell the stories of Logan County in a contemporaneous manner, with lively writing and a predilection for simple truth fairly told. Lincoln Daily News seeks a relationship with the good people of Logan County that is honest, neighborly and never patronizing. Lincoln Daily News presents news within a full context that contributes to understanding. Lincoln Daily News is more interested in the marketplace of ideas than the competition of personalities. Without shrinking from the bold delivery of unvarnished fact, Lincoln Daily News operates from the premise that God's creatures deserve the presumption of right motive. Lincoln Daily News eschews malice and cynicism; it approaches every person with dignity and every subject with equanimity. In short, Lincoln Daily News informs, stimulates and entertains.
Content:
The articles published in Lincoln Daily News are the result of research, interviews and news releases. Any opinions expressed are those of the writers.
Corrections:
Please contact us by phone, fax, mail or e-mail with any information about mistakes, typos or erroneous information. If the error is in an item which is still in the paper, we will correct it online immediately.
Our services:
Lincoln Daily News provides daily news, sports, features and commentary on Lincoln, Logan County and the surrounding area.
To promote local businesses, we offer display advertisements at very reasonable rates, and links to business websites. Call (217) 732-7443 or e-mail ads@lincolndailynews.com.
"Happy ads" are a special feature to enable our readers to celebrate birthdays, graduations, anniversaries and other good news. Call us for details.
For employment information, contact Lincoln Daily News at their offices.


Our staff:
In the office
Managing editor: Jan Youngquist
ldneditor@lincolndailynews.com
Technology assistant: Don Buckner
Copy editor, writer: Mary Krallmann
Advertising sales and promotion staff
Lucky Eichner: ldn@lincolndailynews.com
Mike Fak: mfldn@lincolndailynews.com
---
To the editor:
In reply to the Deputy Bob Spickard case and to set the record straight: In my opinion Deputy Spickard, the sheriff, the states attorney and the two sitting judges in Logan County either knew or should have known that every citizen has the right to remain silent during any and all police investigations, civil or criminal, before, during or after you are arrested. From a case involving a litigant by the name of Miranda and heard by the U.S. Supreme Court in 1966 was born the "Miranda rights," the right if you have been arrested to remain silent or your right to have an attorney present during interrogations.
As reported by this newspaper, and by Deputy Spickardís own admission, he attacked Mr. Gleason because he refused to cooperate in his investigation, and that was the reason Officer Spickard stated he entered Gleasonís home. This officer was wrong, dead wrong, in my opinion, for entering this home under the circumstances outlined in all the reports I have read. The police are not allowed to enter your home without your permission without a search warrant. Read the U.S. Constitution, and these rights and the previous rights I have outlined in this letter must be protected by law enforcement and the courts, not violated by them.
As for the Gleason family being bad people, it is no excuse, in my opinion, for this deputy or any officer of the law to violate their rights or our rights. If we allow the police to violate the rights of people of low social standing, then later on none of us will be safe from their wrath.
Most of the comments that I have heard regarding this issue, in support of Officer Spickard and the local police departments, defy the law, in my opinion. It is further my opinion this officer should be disciplined for his conduct and not be receiving donations to pay his legal bills.
As for him being found innocent of any wrongdoing by his peers, the finding is a direct result of the masses not knowing the law, in my opinion. Deputy Bob Spickard would have been found guilty if this would have been heard by a judge who knows the law instead of a jury, in my opinion. Bench trials are also much less expensive. Maybe now you can guess why Spickard chose the jury route instead of the less expensive way.
In the future, stand up for your rights. Know the law, don't be fooled.
Citizens for Justice, Inc.
Lester C. Van Bibber III
President
---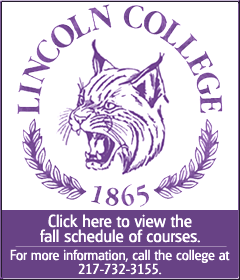 ---
.
Please send your letters by e-mail to ldneditor@lincolndailynews.com or by U.S. postal mail to:
Letters to the Editor
Lincoln Daily News
601 Keokuk St.
Lincoln, IL 62656
Letters must include the writer's name, telephone number, mailing address and/or e-mail address (we will not publish address or phone number information). Lincoln Daily News reserves the right to edit letters to reduce their size or to correct obvious errors. Lincoln Daily News reserves the right to reject any letter for any reason. Lincoln Daily News will publish as many acceptable letters as space allows.