"Itís a unique opportunity to see whatís going on above these buildings," said one of the approximately 250 people who took the tour. "Otherwise weíd never know what was up there."
"I love the uniqueness of it," Paulie Elder said of her home in the Lauer building, with its exposed brick walls and angled kitchen nook.
"Thatís unique," said one of the men on the tour when looking at a wall in the den of Larry and Bette Steffensí luxurious home above their Sangamon Street businesses.
"It was too unique to pass up," Judi Orr said of the former Second Baptist Church that is now her Lincoln home.
Many visitors started the Saturday afternoon tour at an "apartment in progress" at 113Ĺ S. Sangamon, where Steve and Susi Fuhrer are in the middle of creating a two-bedroom unit. The rooms are already framed in, and visitors could see the floor plan on a sketch posted by Steve, who is doing most of the work himself.
Along with the two bedrooms, the apartment will have a U-shaped kitchen, a 20-by-25-foot living room, a big walk-in closet and laundry facilities.
"Weíve been wanting to do this for three years," said Steve, who is a member of the Lincoln City Council. "I hope to have it finished in a couple of months."
Steve likes the view from the front window both day and night. In the daytime, he can see the mural on the back wall of Neal Tire, which shows storefronts on Sangamon Street the way they looked many years ago. At night, he likes seeing the lighted dome of the Logan County Courthouse.
Work in progress and work already done were both on view at the Lauer Building, being renovated by Dale Bassi and Larry Crisafulli. At 201 S. Sangamon, three apartments and commercial space are already finished, while at 205 three efficiency units, more commercial space and a laundry room for all the tenants are under construction.
The efficiency unit on display Saturday will have a kitchen area, small bedroom, bath and living space below and a sleeping loft, bath and closet space above. Exposed brick walls, an open stairway and distressed hardwood floors give it a contemporary feeling.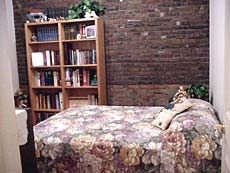 [Photo by Joan Crabb]
Hardwood floors, exposed brick walls, interesting built-in features and lots of light were also features of the two completed units in the Lauer building.
"We moved from a house to this apartment, but it still feels like a house. So much light comes in," said Jodi Elder, who lives in the front apartment with her husband, Dave, and three children. The apartment has a sizable kitchen-family room, a living room and three bedrooms.
"I donít use the car much now," she added. She can walk to work and to nearby businesses. The children can ride their bicycles to the library, a favorite stop for the family.
Daughter Abbey, acting as tour guide, always knows what time it is because she can see the courthouse clock. She also likes listening to the nearby church bells.
"I love the uniqueness of it," said Paulie Elder, Jodieís mother-in-law, who lives in the back apartment. The kitchen area is separated from the living room by an angled wall that doesnít quite reach the ceiling. Today the top of this wall is decorated with greens and Christmas lights.
"The construction is sound and itís quiet here," Paulie said. "Weíre close to what we need, the library and so many businesses. And there are nice parks in the city we can walk to." Itís convenient for Paulieís husband, Alan, too, who operates Elder Cycle on the first floor of the building.
In contrast to the contemporary feel of these apartments, the luxurious home of Bette and Larry Steffens at 123Ĺ S. Sangamon is filled with antiques and art objects that reflect their interest in many faraway places, especially Italy. Once a warehouse, the Steffensí new home gives them 4,500 square feet of living space on the second floor, a 500-square-foot library on the first floor and another 4,500 square feet in the basement (not on the tour), which holds Larryís workshop and a workout room.
On the second floor, about 2,000 square feet is an open living area, including a kitchen, room for both formal and informal dining, a fireplace, and comfortable places to sit and relax. Three bedrooms, a den with another fireplace and an Egyptian hot tub room are also on the first floor.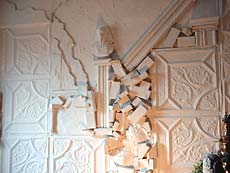 [Photo by Joan Crabb]
The wall behind the stairway leading down to the library brought many comments from visitors attracted by its unique appearance. Because the wall itself was impossible to repair smoothly, Larry used scraps of tin to make it look like an ancient ruin, and Bette painted it white.
Their new home is "cozy, warm and close to our businesses," Bette said.
At 121Ĺ S. Sangamon, up the same stairway, the Steffenses had their bed-and-breakfast suite on display as well. The bed is enclosed like an Arabian tent, using 150 yards of fabric. The tin ceiling dates back to 1858, five years after Abraham Lincoln christened the town.
Across the railroad tracks at 128 S. Chicago St., visitors could see two light, airy efficiency apartments owned by Mr. and Mrs. Ivan Ray. Two more will be completed in a few months, Ray said, and a laundry facility is already available for the tenants.
Both apartments on the tour were already furnished, even decorated for Christmas, with futons in the living rooms and kitchens with tables set for dining. Mrs. Ray said the apartments could be rented furnished or unfurnished, whatever the tenants wish.
Ray has been working on the apartments for about a year and hopes to have the other two ready by spring. The tour gave him names of even more renters to put on his list, he said.
Not many people would drive by an empty church and visualize it as a comfortable living space, but when Judi Orr saw the former Second Baptist Church building at 829 Broadway, she did just that.
"I drove by it. I saw a big sturdy stone structure and liked the looks of it. I went inside and liked it even more. And I particularly liked the challenge of redoing it. It was too unique to pass up."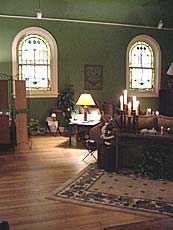 [Photo by Joan Crabb]
Judi and Bob moved in during February of this year and are very pleased with their new Lincoln home. The soaring ceiling and fine stained glass windows give it an open and also a serene feeling.
"Even though it is on a main street in Lincoln, itís peaceful," Judi said. "Also, itís close to downtown, the bank, the post office, the IGA and the Depot." The Orrs are owners of the Depot Restaurant.
"Morning is the loveliest time to see the windows," she added. "They reflect all colors, and they change with the light." She believes the windows are probably original, put in when the church was built in 1915.
Those who took the tour were pleased that Main Street Lincoln gave them the chance to see unique living spaces. "What a wonderful opportunity for the people in town to tour the living quarters at the top," said Shirley Dittus.
Lee Rust also thought it was a good idea. "Lincoln has so many possibilities, and itís too bad people donít come up with more ideas to promote it."
Dale Bassi, head of the Economic Restructuring Committee, who organized the tour, and Wendy Bell, director of Main Street Lincoln, were pleased with the turnout.
" ĎLiving above the storeí is an idea thatís coming back," Bassi said. "It used to be typical of all small towns, when store owners lived in quarters upstairs." Bassi himself once lived above his dadís grocery store in Winona.
"Part of our mission at Main Street Lincoln is to bring people downtown, to give them an idea what itís like now and what it could be like.
"People live here because of lower rent and convenience. The more people who move here, the more likely new businesses will open, such as cafes, convenience stores and other service businesses. Thereís a lot more living space downtown than people think."
[Click here for an article and related links posted before the tour.]