NEWS

PEOPLE
COMMUNITY
ENTERTAINMENT
FEATURES
The Arts
REVIEWS
EDITORIAL
COMMENTARY
ADVERTISEMENTS


Register your name among the many others with the LDN User Registration!
CONTACT US
LDN is best viewed with
Internet Explorer 5.0.
Wednesday, January 03, 2001 posted daily OVER THE NOON HOUR (CDT)
Motorist alert!
Motorists should continue to use caution when driving. There has been scattered light freezing mist and snow falling over the area. Roads may have new scattered slick spots. While most roads are clear, some rural and neighborhood roads continue have slick areas due to packed snow with ice below that.
A trip down I-55 can be a sobering experience. Numerous cars remain snowbound in the median and off the sides of roadways that have been slick this past week. Many motorists sustained minor injuries after losing control of their vehicles. In one case a Rochester man died after being thrown from his rolling Jeep. Authorities continue to urge motorists to slow down and use caution as the weather warrants.
---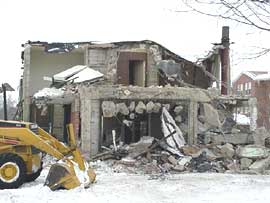 Out with the old and in with the new! Forsyth Hall tumbles at Lincoln College as they continue their campus renovations. Many new buildings grace the grounds as the college continues to redefine itself as a major educational institution.
---

TODAY'S TOP STORIES






OBITUARIES

---
Tuesday's news: