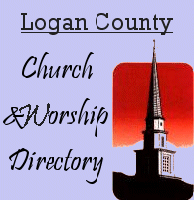 Lincoln Christian Church
204 N. McLean
217-732-7618
Preaching Minister:
Tom Gerdts
Worship:
8:30AM & 11:00AM
Trinity Episcopal Church
402 Pekin St., Lincoln
217-732-7609
Pastor: James Cravens
Worship:
7:30 & 9:45AM Sunday
9:00AM Tuesday-Friday

Full Gospel Evangelistic Center
426 N. Monroe St.
217-735-3148
Senior pastor: O.S. Owens
Associate pastor:
Steve Owens
Worship:
11AM & 6PM Sunday
Sunday School:
10AM Sunday
Bible study:
7PM Wednesday
Solid Rock youth group:
7:30PM Wednesday
(in Fellowship Center)
website: http://www.FullGospelRevival.org
Immanuel Lutheran Church ELCA
1409 Pulaski St., Lincoln
217-732-6777
Pastor Joe Bleakley
Worship:
9:00AM Sunday

Zion Lutheran Church
Lutheran Church-Missouri Synod
205 Pulaski St., Lincoln
217-732-3946
Pastor Mark Carnahan
Pastor Kirk Cunningham
Worship:
8:00 & 10:30AM Sunday
7:00PM Wednesday
Radio, WLLM-AM 1370:
8AM Sunday
TV, Cable Channel 15:
10:00AM Sunday
5:00PM Monday
First United Methodist Church
302 Broadway St., Lincoln
217-732-2204
Pastor: Larry Maffett
Worship:
Sept-May: 8:30 & 10AM
June-Aug: 9:00AM
website: www.gbgm-umc.org/
lincoln1stumc/index.html
United Pentecostal Church
1422 Pekin St., Lincoln
217-732-4662
Pastor: David Mitchell
Worship:
10:45AM & 6PM Sunday
Sunday School:
10AM
Bible Study:
7PM Wednesday
To inquire about listing your congregation's worship information, please e-mail us at ldn@lincolndailynews.com or call us at 217-732-7443.
---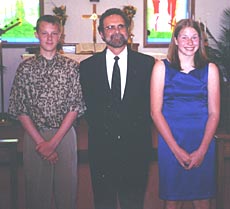 [Brock Fink and Jane Ryan paused with Pastor David at their confirmation on May 13 at Good Shepherd Lutheran Church (AFLC).]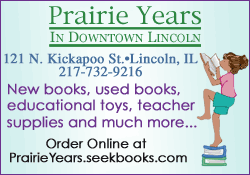 ---
Walk for Life raises nearly $8,000
[MAY 15, 2001] "The weather was perfect for the walk," said Jennifer Boeke, director of Lincolnís Crisis Pregnancy Center. On Saturday, May 5, almost 40 people participated in the Walk for Life. Of the group, 30 individuals were sponsored walkers.
Boeke admitted that the attendance was down slightly from last year, but the amount of funds raised during the day was still equal to last yearís total. During the day, CPC raised $7,100 through sponsored walkers, a bake sale and a T-shirt sale. Boeke commented that she was glad the walk was downtown, because some people saw the crowd and came over just to donate. Adding donations made before and after May 5, the CPC has raised nearly $8,000 to help pregnant women and girls in crisis situations.
The group walked around the perimeters of Scully and Latham Park twice. Also, Pastor Don Hoover of Lincoln Bible Church gave a devotion and talk on adoption. A recently adopted 1- to 2-month-old baby boy was in the crowd.
Director Jennifer Boeke offers a huge thanks to the 20 to 25 businesses that donated door prizes for participants.
---
Niebuhr family and their theological contributions to be celebrated
[MAY 4, 2001] The Neibuhr Historic Marker Committee of Lincoln announces celebration activities on Saturday, June 23, at St. John United Church of Christ. The date and place were chosen because it was here that the internationally known theologian, teacher and Christian ethicist Reinhold Niebuhr was ordained in 1913. Well known for his theological writings, he was for a time virtually unknown as the author of the "Serenity Prayer" made popular by the 12-step community and revered by many throughout the world.
The dedication of the Illinois State Historic Marker will celebrate the entire Niebuhr family for their contributions to theology and for their service to the Lincoln area.
For updates on the plans, call Lincoln Public Library at (217) 732-8878.