Lincoln Daily News.com
601 Keokuk St.
Lincoln, IL 62656

TEL: (217) 732-7443
FAX: (217) 732-9630
Lincoln Daily News publishes daily news about the Lincoln/Logan County area on the Internet at www.lincolndailynews.com. (We are not a print publication.) All subscriptions are free!
Our mission:
The mission of Lincoln Daily News is to tell the stories of Logan County in a contemporaneous manner, with lively writing and a predilection for simple truth fairly told. Lincoln Daily News seeks a relationship with the good people of Logan County that is honest, neighborly and never patronizing. Lincoln Daily News presents news within a full context that contributes to understanding. Lincoln Daily News is more interested in the marketplace of ideas than the competition of personalities. Without shrinking from the bold delivery of unvarnished fact, Lincoln Daily News operates from the premise that God's creatures deserve the presumption of right motive. Lincoln Daily News eschews malice and cynicism; it approaches every person with dignity and every subject with equanimity. In short, Lincoln Daily News informs, stimulates and entertains.
Content:
The articles published in Lincoln Daily News are the result of research, interviews and news releases. Any opinions expressed are those of the writers.
Corrections:
Please contact us by phone, fax, mail or e-mail with any information about mistakes, typos or erroneous information. If the error is in an item which is still in the paper, we will correct it online immediately.
Our services:
Lincoln Daily News provides daily news, sports, features and commentary on Lincoln, Logan County and the surrounding area.
To promote local businesses, we offer display advertisements at very reasonable rates, and links to business websites. Call (217) 732-7443 or e-mail ads@lincolndailynews.com.
"Happy ads" are a special feature to enable our readers to celebrate birthdays, graduations, anniversaries and other good news. Call us for details.
For employment information, contact Lincoln Daily News at their offices.


Our staff:
In the office
Managing editor: Jan Youngquist
ldneditor@lincolndailynews.com
Technician, writer: Gina Sennett
Technician: Don Buckner donbldn@lincolndailynews.com
Copy editor, writer: Mary Krallmann
Advertising sales and promotion staff
Lucky Eichner: ldn@lincolndailynews.com
Mike Fak: mfldn@lincolndailynews.com
---
11-10-01
Dear Editor:
In recent weeks the Lincoln Developmental Center has come under attack from many sources, many groups calling for the closure of this facility. Though we have had some problems at our facility, I can honestly say that the vast majority of employees here are some of the best in their areas of expertise.
To put a blanket over the whole facility and calling it a dangerous place for individuals to reside is almost as ridiculous as believing that all those of Islam faith are responsible for the World Trade Center bombings.
Twenty-seven years ago I started a career working in state government here at the Lincoln Developmental Center. I have seen many improvements in the quality of life for our individuals. We no longer warehouse our individuals as is often reported in the papers. Rather the folks who reside at Lincoln live in a normal homelike atmosphere.
Our direct-care staff and support people are second to none and have done a very good job in spite of mandated overtime, staff shortages and all the unfair criticism directed at them. I believe these employees do a splendid job at performing their tasks, especially given the very limited financial resources at their disposal and the ever-changing rules and regulations that govern facilities like Lincoln.
These so-called CILA homes that we so often read about in the papers are nothing but private companies and /or individuals making a profit. I would bet there are some good employees who are employed in these facilities; however, many are understaffed, under-trained and experience a large turnover of staff due to very low wages and very few benefits. The bottom line, folks, is that these homes or living facilities are all about the bottom line. So you can see that these places are not the answer.
Lincoln Developmental Center, in my opinion, is still very much a needed entity, providing for and assisting our individuals in enjoying their lives to the fullest. I am proud to say I have been a part of system that reaches out to help those who are handicapped.
Thank you.
Bill Treakle
Lincoln
---
---
Writer agrees, LDC should stay open
10-30-01
To the editor:
I agree with your article. I grew up in Lincoln. And while I donít live there anymore, and Iím not totally aware of the problems at LDC, I believe that it needs to remain open!!
I have a second cousin who has lived there for years... Where would he (and MANY) others go? My grandfather, Robert Dowell, worked there for many years. He along with many others did what many of us wouldnít or canít do. And itís because of those caring individuals and the people that live there that it should stay open.
Michelle Durbin
[Commentary article by Mike Fak: "A place that most of us wish didnít exist -- LDC, an integral part of this community, an integral part of our humanity," posted Oct. 24]
---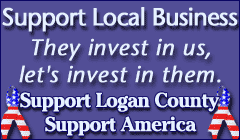 ---
.
Please send your letters by e-mail to ldneditor@lincolndailynews.com or by U.S. postal mail to:
Letters to the Editor
Lincoln Daily News
601 Keokuk St.
Lincoln, IL 62656
Letters must include the writer's name, telephone number, mailing address and/or e-mail address (we will not publish address or phone number information). Lincoln Daily News reserves the right to edit letters to reduce their size or to correct obvious errors. Lincoln Daily News reserves the right to reject any letter for any reason. Lincoln Daily News will publish as many acceptable letters as space allows.