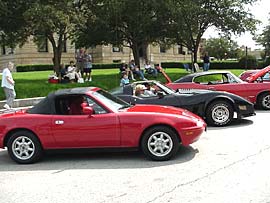 [Photos by Jan Youngquist]
Sunday's car show and art fair are now pleasant memories. However, like winning artist Connie Glowacki, we can all look forward to next year's Art & Balloon Festival. It promises to be the biggest and best yet. Plans are well under way to combine the 2003 festival with Lincoln's sesquicentennial festivities for a weeklong celebration.
Balloon Fest may be over...but don't worry! Railsplitter is just around the corner!