The men finished last season with an 8-9 record, and Howard hopes for improvement this season. "The key to our season may be getting everyone healthy," said Howard. "Right now we have several guys banged up and a couple who are not going to be able to play for a week or two. If we can get everyone back, I think we will be all right.
"We are strong in the back and have a lot of talent at the forward spots. We are thin in the middle at the present time, due to the injuries," continued Howard.
The Lynx mentor stated, "We are starting out with some tough competition. One of the teams in the tourney is nationally ranked every season." Joining Lincoln and Iowa Central in the tourney are Bethany Lutheran and Yavapai. Lincoln will return to open the home season the following weekend with the Bonanza-Domino Pizza Classic.
"If the early practices are any indication, we should be strong in goal, with three good candidates," said Howard. "Maceo Guy has been impressive as a returning starter from last season, and Steve Cimbaljevich has looked awesome at times."
On the women's side, Rick Carpenter is beginning his first season at Lincoln and is very optimistic about his clubs chances.
"We have a lot of freshmen (11), but we have some quality players among the freshman group. Some of the sophomores have also been impressive in early drills. Right now Ayana Evans and Megan Gray have shown the most talent, along with Krystal Williams," said Carpenter.
The Lynx mentor continued, "We have been working out three times a day, and we have come a long way since the workouts began. I am really pleased with the progress we have made. The girls have put in a lot of hours and it is beginning to show. We are showing progress each day, and we are ready for the first game. A good friend of mine is coaching the Flo Valley team, so I am really looking forward to playing them to see how we have progressed."
Men's roster
Sophomores — Justin Cronin, Naperville Central; Fernando Delgado, Farragut; Ryan Foy, Moline; Isaac Honegger, Lafayette Jefferson; Brad Conant, Naperville Central; Walter Molina, Steinmetz; Isaiah Bishop, Normal Community; John Lusicic, Christian Brothers; Maceo Guy, Rich East
Freshmen — Ryan Debelak, Evansville Memorial; Piotr Chrobak, Kennedy; Tim Vogel, Hoffman Estates; Zach Ziegler, Peoria Central; Augie Barboza, Moline; Garrett Taylor, United Township; Edgar Barba, Farragut; Thorbjorn Rektorli, Barrington; Javie Castillo, Canterbury; Steve Cimbaljevich, Portage; Rene Aguilar, Streamwood; Matija Bileskovic, Boylan; Ryan Stack, Richton Park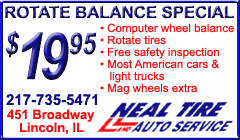 Women's roster
Sophomores — Ayana Evans, Robin Foreman, Amanda Henderson, Monica Perone, Stephanie Savery, Jackie Sipple, Megan Walter
Freshmen — Rebecca Dawson, Megan Gray, Jojo Halko, Lori Hurwitz, Tiffani Lacey, Lauren Mallory, Lindsey Ralston, Lisa Rucker, Krystal Williams, Ashley Spake
[Bill Martinie,
Lincoln College sports information director]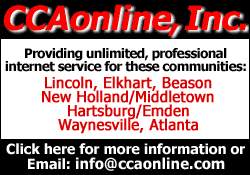 Almost three years ago, I got my start with the LDN sports department in what I thought might be a very short-lived endeavor. Three years later we're going strong, and new possibilities are cropping up every day. One such opportunity has presented itself currently.
My good friend Greg Taylor and I will be hosting a new concept for our area, starting tonight in beautiful downtown Lincoln. We will be simulcasting our sports show via Lincoln Daily News and FIX 96.3 radio from our own local cable station, LogOn Productions, Channel 15. The simulcast will start at 6 p.m. and run an hour. Our goal in the future is to be your sports hangout leading into "Monday Night Football."
To say that we're excited about this development would be a huge understatement. But actually it's you loyal LDN readers and FIX 96 listeners who made this thing happen. Apparently dozens of you have been talking up our show at the doughnut shops and the local eateries. The right people overheard some of those conversations, and then I was approached about our interest.
Jim Ash of FIX 96 and Tim and Celeste Rogers of LogOn took it from there. They have worked very hard on this concept all summer long. Tests have been conducted to see how well this format will work, and the possibilities are getting more exciting by the moment.
Just for clarification's sake. Tim, Celeste and Jim are all professionals; Greg and I are not. The only time we can give them is whatever free time our wives graciously allow us from "honey do" list work and family stuff. I'm sure it would be easier for the professionals to work with other professionals, but we do come cheaply. We also love to do it.
Our jobs have intensified so much in the last couple of years that oftentimes we haven't even mulled over any sports stuff until we go on the air. So this program, along with our work with the LDN, really gives us a chance to put a handle on things.
On the weekends I try to make a mental note of what sports things people are talking about at Mel-O-Cream, at Guzzardo's, at Bonanza, while I'm shopping downtown on the square or wherever I am. I then make a list… and if you've read our stuff or heard our show you know that we've covered more ground than we probably even should have.
BUT, we were serious when we said that this is YOUR paper and this new show is YOUR show.
We do have a few sports and a few athletes that are probably our favorites, but I'm not going to apologize for that. Many of these people and sports have been loyal to me through the years, and if you can't understand that you never would anyway. For instance, we're going to root like crazy for Illinois, Illinois State and Lincoln athletic teams. They give us access to their players and to their sports. We think that since we live in this area that most people occasionally care about how our local teams are doing. On the other hand, we're not going to belittle you if you happen to root for Georgetown, let's just say. We might ask you why... but we'll try not to make it personal.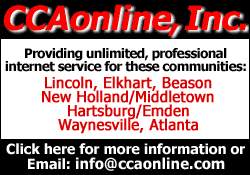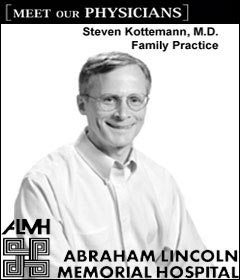 There is ONE THING that I would like to ask ALL of our great area residents. Many of you told me during the school year that you listened to Greg and me on the air but that you didn't call in because you thought that your comment or question wasn't going to help the show. PLEASE don't think that. Every single person that has called in, with the exception of Donnie Aeilts (we busted him when he called in), has made a positive impact on the show. In reality, the success of "Fandamonium" will rest in your hands.
Oh, don't worry about Greg and me. We'll have plenty of material. Our friends comfort us often by saying that we could spend hours talking about nothing because we just like to hear our own voices. Isn't it great to have encouraging, supportive pals?
We promise to do our part to make this one of the most exciting new shows on Channel 15 and on the FIX 96 networks. We hope to do some zany and absolutely crazy things that will help rescue YOUR Mondays and get the rest of your work week off to a great start. We hope to do some remote broadcasts, and we hope to interview some celebrities and bring them right into your homes each week.
This very first week we plan to spend some time promoting the re-emergence of Lincoln High School football. If head coach John Oaks is available, we hope to have him in the studio tonight for our very first telecast. This man and his staff have poured themselves into this football program. In some ways, that alone should command some of our respect. I'm hearing good things about Railer football on the streets… I hope you hear them straight from the horse's mouth tonight on our first installment of "Fandamonium!"
Other guests have been contacted, and we think you will really enjoy hearing from local as well as national celebrities. It could be an amazing ride, and we'd like you to take the journey with us.
So, set your radio dial to FIX 96.3, your TV dial to 15 and your browser to Lincoln Daily News, and the world will be a better place in which to live.
Have a great week, everybody. See YOU tonight at 6!!!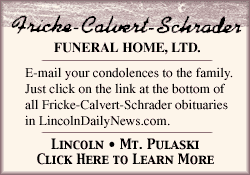 Team of the week
I go outside of the sports bubble to name my TOW for this week. The winner: Bobbi Abbott, her chamber of commerce staff and hundreds of volunteers from Vern Turner on down.
I love this festival! I love the art and I love the balloons! These selfless workers basically killed themselves for several months so that our community could have an event that we could all be proud of — not to mention the thousands of badly needed dollars that are trickling through our town because of their efforts. I never want to take any of them for granted — and just in case no one has bothered to say thank you to any of you great volunteers, on behalf of the LDN, I say THANK YOU by naming you as my team of the week!!!
[Aug. 19 column: "August mutterings...
Gearing up for another great year of sports"]