Features, Health Matters, Lincoln Park District, Red Cross,
Events, Honors & Awards, Announcements
Health & Fitness News Elsewhere (fresh daily from the Web)
ALMH acquires new
information technology
[DEC. 28, 2001] Abraham Lincoln Memorial Hospital has implemented a new computer software ordering system that allows departments within the hospital to easily communicate with other departments or with other affiliates within Memorial Health System. The computer software allows authorized health care professionals and caregivers to instantly share clinical information across multiple settings.
Not all laboratory tests are performed at ALMH. Some work is sent to Memorial Medical Center in Springfield. Having the data in a centralized location makes it easy for the health care provider to obtain patient information and order tests from the lab.
"The system not only allows accessibility, but also establishes a safeguard for patients," says Kathleen Vipond, director of professional services and assistant administrator for ALMH. By integrating a hospital's laboratory, pharmaceutical and acute care systems, medication errors can be prevented. Staff can be alerted to potential problems including drug allergies and harmful drug interactions with certain foods or other drugs.
The first phase of this project was to replace manual-based systems and sections of the paper medical records with computerized ones, using a system called Power Chart. This system will allow authorized individuals computer access to medical records. Physicians and other authorized health care professionals will not have to call the medical records department for lab results from a patient's chart.
"The advantage to having computerized records is that a physician can access patient information at any time of the day or night, from almost anywhere in the hospital, without having to physically go to the fifth floor to get it," says Connie Boss, director of medical records. This not only saves time when a patient is waiting on treatment, but also reduces the need to have medical records staff available 24 hours a day.
The primary result of real-time information available anywhere in the health system is faster, safer and more standardized care. At the same time, it allows for efficiency, reduction in duplicate orders, quicker test results, instant chart access and the consolidation of duplicative administration functions, since the data is all stored in the same place.
"By using the latest technology to improve our methods, we are ultimately providing the best that health care has to offer to our patients," adds Vipond.
[ALMH news release]
---
First participant in first-of-its-kind-in-
the-country emergency medical program
[DEC. 17, 2001] SPRINGFIELD — More accurate diagnosis and improved early treatment of burn victims are among the key benefits of the Regional TeleBurn Network being launched through the joint effort of Memorial Medical Center and Southern Illinois University School of Medicine, both in Springfield, and Abraham Lincoln Memorial Hospital in Lincoln.
The Regional TeleBurn Network is the first interactive telecommunications network of its kind for acute burn care in the country. Funded by SIU's Rural Health Initiative, it is the first clinical application for Memorial's TeleHealth Network.

[Photo provided by SIU News]
The new TeleBurn Network establishes a real-time, visual link between Memorial and local burn evaluation centers such as Abraham Lincoln Memorial Hospital. With both audio and visual communication, the on-call physician in Memorial's burn center can more accurately assess the extent and severity of a burn, prescribe proper administration of fluids and even direct the treating physician through surgical procedures. The burn center is staffed by SIU's Division of Plastic Surgery. The ALMH physician overseeing the project is Dr. Larry Pinter, director of emergency medicine.
The system utilizes the state's Illinois Century Network to provide audio and visual communications between Memorial and the hospitals and health care facilities that join the network. Computers, cameras, monitors and related telecommunications equipment provide audio and visual communication links between the hospitals. The technology has been installed in the emergency department at ALMH and at the Regional Burn Center at MMC. The network is accessible 24 hours a day, seven days a week. Communications will be encrypted in order to protect against interception and to maintain patient confidentiality.
Abraham Lincoln Memorial Hospital is the first to join the network as a certified burn evaluation center. As many as 15 hospitals in an area from Interstate 80 to the state's southern tip are expected to join in the next several years.

[Photo provided by SIU News]
"Prompt, accurate diagnosis and treatment for burn patients are critical," said Dr. Stephen Milner, associate professor of plastic surgery at SIU and medical director of MMC's Burn Center. "Until now, burn center physicians relied solely on telephone communication to assess a burn's severity and recommend initial treatment, without the benefit of visual evaluation."
The new network also makes it possible to assess conditions that can be treated with local care and thus eliminate the need for patient transport to Memorial's Burn Center.
"Outpatient follow-up is another very important benefit," Milner said. "This will save patients, caregivers or family members time, travel expense and inconvenience."
The network was made possible by two grants, totaling $219,780, awarded by SIU to Memorial. The grants, made possible through state funding of SIU's Illinois Rural Health Initiative, cover costs for equipment, installation, training and related costs to connect Memorial with four other downstate hospitals — including Abraham Lincoln Memorial Hospital. After those four, adding hospitals to the network will depend on availability of future funding.
Ongoing costs per site are estimated to be about $4,300 per year. These include Illinois Century Network access fees, equipment maintenance and administrative support.
"SIU School of Medicine is extremely pleased to support a health care initiative that benefits Illinois citizens and health care providers throughout a large region of Illinois," said Dr. Carl Getto, SIU dean and provost. "This is a real pioneering effort and the beginning of a more active 'telehealth' effort under way at the medical school. Not only can we further our mission of bringing high-quality, accessible health care to those we serve, it also allows us to expose our medical students and residents to the possibilities this technology holds." The medical school is part of Southern Illinois University Carbondale.
Edgar J. Curtis, Memorial's executive vice president and chief operating officer, said, "Memorial is privileged to join the SIU School of Medicine, state of Illinois and the hospitals which join the network. The benefits range from improved assessment and treatment for burn patients to better continuing education opportunities for health care providers in various other disciplines."
Getto and Curtis pointed out that the network has application potential for many medical settings, including dermatology, cardiology, pediatric care, emergency medicine and psychiatry as well as administration of medical care for correctional facility inmates.
[News release]
---
A monthly feature from Logan County Health Department
January is Cervical Cancer
Awareness Month
[JAN. 3, 2002] What is cervical cancer? Cancer of the cervix is a very common kind of cancer in women. The disease occurs when cancer (malignant) cells are found in the tissues of the cervix — the opening of the uterus (the womb). The cervix connects the uterus to the vagina (birth canal). Cancer of the cervix usually grows slowly over a period of time. Before cancer develops, cervical tissues change, and cells that are not normal begin to appear. This condition is called dysplasia.
What are the symptoms of cervical cancer? Since there are usually no symptoms associated with cancer of the cervix, a woman must be sure that her health-care professional does an important test, called the Pap smear, to look for it. The Pap smear is done by a health-care professional, using a piece of cotton, a brush or a small wooden stick to gently scrape the outside of the cervix to pick up cells that can be examined under a microscope.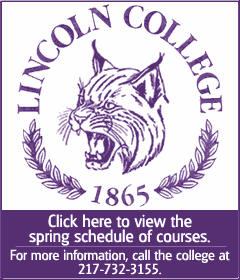 Are there risk factors for developing cervical cancer? According to the National Cancer Institute, strong risk factors include early age at first intercourse, a history of multiple sexual partners, genital human papillomavirus or other sexually transmitted disease, the presence of other genital tract cancers, and prior squamous intra epithelial lesion (abnormal cells). Women 60 years of age and older are at greater risk for cervical cancer since they are less willing or able to seek medical care for screening or treating cervical cancer. Other risk factors may include active or passive ("second-hand") smoking, poor nutrition, and a current or past sexual partner with risk factors for sexually transmitted disease, immunodeficiency or HIV positivity.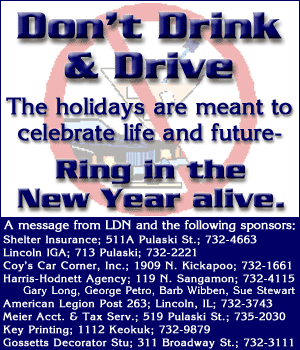 Women who meet income and age eligibility may qualify for free Pap smears and pelvic exams through the Illinois Breast and Cervical Cancer Program. If the woman lives in Logan, Mason, Menard, DeWitt, Piatt, Macon, Sangamon, Cass, Morgan or Shelby counties, she should call 1 (800) 269-4019 for more information. If a woman lives in another county in Illinois, she should call the Illinois Department of Public Health's Women's Health Helpline at 1 (888) 522-1282 for information on the Illinois Breast and Cervical Cancer Program.
[Logan County Health Department news release]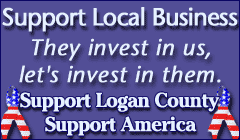 Peace

Christmas was different for most and very difficult for the thousands who lost family and friends this year. There were children who, more than for presents under a tree, were wishing that they could only see their mom and dad again. No doubt Sept. 11th and the tragic attacks on the twin towers, the Pentagon, and the story of those who died on the plane that fell short of its goal due to heroics by brave passengers, will forever affect our lives. Due to these events, our nation is at war in an effort to stop such acts from happening again.

During such a time as this, grief, anger, chaos, uncertainty and fear darken the spirits of many. There is a message that continues to be heralded with as much clarity and assurance as the first day angels proclaimed it to shepherds abiding in the field. "For behold, I bring you good tidings of great joy which shall be to all people. For unto you is born this day in the city of David, a savior, which is Christ the Lord."

To accompany this declaration, an angelic host appeared and sang, "Glory to God in the highest and on earth peace, good will toward men." This is the heart of God for the world. Peace, true peace through Jesus the Christ. Peace that heals the hurting and causes wars to cease.

--Pastor Joe Bennett

A Spiritual Message from LDN and the following Sponsors:

Lincoln IGA;
713 Pulaski;
732-2221

Coy's Car Corner;
1909 N. Kickapoo:
732-1661

Harris-Hodnett Agnc;
119 N. Sangamon; 732-4115
Gary Long, George Petro,
Barb Wibben, Sue Stewart

American Legion
Post 263;
Lincoln, IL;
732-3743

Meier Acct. & Tax Serv.;
519 Pulaski St.;
735-2030

Key Printing;
1112 Keokuk;
732-9879

---
[JAN. 3, 2002] We have a busy winter season lined up for young people and adults as well. For the youth we are going to offer crafts, tumbling and tennis lessons.
Mrs. Judy Awe will teach rubber stamping and embossing on Saturday, Jan. 12, from 9 to 11 a.m. Learn how to make various types of cards for your friends and family and decorate a gift bag or note pad.
Mrs. Awe will return on Saturday, Feb. 9, with the focus being on needlepoint on plastic canvas. Make your initial or a bookmark. A choice of shapes and styles will be offered.
There is a slight charge for each craft session, and a separate registration is required for each one.
We will also offer tumbling. Emily Navarra will be our instructor. All sessions will be on Saturdays, beginning Jan. 12, and continuing for six weeks. Emily will offer beginner and intermediate sessions. In order to qualify for the intermediate level you must have completed the beginner session at the Lincoln Park District. Grade and level determine class times. More information is available at the front desk.
Tennis lessons are served up for five weeks, starting Saturday, Jan. 19. Erinn McFadden is our winter tennis instructor. You will need to bring your own racket. Sessions are designed for beginners, and those with limited playing skills will benefit as well. Lessons are available for people in kindergarten through adults. For school-age students, class time is determined by grade level.
We are also working on several programs for adults.
Our popular Senior Stride & Social began Jan. 2. For people who have a membership there is no charge to come and walk indoors. For nonmembers we lower the daily fee to $1. A senior citizen is defined as anyone over the age of 60.
On Jan. 14 and again on Feb. 15 free bone-density screenings will be available in the back sports complex. On these two days there will be no daily fee for the seniors. Logan County Health Department, in conjunction with ALMH, will conduct the screenings. Healthy refreshments will also be provided.
Our aerobics schedule has undergone a few changes. Those of you interested in a great exercise routine can stop at the desk for a new schedule or give us a call. With 21 sessions a week we are sure there is a time slot to match your schedule. Class offerings range from the first-time participant to advanced.
Synonymous with ceramics at the Lincoln Park District is Scotty Hinman. Scotty fires up the kiln starting Monday, Jan. 7. She has a great stock of greenware to choose from and is willing to give you advice on how to achieve the best results. Scotty plans to offer class sessions at several different times to make it convenient for you.
Some of our new adult class offerings that are in the planning stages are arts and crafts and horticulture and floriculture. Rene Sisk and Andrea Niehaus will spearhead our arts and crafts sessions. Lori Paige, owner of Bee's Floral & Landscaping, will be our instructor for horticulture and floriculture. Watch Lincoln Daily News for further information about dates and times for these classes or call Lincoln Park District at 732-8770.
---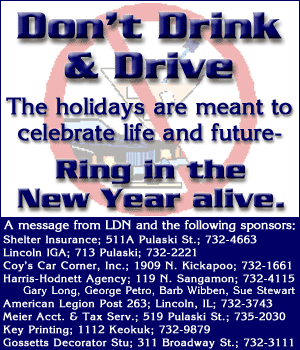 American Red Cross announcements
[DEC. 28, 2001] The American Red Cross will have five blood drives in Logan County during January. The Lincoln Kiwanis will sponsor two drives at the Lincoln Sports Complex. Hours on Jan. 2 will be 12 p.m. to 6 p.m. Hours on Jan. 25 will be from 12 p.m. to 5 p.m. On Jan. 25, Maple Ridge Village will be the site for a drive from 1 p.m. to 5 p.m. Mount Pulaski Christian Church will have a drive on Jan. 30 from 11 a.m. to 5 p.m. The Atlanta Christian Church will have a blood drive Jan. 31 from 12 p.m. to 6 p.m.
In December, the following people reached goals in their blood donations: Linda S. Wilson, 13 gallons; William W. Cross, 13 gallons; Teri Hauter, seven; Ruth Green, three; and Greg Benner, two gallons.
---
Friday, Jan. 25
SPONSOR: American Red Cross
WHO: Public
WHAT: Blood drive
WHERE: Lincoln Sports Complex
WHEN: noon to 5 pm
SPONSOR: American Red Cross
WHO: Public
WHAT: Blood drive
WHERE: Maple Ridge Village
WHEN: 1 to 5 pm
Wednesday, Jan. 30
SPONSOR: American Red Cross
WHO: Public
WHAT: Blood drive
WHERE: Mount Pulaski Christian Church
WHEN: 11 am to 5 pm
Thursday, Jan. 31
SPONSOR: American Red Cross
WHO: Public
WHAT: Blood drive
WHERE: Atlanta Christian Church
WHEN: noon to 6 pm
---
---
---
The Rural Health Partnership has announced the schedule for its mobile health unit. Effective Feb. 1, 2001, the unit will run as follows:
Morning: 9-11 a.m.

Afternoon: 1-3:30 p.m.

Monday

1st and 3rd

Hartsburg

1st and 3rd

Emden

2nd and 4th

San Jose

2nd and 4th

Greenview

Tuesday

Weekly

Chestnut

Weekly

Mount Pulaski

Wednesday

Weekly

New Holland

Weekly

Middletown

Thursday

1st, 2nd, 3rd

Elkhart

Weekly

Atlanta

4th

Friendship Manor-Lincoln

Friday

1st, 2nd, 4th

Latham

1st

Beason

2nd and 4th

Broadwell

3rd

Maintenance/ special events

3rd

Maintenance/
special events
The mobile health unit does not operate on the following dates/holidays during 2001: Feb. 19 (President's Day), April 13 (Good Friday), May 28 (Memorial Day), July 4 (Independence Day), Sept. 3 (Labor Day), Oct. 8 (Columbus Day), Nov. 12 (Veterans Day), Nov. 22-23 (Thanksgiving break), and Dec. 24 - Jan. 1, 2002 (Christmas break).
For more information on the mobile health unit schedule and services, contact Dayle Eldredge at (217) 732-2161, Ext. 409.
---
This family resource list to save and use is provided by the Healthy Communities Partnership (732-2161, Ext. 409) and the Healthy Families Task Force.
Resources for Logan County families
Agency

Phone number

Address

911

911 (Emergencies)
732-3911 (Office -- non-emergency)

911 Pekin St.
Lincoln, IL 62656

Abraham Lincoln Memorial Hospital

732-2161

315 Eighth St.
Lincoln, IL 62656

Aging (Department of)

785-3356

421 E. Capitol, #100
Springfield, IL 62701-1789

American Cancer Society

546-7586 (24 hour)

1305 Wabash, Ste. J
Springfield, IL 62704

American Red Cross

732-2134
1-800-412-0100

125 S. Kickapoo
Lincoln, IL 62656

Catholic Social Services

732-3771

310 S. Logan
Lincoln, IL 62656

Chamber of Commerce

735-2385

303 S. Kickapoo St.
Lincoln, IL 62656

Community Action (CIEDC)

732-2159

1800 Fifth St.
Lincoln, IL 62656

Community Child Care Connection

525-2805
1-800-676-2805

1004 N. Milton Ave.
Springfield, IL 62702-443

Crisis Pregnancy Center

735-4838

513 Pulaski St.
Lincoln, IL 62656

DCFS (Department of Children & Family Services)

735-4402
1-800-252-2873
(crisis hotline)

1100 Keokuk St.
Lincoln, IL 62656

Heartland Community College GED Program

735-1731

620 Broadway St.
Lincoln, IL 62656

Hospice Care of Illinois

1-800-342-4862
(24 hour)
732-2161, Ext. 444

720 N. Bond
Springfield, IL 62702

Housing Authority

732-7776
732-6312 (24 hour)

1028 N. College St.
Lincoln, IL 62656

Illinois Breast & Cervical Cancer Program

735-2317
1-800-269-4019

LCHD - 109 Third St.
Lincoln, IL 62656

Illinois Department of Public Health

782-4977

535 W. Jefferson
Springfield, IL 62761

Illinois Employment and Training Center (replaces JTPA office)

735-5441

120 S. McLean St., Suite B
Farm Bureau Building
Lincoln, IL 62656

Legal Assistance Foundation

(217) 753-3300
1-800-252-8629

730 E. Vine St., Ste. 214
Springfield, IL 62703

Library - Atlanta

(217) 648-2112

100 Race St.
Atlanta, IL 61723

Library - Elkhart

(217) 947-2313

121 E. Bohan
Elkhart, IL 62634

Library - Lincoln

732-8878

725 Pekin St.
Lincoln, IL 62656

Library - Mount Pulaski

792-5919

320 N. Washington
Mount Pulaski, IL 62548

Lincoln Area YMCA

735-3915

319 W. Kickapoo St.
Lincoln, IL 62656

Lincoln/Logan Food Pantry

732-2204

P.O. Box 773
Lincoln, IL 62656

Lincoln Parents' Center

735-4192

100 S. Maple
Lincoln, IL 62656

Lincoln Park District

732-8770

1400 Primm Rd.
Lincoln, IL 62656

Logan County Department of Human Services (Public Aid)

735-2306

1550 Fourth St., P.O. Box 310
Lincoln, IL 62656

Logan County Health Department

735-2317

109 Third St., P.O. Box 508
Lincoln, IL 62656

Logan Mason Mental Health

735-2272
1-888-832-3600
(crisis line)

304 Eighth St.
Lincoln, IL 62656

Logan-Mason Rehabilitation Center

735-1413

760 S. Postville Dr.
Lincoln, IL 62656

Oasis (Senior Citizens of Logan County)

732-6132

501 Pulaski St.
Lincoln, IL 62656

Project READ

735-1731

620 Broadway St.
Lincoln, IL 62656

Salvation Army

732-7890

1501 N. Kickapoo
Lincoln, IL 62656

Senior Services of Central Illinois

732-6213
1-800-252-8966
(crisis line)

109 Third St.
Lincoln, IL 62656

Sojourn Shelter & Service Inc.

732-8988
(217) 726-5200 (24-hour hotline)

1800 Westchester Blvd.
Springfield, IL 62704

U. of I. Division of Specialized Care for Children

524-2000

1-800-946-8468

421 S. Grand Ave. West, 2nd Floor
Springfield, IL 62704

U. of I. Extension Service

732-8289

122 S. McLean St.
Lincoln, IL 62656
---
News | Sports | Business | Rural Review | Teaching & Learning | Home and Family | Tourism | Obituaries
Community | Perspectives | Law & Courts | Leisure Time | Spiritual Life | Health & Fitness | Letters to the Editor