Lincoln Daily News.com
601 Keokuk St.
Lincoln, IL 62656

TEL: (217) 732-7443
FAX: (217) 732-9630
Lincoln Daily News publishes daily news about the Lincoln/Logan County area on the Internet at www.lincolndailynews.com. (We are not a print publication.) All subscriptions are free!
Our mission:
The mission of Lincoln Daily News is to tell the stories of Logan County in a contemporaneous manner, with lively writing and a predilection for simple truth fairly told. Lincoln Daily News seeks a relationship with the good people of Logan County that is honest, neighborly and never patronizing. Lincoln Daily News presents news within a full context that contributes to understanding. Lincoln Daily News is more interested in the marketplace of ideas than the competition of personalities. Without shrinking from the bold delivery of unvarnished fact, Lincoln Daily News operates from the premise that God's creatures deserve the presumption of right motive. Lincoln Daily News eschews malice and cynicism; it approaches every person with dignity and every subject with equanimity. In short, Lincoln Daily News informs, stimulates and entertains.
Content:
The articles published in Lincoln Daily News are the result of research, interviews and news releases submitted. Any opinions expressed are those of the writers.
Corrections:
Please contact us by phone, fax, mail or e-mail with any information about mistakes, typos or erroneous information. If the error is in an item which is still in the paper, we will correct it online immediately.
Our services:
Lincoln Daily News provides daily news, sports, features and commentary on Lincoln, Logan County and the surrounding area.
To promote local businesses, we offer display advertisements at very reasonable rates, and links to business websites. Call (217) 732-7443 or e-mail ads@lincolndailynews.com.
"Happy ads" are a special feature to enable our readers to celebrate birthdays, graduations, anniversaries and other good news. Call us for details.
For employment information, contact Lincoln Daily News at their offices.


Our staff:
In the office
Managing editor: Jan Youngquist
ldneditor@lincolndailynews.com
Office assistant during vacations:
Technician, writer: Gina Sennett
Technician: Don Buckner donbldn@lincolndailynews.com
Copy editor, writer: Mary Krallmann
Advertising sales and promotion staff
Lucky Eichner: ldn@lincolndailynews.com
Mike Fak: mfldn@lincolndailynews.com
---
Thanks and a Valentine's Day invitation
1-24-02
To the editor:
The Logan County Arts Association would like to thank everyone who enjoyed the swashbuckling adventures of "Robin Hood" on the silver screen.
Our offerings would not be possible without the kind assistance of the GKC Corporation.
We look forward to seeing everyone on Valentine's Day for "It Happened One Night." Bring your sweetheart, cuddle up with a box of popcorn, and enjoy.
Marshall H. Jacobs
President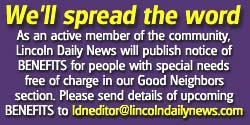 ---
On LDC: We need our political leaders to step forward to maintain choices for the developmentally disabled
1-17-02
Dear Editor:
Over the last few months newspapers have run several news stories, editorials and letters concerning Lincoln Developmental Center and other large state-operated facilities for the developmentally disabled. Locally, concerns were if LDC was going to remain open and if it was safe for the individuals living there. Many of the editorials and letters were comparing the large state facilities with community-based living centers.
I've worked at LDC for over 30 years; I also have a family member living in a community group home. During those years I've seen the good and bad of both types of living centers.
Unfortunately we cannot provide a perfect living environment for people that are developmentally disabled. Instead of one trying to destroy the other and accusing each other of all types of terrible atrocities, they should work together. The state of Illinois and more specifically the Department of Human Services must provide funding adequate for both: state facilities and community living centers.
The disabled citizens living in Illinois need and deserve the best care possible. Everyone is not the same; we have people who live in community facilities and have a very good quality of life, and the same can be said for the state facilities. The truth is we need both types of living centers. They each provide different services with the same goal. The Department of Human Services must stop encouraging the competition for funds for the developmentally disabled.
Our political leaders must step forward and start doing the things they were elected to do and ensure that people who are developmentally disabled have choices — choices on the best living facilities, choices on quality medical treatment, and choices on learning and earning a wage.
Dan Underwood
---
.
Please send your letters by e-mail to ldneditor@lincolndailynews.com or by U.S. postal mail to:
Letters to the Editor
Lincoln Daily News
601 Keokuk St.
Lincoln, IL 62656
Letters must include the writer's name, telephone number, mailing address and/or e-mail address (we will not publish address or phone number information). Lincoln Daily News reserves the right to edit letters to reduce their size or to correct obvious errors. Lincoln Daily News reserves the right to reject any letter for any reason. Lincoln Daily News will publish as many acceptable letters as space allows.