A proper windbreak involves more than just planting a lot of trees around the farmstead. Windbreaks provide maximum benefits by sheltering buildings from winter winds, so the first thing to do is determine the direction of prevailing winds.
The prevailing winds for most of Illinois are from a northwesterly direction; so for the best protection, windbreaks should be located on the north and west sides of the farmstead.
The shapes of farmsteads vary, but the most effective and easily arranged windbreak is designed in the form of an L, with the point to the northwest. The windbreak should be set no closer than 50 feet from the buildings to prevent dead-air pockets around buildings in the summer and to minimize snowdrifts in the winter. If you have room, 100 feet is even better.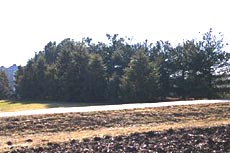 Generally, evergreen windbreaks consist of three rows, with trees in the middle row planted to alternate between those of the outside rows. The rows should be at least 16 feet apart, with the trees spaced 16 feet apart within the row. If planted too close to each other, the trees will crowd and shade each other as they mature, killing the lower branches needed to slow surface wind.
How many trees to buy is another consideration. One way to estimate the number of trees required is to multiply the length of the windbreak by 0.20. Most windbreaks need 100 to 150 trees. Buying a few extra trees might be wise, to replace losses or to plant around a garden.
For best protection, the windbreak should be continuous and uninterrupted, but if access is needed to nearby fields, avoid making gaps at the northwest corner or along the legs. This can be done by overlapping the legs, providing a continuous row of trees, yet allowing space for access to fields.
You can attract songbirds and other wildlife to your windbreak and even discourage pest species by taking a few special considerations in the design stage. Windbreaks are valuable additions to wildlife habitat in regions of intensive agriculture. Although many species of wildlife will benefit from windbreaks, not all of them will be conspicuous. Some species are nocturnal and some are secretive. A good design and a well-laced bird feeder will bring many species into view.
The single most important variable influencing the use of a windbreak by wildlife is its size. The windbreak will be used by more wildlife in direct proportion to its length and width, that is, the number of rows and their length.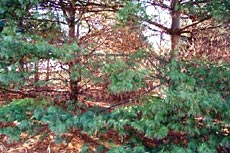 A diversity of shrub and evergreen species will attract more wildlife than will monotypic rows of single species. Various species produce fruit at different times of the year, providing modest amounts of food over an extended period of time. Where windbreaks are composed of just one or two species, the fruit comes on at one time and cannot be fully utilized by resident wildlife, or it may attract undesirable concentrations of migrating birds for brief periods in the fall. A diversity of tree and shrub species will also reduce the impact of insect or disease problems in the windbreak.
Species known to be good for attracting nesting birds include spruce, pine, arrowwood, and hawthorn. Species with favored fruits include American plum, Chokeberry, hawthorn, high-bush cranberry, arrowwood and dogwood.
Upcoming events
Jan. 29 — Illinois Tillage Seminar, Spring Valley; reservations by Jan. 22
Jan. 31 — Horse Nutrition Workshop, Lincoln; reservations by Jan. 24
Feb. 4 — Entomology Roundtable, Lincoln; reservations by Jan. 27
Feb. 12 — Illinois Tillage Conference, Bloomington; reservations by Feb. 5