Girl Scouts announcements
Girl Scout leader meetings: the first Thursday of each month, at the usual time and place.
---
Websites with lots of ideas that Girl Scout leaders, families or kids can use:
See the website for Girl Scouts, Land of Lincoln Council, at http://www.girlscoutsllc.org/.
You can send questions and suggestions to the council by clicking here: gsllc@girlscoutsllc.org.
Also, see the national Girl Scouts site at http://www.girlscouts.org/.
---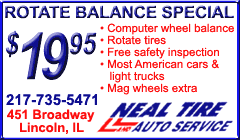 Lincoln Writers' Club meets Feb. 12
The Lincoln Writers' Club will meet at 6 p.m. Feb. 12 in the Pegram Room of the Lincoln Public Library. Anyone interested in writing is invited to attend.
For further information, call Rebecca Johnson at 732-2723.
---
The Oasis, Logan County's senior citizen center, at 501 Pulaski St. in Lincoln, is open weekdays (except holidays) from 9 a.m. to 4 p.m. The center also is open on Friday and Sunday nights for table games. Dominic Dalpoas is the executive director. Activities are open to all Logan County senior citizens, regardless of membership.
Featured speaker for Think Tank
On Wednesday, Jan. 30, from 9 to 11 a.m., Clarence Smith will present a program entitled "A History of Books." A discussion period follows for a lively exchange of ideas.
Game winners
The weekday pinochle winners for Jan. 11 and 15 were Ruth Aper and Eleanor Barton. Weekend game winners for Jan. 11 were Esther Will for pinochle and Ken McCray and Bernie DePuy for 5 in 1. Harley Heath won Friday night pool honors.
Newsletter
Friends of the Oasis members receive bimonthly newsletters by mail. For more information, people can call the Oasis at 732-6132 or 732-5844.
---
Extension to offer lesson on de-cluttering
At some point in your life, you may have to downsize or de-clutter the stuff in your home or even dismantle a loved one's home. After everyone has selected the treasures to keep, what do you do with all the unwanted stuff? What steps do you take to de-clutter the items stashed around the home and no longer used?
On Thursday, Feb. 7, the Logan County unit of University of Illinois Extension is sponsoring a "Lesson for Living" called "What To Do With Stuff!" The session will begin at 10 a.m. at the Extension building, 980 N. Postville Drive in Lincoln.
Ellen Burton, consumer and family economics educator from University of Illinois Extension East Peoria Center, will present information on three steps to de-clutter and downsize stuff in the home. You will learn about the various alternatives to dispense with non-titled property. Downsizing can help eliminate stress as you begin to simplify your home and reduce the number of things you have to take care of. Help other people by donating some of your unwanted items to charity.
Burton will present information on types of sales to consider in selecting the best options for the family's situation. Other topics to be presented include how to choose an appraiser, prepare for an auction, find an auctioneer, donate items to charity and receive a tax deduction for donated items.
Interested individuals are invited to attend. Please call 732-8289 by Feb. 4 to preregister for the program. It will last about two hours and is provided at no cost to the participants.
---
Happenings at the U of I Extension office
The local office of the University of Illinois Extension is hosting a series of educational presentations. Anyone and everyone is welcome. Programs will be at the Extension office at the northwest corner of the fairgrounds, 980 N. Postville Drive.
Reservations will be requested; programs will be cancelled if fewer than 10 people are registered.
Call 732-8289 to make reservations. There will be no charge for any of the programs
Planned programs for the coming year through University of Illinois Extension:
• Thursday, Feb. 7, 2002, at 10 a.m. — "What to Do With Stuff," Ellen Burton, consumer and environment educator, East Peoria
• Tuesday, March 12, 2002, over noon hour 12-1 p.m. — "Salads," Jananne Finck, nutrition and wellness educator, Springfield
• Thursday, April 11, 2002, at 10 a.m. — "New Friends, But Keep the Old," Patti Faughn, youth and family educator, Springfield
• Tuesday, May 15, 2002, at 10 a.m. — "Air Quality," John Fulton, Lincoln