One thing of note is the plant development. Even last fall we had flowers and shrubs blooming. It even seems like the maple trees have had the buds swelled and ready to go since about Thanksgiving. We canít really do anything about flowers and shrubs "getting out of sync," but we can help prevent other problems from occurring.
Any extra growth by plants takes energy. This can be either vegetative or reproductive growth (leaves or flowers). Each time something grows it takes energy. The simplest way to help plants get over this energy loss is to keep them in good growing condition. Proper fertilizer and watering go a long way to accomplish this. In the case of evergreens (including the broadleaf evergreens such as holly, azaleas and rhododendrons) watering anytime during the winter when soils arenít frozen is also a good idea.
Most plants would do well with about an inch of water per week. This would be the ideal. Most of the time, there is a surplus of water in the soil that can be used by plants when it doesnít rain. This fall and winter there really hasnít been much. This can lead to evergreens having brown needles or leaves. The plants basically lose more water than they can take up. Strong winds compound these problems. The simple solution is to run the hose or sprinkler when you can. Mulches to help prevent evaporation will also help. Use of an anti-transpirant or wind blocks will also keep needles or leaves from losing so much moisture.
When it comes to fertility, the rule of thumb is to apply about 15 pounds of 10-10-10 per 1,000 square feet of garden area to flowers, vegetables, trees, etc. Some literature says to limit applications to 10 pounds in areas where there is grass to avoid burning the grass. Donít apply fertilizer at this time. It might actually spur growth. Fertilize during active growth periods such as May and August. If you have a soil test, you may fertilize according to needed nutrients.
Hopefully these tips will help you preserve valued landscape plantings. Please call the Extension office if you need further information.
Master Gardeners graduate
The first class of Master Gardeners has had its first graduates. Master Gardeners undergo intensive training in various horticultural topics, pass a detailed exam, then volunteer 60 hours of service time to the community in horticultural education. Those completing service and now certified as Master Gardeners are Bob Graue, Russel Allen, Wilma Clark, Dorris Morris, Dr. David Kvitle, Mary Moore, Lisa Wrage and Pat Cooper.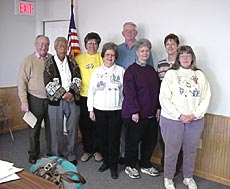 A second Master Gardener training session will be this fall in Lincoln. To receive information, please contact Don Miller at the Extension office at millerd@mail.aces.uiuc.edu. More information on the program is available on the website at http://www.extension.uiuc.edu/mg/.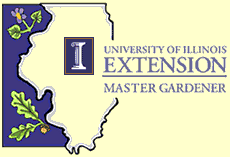 A proper windbreak involves more than just planting a lot of trees around the farmstead. Windbreaks provide maximum benefits by sheltering buildings from winter winds, so the first thing to do is determine the direction of prevailing winds.
The prevailing winds for most of Illinois are from a northwesterly direction; so for the best protection, windbreaks should be located on the north and west sides of the farmstead.
The shapes of farmsteads vary, but the most effective and easily arranged windbreak is designed in the form of an L, with the point to the northwest. The windbreak should be set no closer than 50 feet from the buildings to prevent dead-air pockets around buildings in the summer and to minimize snowdrifts in the winter. If you have room, 100 feet is even better.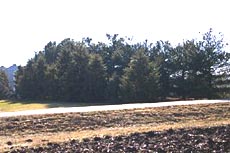 Generally, evergreen windbreaks consist of three rows, with trees in the middle row planted to alternate between those of the outside rows. The rows should be at least 16 feet apart, with the trees spaced 16 feet apart within the row. If planted too close to each other, the trees will crowd and shade each other as they mature, killing the lower branches needed to slow surface wind.
How many trees to buy is another consideration. One way to estimate the number of trees required is to multiply the length of the windbreak by 0.20. Most windbreaks need 100 to 150 trees. Buying a few extra trees might be wise, to replace losses or to plant around a garden.
For best protection, the windbreak should be continuous and uninterrupted, but if access is needed to nearby fields, avoid making gaps at the northwest corner or along the legs. This can be done by overlapping the legs, providing a continuous row of trees, yet allowing space for access to fields.
You can attract songbirds and other wildlife to your windbreak and even discourage pest species by taking a few special considerations in the design stage. Windbreaks are valuable additions to wildlife habitat in regions of intensive agriculture. Although many species of wildlife will benefit from windbreaks, not all of them will be conspicuous. Some species are nocturnal and some are secretive. A good design and a well-laced bird feeder will bring many species into view.
The single most important variable influencing the use of a windbreak by wildlife is its size. The windbreak will be used by more wildlife in direct proportion to its length and width, that is, the number of rows and their length.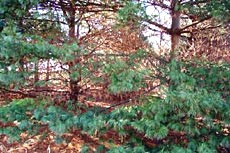 A diversity of shrub and evergreen species will attract more wildlife than will monotypic rows of single species. Various species produce fruit at different times of the year, providing modest amounts of food over an extended period of time. Where windbreaks are composed of just one or two species, the fruit comes on at one time and cannot be fully utilized by resident wildlife, or it may attract undesirable concentrations of migrating birds for brief periods in the fall. A diversity of tree and shrub species will also reduce the impact of insect or disease problems in the windbreak.
Species known to be good for attracting nesting birds include spruce, pine, arrowwood, and hawthorn. Species with favored fruits include American plum, Chokeberry, hawthorn, high-bush cranberry, arrowwood and dogwood.
Upcoming events
Jan. 29 ó Illinois Tillage Seminar, Spring Valley; reservations by Jan. 22
Jan. 31 ó Horse Nutrition Workshop, Lincoln; reservations by Jan. 24
Feb. 4 ó Entomology Roundtable, Lincoln; reservations by Jan. 27
Feb. 12 ó Illinois Tillage Conference, Bloomington; reservations by Feb. 5
Terms of three directors will be expiring: Tom Martin, Mount Pulaski; Mike Boyer, Middletown; and Doug Thompson, Atlanta. The business meeting, beginning at 7:30 p.m., will include election of directors.
Featured speaker for the meeting will be Doug Schemmer, grain channeling manager for Monsanto. Doug was raised on a central Illinois grain and livestock farm. He received a masterís degree in crop science from the University of Illinois. For seven years he served as a Monsanto sales representative in the western Illinois area. He then served as a Monsanto technology staff member for three years.
Doug will be speaking on the research and development of products in the pipeline, biotech acceptance and grain channeling, with a question-and-answer session to follow.
Please call the district office at (217) 732-2010, Ext. 3 for reservations.
[News release]