But things seem to be different for this yearís Preachers. Is it the beautiful new athletic facility? Is it the promising new recruits? Maybe. However, fans are a little uneasy because when the ball goes up for the first time in the í02-í03 season, Matt Clark wonít be on the floor. You might call this the "post-Clark era." How do you replace 2,744 career points, a three-time All-American and National Player of the Year, not to mention veteran leadership? If you have the answer to that question, give coach Randy Kirk a call. The biggest challenge for Kirkís team this year is replacing the heart and soul of this team for the past four seasons. This team has to develop a new identity and new habits. This team has to learn how to play without the schoolís all-time leading scorer.
The Preachers have 11 new faces on a team that returns three starters. Coach Kirk is optimistic about this yearís recruiting class: "The good news is this is the deepest recruiting class Iíve had since Iíve been here." Kirk says several of these players will have significant roles this year, while others may be a year or so away.
Caleb Edson, true freshman out of Centralia, is one who will have immediate impact. Edson has an impressive resume that includes two appearances in the state finals of the 3-point competition. "Heís a very athletic kid who can shoot the ball very well," says Kirk. Edson will start at shooting guard at the beginning of the season.
Another recruit who will have an immediate impact is Chad Nelson. Nelson is a transfer from Grace Bible College, where he started as a freshman. With a 6-foot-7 frame, Nelson provides the Preachers with a big body who can also shoot the ball. He will also start for the Preachers.
Tim Schultz has been a surprise for Kirk and the Preachers. Schultz ran the second fastest 800-meter in Indiana as a high school senior. Kirk points out, "Heís been a pleasant surprise for us and brings a lot of energy to this team."
Two transfers who will help the Preachers are Cory Rayhorn and Brian Dunaway. Both have been injured in the preseason and havenít had much practice time. However, Kirk believes they will help the team as soon as they get healthy. Rayhorn is four years out of high school but a true freshman. Even though heís only 5-foot-8, Rayhorn is extremely quick. "Heís the quickest player with the ball Iíve ever coached," claims Kirk. Brian Dunaway will also bring a lot to this team. He is a transfer from the DI school Southern Louisiana. Dunaway is extremely athletic and will provide the Preachers with both an inside and outside threat.
Who will lead this young, inexperienced team? The Preachers will look to senior Joel Searby for leadership. Searby averaged 18 points and 10 rebounds last year. A U-High grad and former DIII player, Searby will need to step up and anchor this team of new faces. Senior Zach Below also returns. Below averaged 12 points a game last year and will be looked on to take up the slack, not only of Clarkís scoring but also senior leadership. How far the Preachers go may rely on how well these two seniors can lead them. The Preachers also return key upperclassmen Jake Raymer, John Holderby and Jim Turney. So that gives them something to build around.
The schedule is extremely tough, and November will make or break this young team. They play five nationally ranked NAIA schools as well as potentially six NCCAA nationally ranked teams. The stretch in November includes three of these ranked NAIA teams and DII team Alaska Anchorage.
Kirk talked about the Preachersí rough schedule: "This is a very ambitious stretch. If we can survive this with a thread of confidence, weíll be a very good team in February. However, this is a stretch that could destroy a young team."
The Preachers have never been to the national tournament. Maranatha Baptist returns all five starters, and the Preachers have to get by them if they want to get the monkey off their back. Upsets and heartbreaks have kept the Preachers out of nationals in years past. They have an advantage this year because they are host to the regional tournament.
If this team wants to shed the reputation of not being good in the postseason, two things must happen. One, they have to establish good chemistry. Talented as they may be, if they donít play well together, you can guarantee an early exit. The second thing they have to do is have people step up. When the Preachers needed a score, Matt Clark was always up to the task. Who will take on that role? Itís essential that the Preachers find someone to step up and want the ball in the final two minutes.
The question still remains if this is the Preachersí year. The talent is there, but will they gel together? The trip to nationals is well overdue, so Preacher fans, get out the rally monkey and letís go to Oklahoma.
[Brandt Wilson]
Lady Railers denied trip to state
You had a feeling that the Lady Railers volleyball team was due to break out this weekend and take a much-deserved trip on that wild, magic carpet ride known as the state tournament. But once again fate stood in their way in the manifestation of Normal Community High School. However, that match does NOT take away the accomplishments of this great group of girls.
For me personally it is always hard to say goodbye to the seniors. They had great careers here, and we wish them nothing but the best. For the returning players, I can only say that next year I plan to watch them in Redbird Arena.
CONGRATULATIONS on another outstanding season, Lady Railers!
Angels denied at nationals
When you dispose of the No. 1-ranked team in the nation earlier in the day, you have to figure that your chances for bringing home some national hardware were looking pretty good. However, the denial bug hit another local team as the Lincoln Christian College Angels went down in the quarterfinal round and were unceremoniously bounced right out of medal play. Again, that will NOT diminish what these young ladies accomplished.
The LDN will REALLY miss Breanne Prunty banging home the game winners, but congratulations to her, Christen OíMalley and Lauren Cox for making this yearís All-American squad. Also, kudos to coach Kevin Crawford, who won an unprecedented fourth or fifth (or was it 12th) National Coach of the Year award. (Editorís note: The LCC athletic director who hired Mr. Crawford is now a semiprofessional sports writer with the LDN.)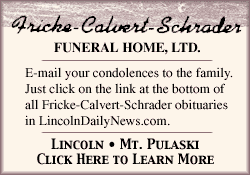 Denial bug hits the Bears too
I have watched and re-watched the highlights of this game, and I can tell you Bears fans only one thing: You were robbed! First it somehow took them an hour and 10 minutes to play the third quarter! Not the second half, BUT the third quarter! I donít know who keeps stats, but IF thatís not a recordÖ it should be. It was nuts! Then the last two minutes of the game was just a calamity of errors.
However, I donít know why so many people are surprised. IF you go back and watch the tapes of last yearís AFC championship game between these same Pats and the Oakland Raiders, you will see at least three blown calls that ensured that the Pats would win!
Theyíre pretty lucky that they didnít have a riot on their hands at the end of this ballgame. I havenít seen this many mistakes by one crew in a Pop Warner league game! First there was no measurement on a crucial fourth and short play. While Iím guessing they did pick up the first down, in a crucial situation like that, you just have to measure it. Integrity demands it! Next, NO ONE even signals first down. Then an extra down appears to have been givenÖ and I havenít even mentioned the addition of nine seconds to the game clock.
Now donít get me wrong. Perhaps every one of these WAS the right call. BUT, you wouldíve never been convinced of it watching this circus act, EVEN if you were a Patriots fan! I donít understand why and how crews can make some of these seemingly easy things appear so complicated. And to stand there and discuss some of them for several seconds or minutes takes away from the fluidity of the game!
Iím not going to comment on where I think they were wrong or right. Iíd just like to see improvement, especially in the area of consistency.
In the grand scheme of things the Bears arenít going ANYwhere this year except back to their luxury boxes next to the lake and their stinkiní PSLs, but WHAT IF they were in the playoff hunt? What kind of a brouhaha do you think that would have set off Sunday night? Has ANYone figured out the draft order yet and who the Bears might get IF they stay on course the rest of the way?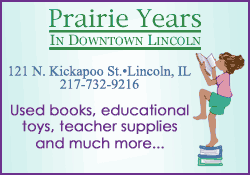 Ramsí vaccination keeps denial bug at bay
The St. Louis Rams did NOT let the denial bug deny them an amazing comeback victory over the San Diego Chargers, 28-24. Is it the system or is it Marc Bulger? YOU make the call.
The Indianapolis Colts also had an incredible road victory AT Philadelphia.
How in the world can bookies ever make any money in the world of sports? I wouldnít EVEN bet on what Iím gonna do in the next five minutes, much less whoís gonna cover the spread in an NFL game! Are you kidding me???
LCC menís hoops goes 3-0 on first road trip
In my 10 years of coaching out at LCC, I donít remember ever going 3-0 on the opening weekend. We usually played only two! However, this group of LCC cagers may be worth the viewing to you community hoops junkies. First of all, the new Laughlin Center is a perfect spot to view a hoops contest. Second, coach Randy Kirkís intense, aggressive style makes his teams competitive against virtually anyone they line up against. Third, heís got some nice players ó Normal U Highís Joel Searby and a D-I import from somewhere in Louisiana (God bless íem, and keep íem coming!) in the person of Brian Dunaway, just to name a couple.
Tomorrow (Tuesday) at 7 p.m., right here on the beautiful eastern edge of Lincoln, you can see this vaunted attack take on Robert Morris College. Plenty of good seats still available, BUT there is ONLY one more home game for the first semester: Nov. 26. SO, get out there Tuesday night and start becoming an LCC backerÖ This train is NOW BOARDING!!!
We recommend the LC wagon as well
We have not yet seen this yearís edition of the Lynx, but we hear that they take no prisoners! B.J. ALWAYS does a great job, and we love watching games over at LC!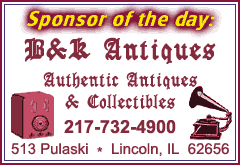 Can someone please explain the Illini to us?
Just when you thought that the forks were firmly embedded in your sick and fading Illini, lo and behold they go up to Wisconsin, a place they havenít played well over the years, and pummel Bucky and his brothers, 37-20! And Channel 3ís Chris Widlick told me it wasnít that close. He went on to say that the Illini dominated them in spite of committing five turnovers! Five turnovers usually gets you a seat next to WhatsamattaU!
Jon Beutjer seems to be coming into his own, but can Illinois even HOPE to upset Ohio State? I have been so skeptical the last two years, and even though Iíve had a lot of right picks, Iíve also had a lot of wrong ones (the Cards-Arizona one sticks in my mind). I donít know why, but Iím smelling upset in Chambana next Saturday. I hate to make predictions, but since youíre forcing me, Iím going with Illinois 24, Ohio State 23!
By the way, the Illini MUST upset OSU on Saturday to even hope for a bowl bid. I know itís a long shot, but nothing ventured, nothing gained!
Denial bug bites ISU in heartbreaking loss
The denial bug showed up in Normal in the form of two huge miscues as the Redbirds snatched defeat right out of the jaws of victory before over 6,000 windblown fans on Saturday. The LDN couldnít believe, with ISU leading 17-10 midway in the third, that an ill-advised screen pass ended up going for a big interception and a couple of plays later Youngtown State had tied the game. On the ensuing kickoff, the ball headed for the stratosphere with Dorothy, and Toto and the Birds refused to cover the ball! If that wasnít enough to sink your stomach, on fourth and three the Penquins fired a deep pass in the corner of the end zone that resulted in the game-winning touchdown, 24-17.
With so many weird things happening to our city and area teams, could SOMEbody PLEASE call the Ghostbusters?!!!
ISU and Illini hoopsters hit the hardwood
You are now entering my favorite time of the year ó college basketball season. Some have even suggested that I quit coaching because I was too big a fan of the game. While those reports are greatly exaggerated, I wonít deny that I love hoops sometimes more than life itself! When the Birds or the Preachers or the Illini or the Railers go on an 11-0 run featuring a couple of 3s and a nasty dunk, I just have to get up and dance. And donít be surprised that the people in my section usually REALLY appreciate my exuberance! Well, itís that time again, as LCC and Illinois host games Tuesday, ISU hosts one on Thursday, and the Illini unfurl their BIG TEN champions banner on Friday! I donít have an LC schedule in front of me, but Iím sure theyíve got some exciting contests on tap as well! Get on out and support your favorite team(s)! Itís FANtastic!!!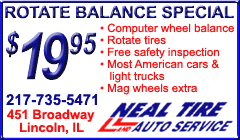 FREE TICKETS
IF you are junior high age or younger and IF you have NEVER been to an ILLINI basketball game and IF you have someone who can take you to a game this week, send a note to jmayfield@lccs.edu. I will give two FREE tickets to one of Illinoisí games this week to the first person who contacts me via e-mail. Good luck!!!
"FANdamonium"
Again, I want to take this opportunity to thank the many viewers and listeners of our Monday night sports call-in show for your many kind comments and reviews.
ē The purpose of our show is to:
ē Talk about college and pro sports of area interest
ē To promote our local college, high school and junior high coaches and athletes.
ē To give non-major sports the publicity that they deserve but seldom receive
And it is gratifying to Greg and me that you loyal and outstanding viewers have captured our concepts and have been quick to embrace them. Also, everyone who has called or e-mailed with an idea so far has been heard or responded to. PLEASE keep those calls, cards and e-mails comingÖ This is YOUR show! You can catch us right here on the LDN by clicking on the live link every Monday night at 6. Or you can watch us on CITV Channel 5 or listen to us on FIX 96.3 on your FM dial.
Our format is:
ē First segment ó Area pro and college reports and banter of interest with callers
ē Second segment ó Live interviews with local college, high and junior high coaches and athletes
ē Third segment ó Follow-ups, giveaways and wrap-up
Last nightís guest was Lincoln High School soccer coach Tom Mauhar. We also hope to have football coach John Oaks sometime soon to wrap up a successful year of Railer gridiron work.
Future shows: We hope to showcase more area volleyball teams, and soon weíll be starting through the winter sports. Look for a BIG basketball showcase in the next few weeks. IF you have ANY suggestions, call us at the LDN at 732-7443 or e-mail us at ldneditor@lincolndailynews.com.
YOU are the reason that this show has been so successful! Thanks again, as Greg and I really appreciate you helping us focus some positive light on the great young people of our community and our county!