An adjourned meeting was scheduled for 7 p.m. Thursday, Oct. 17, in the courthouse boardroom to discuss the 2003 budget proposal prepared by the Finance Committee. The fiscal year begins Dec. 1. Committee chair Rod White said the proposed budget contains a deficit between $150,000 and $200,000 and includes some shifted funds and "a very small tax increase" within the tax cap of 1.6 percent. He will present a synopsis of the adjustments Tuesday night.
In the first zoning question the board tentatively approved a conditional use permit enabling Leslie and Karen Hoagland to operate their motor coach restoration business from their home on 1200th Street in rural Lincoln. The Hoaglands' petition was previously approved by the Regional Planning Commission and the Zoning Board of Appeals. In addition, the issue was aired at a public hearing on Oct. 8. At each meeting those present recommended or stipulated that the conditional use should be restricted to the Hoagland family, with the property reverting to agricultural zoning when members of the immediate family are no longer operating the restoration business.
A motor coach restoration business is classified as a junkyard in the county ordinance. At both the zoning board meeting and the public hearing, adjoining landowners Gerald Gehlbach and Phil Ruch said they do not object to the Hoaglands' business but are concerned how the property might be used in the future if the conditional use as a junkyard remains in place.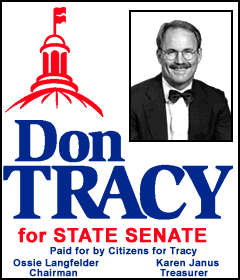 The county board voted 10-2 in favor of granting the petition, with the stipulation that the variance applies only to the Hoaglands. Like all decisions taken in Thursday board-of-the-whole meetings, this one was tentative, with the binding vote coming at the subsequent Tuesday night's voting session. Clifford Sullivan and Dale Voyles opposed the measure, and Dick Logan abstained. Voyles said he also voted against the petition at the planning commission.
In the second zoning matter, the board gave tentative approval to a subdivision plat submitted by Brad Luckhart of Lincoln. The planning commission has approved several variances for Luckhart's property. Excluding those, County Engineer Tom Hickman said Luckhart and his engineer have corrected all deficiencies. For Tuesday night's vote Hickman will certify that Luckhart has complied with provisions of the subdivision ordinance.
Luckhart has done multiple soil borings on each lot to determine soil type and drainage and will drill a test well. A state hydrologist has confirmed that sufficient water is available on the property. In addition, Luckhart's engineer has certified that drainage problems either never existed or have been taken care of. Under questioning by board member Rod White, Hickman said as far as he knows the ordinance does not specify whether the engineer or subdivision owner is responsible in the event of a drainage problem.
All 13 board members voted in favor of approving the subdivision plat. Following final approval Tuesday, Luckhart will be able to sell lots, but building permits cannot be issued until the property has electricity.
In another tentative vote, the board approved a resolution to form a safety committee and establish a safety program. Insurance Committee chair Dale Voyles said the Illinois Risk Fund is "strongly suggesting" that a safety committee be in place by February 2003. It is likely that without a safety plan worker's compensation insurance rates would rise. The county is modeling its program on a general provision safety plan supplied by John Farmer of Illinois Risk Fund.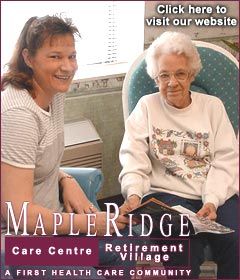 Health Department administrator Lloyd Evans said flu and pneumonia shots are available on a walk-in basis at the Logan County Health Department and from the county van. Hours are 7:30 a.m. to 4:30 p.m. Monday-Friday at the Health Department and 9 a.m. to 3:30 p.m. at the van. Each shot costs $16. Unlike in previous years, the full shipment of vaccine has been received and is available to the public.
Evans said the county has experienced no human cases of West Nile, but several horses have contracted the disease. He described West Nile as a form of encephalitis and said the Health Department is planning an aggressive education program. Evans cited four ways to fight the disease: (1) Eliminate breeding grounds; (2) use larvacide in standing water; (3) spray for adult mosquitoes, which he said is not very effective; and (4) take personal responsibility by wearing appropriate clothing, using insect repellent or staying inside.
Evans said freezing kills mosquitoes, but some can overwinter if they find a protected location. In the past, high incidence of encephalitis has not continued from year to year, he said.
Animal Control Committee chair Clifford Sullivan reported that the committee voted to treat animal control warden Sheila Farmer as a department head and raise her salary $1,000. Board members Doug Dutz and Jim Griffin questioned the move, saying that animal control administrator Lester Thomson is the department head. Griffin indicated that he would vote against the raise. Logan asked Sullivan to submit the proposal to the Finance Committee.
In other business the board learned that
• Logan County Railsplitter Association has volunteered to place rail corner fences on each corner of the courthouse square.
• Recently installed water hydrants at Logan County Airport are being replaced by Twin City Builders because they were not the ones specified in the bid.
• Fuel sales at the airport have "doubled if not tripled" since self-operated pumps were installed. With no labor costs, Airport Committee chair Roger Bock said the county made $1,550 on airport fuel sales in August.
• Community leaders from Canton visited Lincoln on June 18 and compiled their impressions of the city. At 7 p.m. Tuesday, Oct. 29, at the Restaurant at the Depot, they will give a Community Swap Report on what they saw.
• The recent Emergency Services Disaster Agency exercise went well and was instructive. Board chair Dick Logan said that although there was a good turnout he would like to see greater participation next year. Evans said Logan County ranks "head and shoulders above most counties, regardless of size" in disaster preparedness.
• Workforce Investment provided unemployment insurance claims counselors and a job fair for the more than 500 people affected by the Lincoln Developmental Center closing.
• Several county departments found bargains at the LDC sale.