County gives and receives awards; activities approved
[APRIL 16, 2003] Guests introduced themselves at the Logan County Board meeting Thursday evening. Interestingly enough three-quarters of the crowd had the same last name, Vannoy. The flock of family and friends were present as board chairman Dale Voyles expressed appreciation to Devon Vannoy on behalf of Logan County for his volunteer work with ESDA.
Vannoy received the Logan County ESDA 2002 Volunteer of the Year award in December, and now the state of Illinois has also chosen him for that honor. Vannoy was recently recognized at the state awards ceremony. He was nominated by Logan County ESDA director Dan Fulscher and assistant director Terry Storer. Both Fulscher and Storer expressed deep appreciation for all that Vannoy has done and said they were particularly pleased when he was selected for the state honor.
The award is given for his extensive efforts, tasks completed and availability in time of need. Some of Vannoy's major contributions in the last year have included completely rewiring the mobile command unit, painting at the complex, and communications during the recent storm and recovery.
Another award was presented Thursday evening. Paul Gleason presented Voyles with a certificate of appreciation from Community Action to Logan County.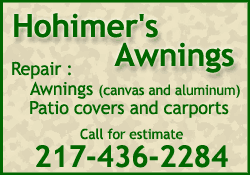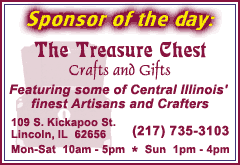 The Logan County Courthouse lawn will be the site of a rally honoring our military next Wednesday. The event is intended to be much like the one took place there following 9-11. It is being organized by a couple of mothers with children serving in the military. They just wanted to see something done. Nitsie Gleason submitted the request. A few speakers and music are planned for the April 23 gathering, which begins at 5:30 p.m. The public is invited.
Activity dates
April 23 – "Honor Our Military" rally
May 1 -- National Day of Prayer gathering at the Logan County Courthouse
May 3 -- Prom grand march at the Logan County Courthouse
May 3 -- Farmers market resumes for the 2003 season at Latham Park