At Mason City
Illini Central 000 000 0 - 0-5-3
Athens 100 003 x - 4-6-0
Bryce Cunningham (L, 4-1) and Travis Scott; E. Finley (W) and C. Finley.
Hitting star - Illini Central - Chris Norton (double).
Record - Illini Central 10-4.
Note: Game played at Mason City because of wet grounds at Athens.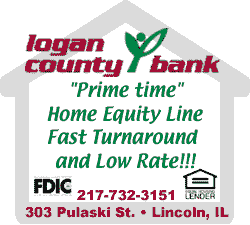 At Lincoln
Chatham 000 002 0 - 2-5-0
Lincoln 000 000 0 - 0-2-3
Casey Erickson (W, 6-0) and Pinkstaff; Ryne Komnick (L, 2-4) and John Peters.
Records - Chatham-Glenwood 17-1; Lincoln 10-8.
At Stanford
Mahomet-Seymour 000 000 - 0-3-3
Olympia 013 402 - 10-16-0
Called because of 10-run rule.
Jennifer Eardley (L), Miranda Jones (5) and Tara Robinson; Jessie Shay (W, 12-1) and Amber Lessen.
Hitting stars - Olympia - Tiffany Prager (3 hits), Amber Darnall (3 hits, RBI), Canopy (triple, RBI).
Pitching star - Olympia - Shay (5 strikeouts).
Record - Olympia 20-1 overall, 5-0 in Corn Belt Conference.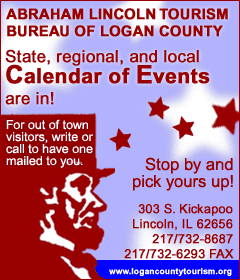 Boys
Delavan Carnival
At Delavan
3. Delavan/Hartem 86; 4. Illini Central 62.5.
200-meter dash - 2. Moehring (D/H), 25.09; 4. Hatfield (IC), 25.94
800 - Detmers (D/H), 2:11.4
1,600 - 1. Brian McConnell (D/H), 4:55.2; 6. Burrell (D/H), 5:06.8
3,200 - 3. McConnell (D/H), 11:28.5; 4. Winkler (D/H), 11:36.4
110 high hurdles - 1. Scott Van Etten (IC), 17.64
300 intermediate hurdles - 1. Van Etten (IC), 44.08; 4. Moehring (D/H), 45.55
Triple jump - 6. Burrell (D/H), 33-1
High jump - 1. Clint Wells (IC), 5-10; 2. Fox (D/H), 5-6; 6. Mills (IC), 5-2.
Shot put - 1. Buddy Wrage (D/H), 50-6 1/2; 2. Nelson (D/H), 41-8
Discus - 1. Wrage (D/H), 138-3; 2. Hays (IC), 133-8 1/2; 4. Shepard (IC), 113-7 1/2; 5. Nelson (D/H), 112-1
800 relay - 4. Illini Central, 1:48.9
1,600 relay - 2. Illini Central, 3:52.87.
3,200 relay - 2. Delavan/Hartem, 8:53.2; 4. Illini Central, 9:26.9
Pontiac Relays
At Pontiac
2. Olympia 106.
Varsity shot put - Schultz (O), 51-4.
Varsity discus - 1. Schultz (O), 151-3 1/2; 2. Hieronymous (O), 144-3
Varsity long jump - 4. Raes (O), 19-4
Varsity high jump - 1. Raes (O), 6-3
Varsity pole vault - 2. Slager (O), 11-6
Varsity hurdle shuttle - 5. Olympia, 1:14.9
Varsity 400 relay - 1. Olympia 44.4
Varsity 800 relay - 3. Olympia 1:35.1
Fresh-soph distance medley - 1. Olympia, 9:07.6
Varsity distance medley - 4. Olympia, 9:00.1
Varsity 1,600 relay - 2. Olympia, 3:32.6
Fresh-soph 3,200 relay - 1. Olympia, 8:50.7
Varsity 3,200 relay - 3. Olympia, 8:41.9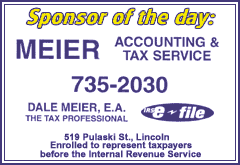 In 2003, Jennifer was selected to the all-area basketball team. She was a three-year letter winner and was a captain her senior year. She also received Clinton's most valuable player award in 2002 and 2003. During her senior year, Jennifer was the second leading scorer for the Lady Maroons, averaging 6.3 points per game.
Jennifer is the daughter of Mike and Cheryl Cyrulik and will major in Christian business administration.
[Provided by Amanda Bowman, LCC coach]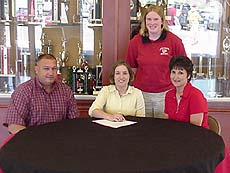 Pictured from left to right are Mike Cyrulik, Jennifer Cyrulik, LCC coach Amanda Bowman and Cheryl Cyrulik.
The Lady Railers track squad also took an impressive triad win over Pekin and Peoria Manual last week.
CONGRATULATIONS to Chris Bunch as he has inked with Parkland College. Also, to Matthew Stoltzenburg, who was named District 15 Coach of the Year!
The St. Louis Cardinals pulled out an epic 7-6 win over the Florida Marlins at Pro Player Stadium on Sunday. The win enabled the Birds to take the series, to move one game under the .500 mark and most importantly move within two games of the Cubs. Fernando Vina, who had gone 0-for-9 in the game, not the series, went from goat to hero as he knocked in the winning run. Hopefully, that will get him and his mates started back in the right direction. The Redbirds will be entertaining the pond scum, otherwise known as the New York Mets, starting on Tuesday.
Illinois' Eugene Wilson was drafted by the New England Patriots after the Bears passed on him. Don't know what the thinking was there, as he seems like an excellent fit for them. Brandon Lloyd went to San Francisco, as the Niners are anticipating pass catching needs. Two Illini O-lineman went in the fifth round, as Dave Diehl ended up with the Giants in New York and Tony Pashos was selected by the Baltimore Ravens. And the Carolina Panthers nabbed Walter Young in the seventh round. After the two-day draft event was over four more Illini inked free agent deals, with Greg Lewis to Philadelphia, Antoineo Harris to San Diego, Aaron Moorehead to Indianapolis and Jerry Schumacher to the Bears!
All in all, it was a great weekend for Fighting Illini gridders. While I'm happy to see them realize their dreams in the NFL, I am sad to see them go, as I get way too attached to them while they are playing for us! They have all treated the LDN staff with great respect as they have given us tremendous accessibility. The LDN wishes them all great success at the next level!
How 'bout that Fred Couples winning the Houston Open? It's great to see a superstar coming back, after injuries and losing his edge, to recapture the swing and return to glory. Judging by the fans' reactions, they were glad to see him back on top!
Have a great week, everybody!