---
---

---
---
Submit letter to editor online
---
Contact us
---
LDN is best viewed with
Internet Explorer 5.0 or 6.
---
LDN awards
Local:
Dec. 16, 2001
Local Emergency Planning Committee
Jan. 25, 2001
Logan County Healthy Communities Partnership
State:
Oct. 1, 2001
Illinois Public Health Association
posted daily OVER THE NOON HOUR (CST)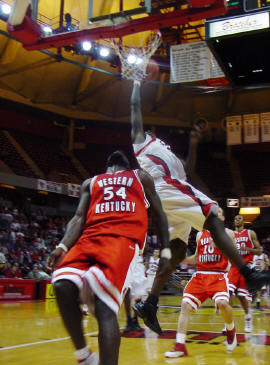 ISU Redbirds over Western Kentucky in a close game. Lincoln's Gregg Alexander scores 3 points.
[pictures by Bob Frank]
click on picture for larger image.

Submit a classified ad online [Lowest cost for advertising in the county!]




Senior program needs more support; county zoning ordinance ready to try again
Lincoln Park District notes

Projects contained in omnibus appropriations

Governor approves bill allowing use of voice stress analysis technology
Other measures also approved during fall veto session

Weekly outlook
Argentine crop forecasts

State Farm Holiday Classic pairings announced

Illinois State vs. Western Kentucky game notes

All-America honors for Grigsby, Robinson
LDNs of the past week: