County posthumously honors
past board members

Send a link to a friend
[DEC. 19, 2003] The families of two past board members were honored at last month's board meeting with plaques and resolutions that highlighted the board members' special abilities and noted contributions. Logan County Board Chairman Dale Voyles called forth the L.K. Buckles and Lloyd Hellman families for the presentations.
L.K. Buckles
L.K. Buckles from Mount Pulaski served on the highway and law enforcement committees. Voyles commented that our infrastructure would not be what it is today without him.
Buckles wife, Dolly, and family received his award.
Buckles was a great model of public service. Of the many things he did, one is still seen daily today. He implemented the use of the large flag that hangs in the courthouse. He was involved in multi-Legion affairs and parades.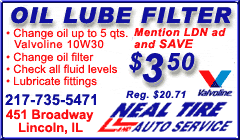 [to top of second column in this article]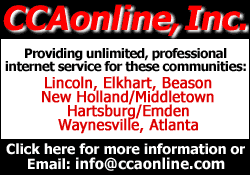 Lloyd Hellman
Alberta Hellman and family received the award for her husband, Lloyd Hellman.
The Emden farmer's combination of farming and banking experience was an asset to the finance committee.
He was highly instrumental in the Route 10 upgrade that is much appreciated today by those who traverse westward from Lincoln to New Holland.
Hellman passed away after a brief struggle with a heart illness just months after being re-elected. His wife said, "We did not know when he ran for the board he had such a serious illness."