Economic development
County economic development now has their website up. You find it at http://www.co.logan.il.us/edc/.
Chairman Voyles said that the committee has been having some long and fruitful meetings. He said the county committee met with Lincoln/Logan County Chamber of Commerce Economic Development Director Jeff Mayfield recently to share what has been happening.
Mayfield reported to them that the proposed north-side commerce park is currently on the back burner. However, a lot of other properties have been receiving some serious interest.
Voyles said that if a viable developer or some opportunity arises for the property again, the county will be supportive and happy to work with them on that.
[to top of second column in this article]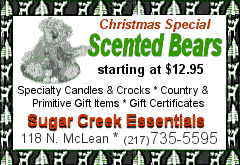 Accolades for a job well done
Waste management committee member Patrick O'Neill said that Mitzi Rohlfs, the new county Joint Solid Waste Agency coordinator, is to be commended. She has done a lot of creative thinking and made lots progress in getting things done, O'Neill said.
Rohlfs took over the job following the retirement of Ken Schwab a few months ago.
County road repairs
A $5,000 box culvert is ready to install at 400 Street, just north of Route 10, Tom Hickman from the highway department reported at Thursday's county work session.
Hickman also said that the county has accepted a low bid of $587,000 for aggregate. This is paid for by MFT money that is provided through IDOT.