Features, Animals for Adoption, Out and About, Calendar
Travel News Elsewhere (fresh daily from the Web)
Home and Garden News Elsewhere (fresh daily from the Web)
Get out your favorite recipes
and become a part of history
[JAN. 31, 2003] The Zonta Club of Lincoln is sponsoring a cookbook in honor of Lincoln's Sesquicentennial this year.
You are invited to be a part in the historical cookbook venture. Your family favorites and specialties will help make the cookbook a highlight of Lincoln's celebration. Your name will be featured along with your recipes. If you have special memories of the recipe, please include them as well.
On May 1, a few months before the city's 150th anniversary, Zonta Club of Lincoln is celebrating its 46th anniversary. Zonta is a classified service organization of executive and professional women.
For over 40 years Zonta Club of Lincoln's major fund-raiser has been an annual turkey dinner served the first Sunday in November. Monies raised support various service projects locally as well as internationally.
Zonta Club of Lincoln is very appreciative of the community's continued support of our annual dinner. We all share in the success of the club's service projects. By working together, we have made a difference in our communities and the world in which we live.
In 1981, Zonta also implemented a health career scholarship program. Approximately 50 area residents have benefited from the scholarship program. There are now nurses, pharmacists, physical therapists, occupational therapists, a dentist, chiropractor, obstetrician/gynecologist, cardiologists, optometrist and others who have completed their studies and are in private or clinic practices today. Don Sielaff, M.D., and Todd Nobbe, O.D., are two doctors who were scholarship winners and have returned to Lincoln for their practices.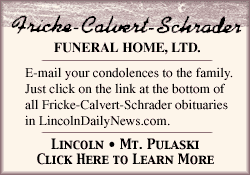 A study is being prepared of the whereabouts and accomplishments of the scholarship winners. They are truly part of Zonta Club of Lincoln's history. Zonta is extremely proud of the scholarship program and pleased to have been able to share a small part in the lives and career goals of the recipients.
The new project, the cookbook, will feature recipes from current, former and future Zontians. The club also encourages this year's students to submit a recipe. Recipes will be included from scholarship recipients, area restaurants over the past years, and many families and friends of our community. Please join Zonta in compiling Lincoln's favorite recipes of the past 150 years.
Recipe forms are available locally at:
You may also send recipes to the cookbook chairwoman, Judy Awe, 123 Crestwood Drive, Lincoln, IL 62656-1360. Be sure to include your name and address.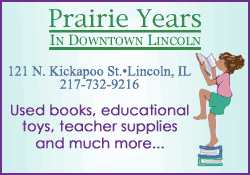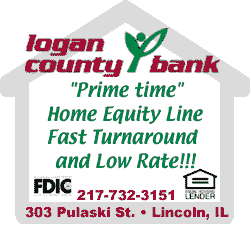 Please submit recipes before March 15.
Also please indicate if you are interested in reserving a copy of the cookbook. They will be available this summer.
Profit from the cookbook sales will be used for Zonta service projects.
Highlights of Zonta service projects over the past 46 years
Abraham Lincoln Memorial Hospital -- camp for diabetic children; hospice; Lifeline; intensive care; oncology; obstetrics/gynecology
American Diabetes Association -- camp scholarships for diabetic children
All local and area nursing homes
Local schools
Crime Stoppers
Community Action -- Head Start
Heritage in Flight Museum -- Amelia Earhart recognized by Zonta International
Jaycee Playground
Lincoln Community High School
Lincoln Park District
Lincoln Public Library
Lincoln Swim Club
Lincoln-Logan Underwater Search and Recovery
Logan County Food Pantry
Logan County Health Department
Reading is Fundamental
Ronald McDonald House
T.O.U.C.H.
Eye Clinic for children
Sojourn Shelter for women
Living Alternatives, Crisis Pregnancy
Habitat for Humanity
Domestic violence prevention
Salvation Army
Zonta objectives
To provide service at the global and local level;
To improve the legal, political, economic, educational, health and professional status of women;
To work for the advancement of understanding, goodwill and peace through a work fellowship of executives in business and the professions;
To promote justice and universal respect for human rights and fundamental freedoms;
To be united internationally to foster high ethical standards, to implement service programs, and to provide mutual support and fellowship for members who serve their communities, their nations and the universe.
[Zonta Club of Lincoln news release]
---
Time to organize household records
[JAN. 18, 2003] URBANA -- The beginning of the year is an excellent time to organize and update family and household records, says Mary Ann Fugate, University of Illinois Extension educator in consumer and family economics. Doing this gives record keepers a jump start on the inevitable income tax season. It's also a good way to keep close tabs on where a family's money goes and to take inventory of the family's present financial status.
Fugate recommends getting started by gathering all receipts and documents from 2002, then considering what should be kept and what can be pitched.
For income tax purposes, the law requires that people keep all records that enable them to complete their tax return. "They should hold onto all receipts, canceled checks, vouchers and other evidence to help them verify amounts claimed and deductions for credits," said Fugate. "All such documentation should be kept for at least six years, and all medical bills should be kept for three years to back up the taxpayer's canceled checks."
But it isn't necessary to save everything. Record keepers can lighten the load by discarding checks and bills that no longer serve a purpose. For example, people who are paid in weekly or monthly salary statements can throw these statements away after checking them against their annual W-2 form. Or they can save the year-end statement with the cumulative total for the year.
"This is also a good time to update household inventory records," said Fugate. "If fire or burglary occurs in the home, this record will help families remember what has to be replaced and how much each item is worth. They might find that they need to increase their insurance because their possessions are worth more than they thought."
For each item in the family inventory, include model number, brand name, dealer's name, a general description, how much it cost, when it was purchased and what it would cost to replace it. Taking pictures of the rooms and household possessions now will make future identification or replacement easier.
To download a free copy of Extension's 64-page publication "Household and Personal Property Inventory," go to http://www.ag.uiuc.edu/%7Evista/
abstracts/ahouseinv.html.
A net worth statement is a good way to keep tabs on personal and family possessions, says Fugate. Net worth can be determined simply by adding the value of all the family owns and subtracting the total of all that they owe. If this is done annually, record keepers can quickly see whether they are getting ahead financially or falling behind, and, in either case, how fast it is occurring.
This is a good time for families to consider their present situation in light of major goals, such as retirement. University of Illinois Extension has developed eight easy-to-use checklists to help you gather and organize important documents, become acquainted with investment and retirement income options, and keep your plan on track as you move from step to step in the process. To order "Your Retirement Planning Checklist" for $16, call 1 (800) 345-6087 and request publication C1376.
When family records have been organized, updated and evaluated, it's time to put papers in their proper location. Important documents that are difficult to replace, such as birth certificates, death certificates, marriage certificates, divorce papers, adoption papers and any other document that is either government- or court-related, should be secured in a safe deposit box.
Family and household records that are kept at home should be stored in one location. Proper storage of family records can be as elaborate as setting up a home office or as simple as investing in an accordion folder that can be kept under the bed, said Fugate.
[U of I news release]
---
At Logan County Animal Control —
(Updated 2/1/03)
DOGS
Big to little, most of these dogs will make wonderful lifelong companions when you take them home and provide solid, steady training, grooming and general care. Get educated about what you choose. If you give them the time and care they need, you will be rewarded with much more than you gave them. They are entertaining, fun, comforting, and will lift you up for days on end.

Be prepared to take the necessary time when you bring home a puppy, kitten, dog, cat or any other pet, and you will be blessed.

[Logan County Animal Control is thankful for pet supplies donated by individuals and Wal-Mart.]

Warden Sheila Farmer and her assistant, Polly Farmer,
look forward to helping you.


[Hi! I'm Mike! I'm a 2- to 3-year-old male looking for a family. My favorite activities include watching my breath and licking your face.]


[This is Jeff. Jeff is a 1- to 2-year-old mixed breed looking for a good home.]


[Just look at those faces! These 9-week cuties love to roll and tumble and play.
But don't let their small size fool you. They are Boxer-Collie mixes, so they'll get quite a bit bigger!]

Want your ad to be seen all over Logan County?

Advertise with

Lincoln Daily News!

Call (217) 732-7443
or e-mail
ads@lincolndailynews.com

Our staff offers more than 25 years of experience in the automotive industry.

Greyhound Lube

At the corner of Woodlawn and Business 55

No Appointments Necessary

Lincolndailynews.com

is the place to advertise


Call (217) 732-7443
or e-mail
ads@lincolndailynews.com

Ten reasons to adopt a shelter dog

1. I'll bring out your playful side!

2. I'll lend an ear to your troubles.

3. I'll keep you fit and trim.

4. We'll look out for each other.

5. We'll sniff out fun together!

6. I'll keep you right on schedule.

7. I'll love you with all my heart.

8. We'll have a tail-waggin' good time!

9. We'll snuggle on a quiet evening.

10. We'll be best friends always.

---

CATS

[Logan County Animal Control is thankful for pet supplies donated by individuals and Wal-Mart.]

Warden Sheila Farmer and her assistant, Polly Farmer, look forward to assisting you.

In the cat section there are a number of wonderful cats to choose from
in a variety of colors and sizes.

Farm cats available for free!


[This big boy is Sam.
Sam's a little pushy, so no small kids, please.]

[This fine looking girl is Snake. She's just a kitten, and she's ready to slither her way into your heart.]

[Snowball and Sunshine, a beautiful girl-boy pair, can't wait to bring joy and warmth into your home.]

---

These animals and more are available to good homes from the Logan County Animal Control at 1515 N. Kickapoo, phone 735-3232.

Fees for animal adoption: dogs, $60/male, $65/female; cats, $35/male, $44/female. The fees include neutering and spaying.

Logan County Animal Control's hours of operation:

Sunday – closed

Monday – 8 a.m. - 5 p.m.

Tuesday – 8 a.m. - 5 p.m.

Wednesday – 8 a.m. - 5 p.m.

Thursday – 8 a.m. - 5 p.m.

Friday – 8 a.m. - 3 p.m.

Saturday – closed

Warden: Sheila Farmer
Assistant: Polly Farmer
In-house veterinarian: Dr. Lester Thomson
---

CWD cases stand at seven in Illinois
[JAN. 31, 2003] SPRINGFIELD -- Chronic wasting disease has been detected in three additional deer in northern Illinois, bringing to seven the number of confirmed cases of the disease in the state, the Illinois Department of Natural Resources announced Jan. 3. CWD is not known to be contagious to livestock or humans.
Of the three new cases, two are in McHenry County, including one near the Wisconsin border in the northwest corner of the county. The other is southeast of Woodstock, near a previously reported case. The third is in western Boone County, near previously reported cases. The Boone County case was a 1½-year-old male. The northwest McHenry County case was a 2½-year-old female, and the other case was a 1½-year-old male.
The samples were taken as part of IDNR's CWD surveillance of deer harvested during the firearm deer season in late November and early December. Testing was conducted at the Illinois Department of Agriculture Disease Laboratories. Follow-up tests on all three cases were conducted at the National Veterinary Services Laboratory in Ames, Iowa, confirming the diagnoses.
"Our surveillance program is continuing to work well," said IDNR Director Brent Manning. "We are continuing to study the data as it becomes available and are refining our strategy."
Manning said that strategy could include aerial deer population surveys and additional sampling in northern Illinois in the vicinity of known CWD-positive animals.
Illinois expanded its surveillance efforts for CWD earlier this year and created a joint task force with the departments of Natural Resources and Agriculture following the CWD outbreak in southern Wisconsin. About 4,000 samples of hunter-harvested deer were taken in 36 counties around Illinois during the firearm deer season Nov. 22-24 and Dec. 5-8. Tests have been completed on more than 2,300 samples, with only six positive results.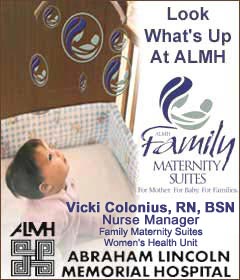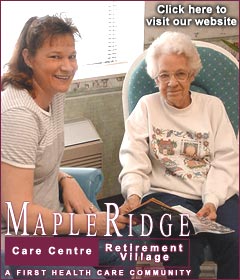 Counties sampled for CWD during the 2002 firearm deer hunting season included Jo Daviess, Stephenson, Winnebago, Boone, McHenry, Carroll, Ogle, DeKalb, Whiteside, Rock Island, Bureau, LaSalle, Hancock, Adams, Pike, Fulton, McLean, Vermilion, Sangamon, Macoupin, Shelby, Fayette, Effingham, Clark, Lawrence, Madison, St. Clair, Clinton, Washington, Randolph, Jefferson, Marion, Williamson, Union, Johnson and Pope. Counties were selected based on a variety of factors, including geographic location, size of deer population and the number of facilities with captive deer or elk
Chronic wasting disease is a fatal neurological disease found in deer and elk. The disease affects the brains of infected animals, causing them to become emaciated, display abnormal behavior, lose coordination and eventually die. It is not known to be contagious to livestock or humans.
CWD has been diagnosed in wild, free-ranging deer and elk, as well as in captive animals in a number of western states, but earlier this year was found in neighboring Wisconsin and Minnesota.
For updated information about chronic wasting disease, including answers to frequently asked questions and the department's rules, go to http://dnr.state.il.us/pubaffairs/2002/CWD.htm.
A Web application that allows participating hunters to check the status of test results for deer sampled during the firearm deer season is also available at that site.
[Illinois Department of Natural Resources
news release]
[Click here for related article, "State scientists tackle CWD and other prion diseases."]

---
New species invades Illinois River
[JAN. 25, 2003] URBANA -- Another exotic species, a scud or sideswimmer, has been detected in the Illinois River. It's a crustacean called an amphipod in the family Corophiidae, normally a saltwater, coastal inhabitant.
"Many species of corophiids cause tremendous ecological damage when introduced out of their natural range," said Edward DeWalt of the Illinois Natural History Survey. "Its cousin, Corophium cuvispinum, introduced from the Caspian Sea area to the Rhine River in Western Europe, has drastically reduced the population of zebra mussels and native mussels."
DeWalt says that the scud smothers mussels with tubes and competes with mussels for fine particulate food to the point of clearing the water of much of its suspended particles.
"While the demise of zebra mussels might be viewed as a wonderful development in the U.S., the potential competitive interactions with native mussels, other invertebrates and fish might have severe repercussions for native species in the Illinois River," he said.
The current known locations in the Illinois River are at Pekin in Peoria County, Goofy Ridge in Fulton County, Hardin in Calhoun County, Havana in Mason County and Valley City in Pike County.
Specimens of this unknown crustacean were collected by Jim Hefley of the Illinois Environmental Protection Agency and Matt O'Hara of the Illinois Natural History Survey. Dr. Edward A. Hendrycks of the Canadian Museum of Nature finally identified the exact species, Apocorophium lacustre (Vanhoffen 1911), which is native to the Atlantic Coast of North America from the Bay of Fundy to Florida and is a dominant species in estuaries such as the Chesapeake Bay.
DeWalt says that it is not known how the scud got into the Illinois River, but he speculates that it was likely in a ship's ballast water and entered through the St. Lawrence Seaway to the Port of Chicago. From there, ballast water was released into the harbor with larva and subsequently flowed into the Illinois River through the Sanitary and Ship Canal.
"This species is unlike any other native scud. It is flattened from top to bottom (natives are flattened side-to-side); the second antennae (especially in males) are enlarged and modified (natives have antennae narrow throughout their length); and they are darkly pigmented on top (natives are often white-opaque, or slightly orange colored). This species is a comparatively small scud, only 3-4 mm length; however, it is possible these might be juveniles," said DeWalt.
[News release provided by the University of Illinois from the Illinois Natural History Survey]
---
---
News | Sports | Business | Rural Review | Teaching & Learning | Home and Family | Tourism | Obituaries
Community | Perspectives | Law & Courts | Leisure Time | Spiritual Life | Health & Fitness | Calendar