During a conversation with Gen. Daniel Sickles, Abraham Lincoln remarked, "I talk to God because my mind is relieved when I do."
In his new book "Abraham Lincoln's Daily Treasure," editor Thomas Freiling writes, "I offer the reader daily doses of Abraham Lincoln's spiritual and moral axioms equaling a year's worth of godly advice from America's greatest president." The collection is based on a 19th-century devotional book titled "The Believer's Daily Treasure," which was used by Lincoln.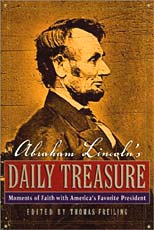 Freiling's work does not purport to analyze the religious views of America's 16th president. Rather, the editor examines the impact of the Bible's guidance and wisdom on a man whose life was marked by poverty, lack of formal education, business failures and loss of loved ones. It is from these difficult circumstances that Lincoln was shaped in part by his devotion to the word of God and its guiding influence on everyday affairs.
The following is a small sample of some of Lincoln's favorite Scriptures as well as editor Freiling's comments and interpretations:
"This Too Shall Pass Away"
"My times are in thy hand … Make thy face to shine upon thy servant: save me for thy mercies' sake." -- Psalm 31:15-16.
Although his friends considered Lincoln's congressional defeat by Stephen A. Douglas a setback, Lincoln himself remained upbeat and optimistic. He paraphrased biblical scripture and counseled his friends to "persevere because all bad things eventually pass."
"Be Brave"
"Above all, taking the shield of faith, wherewith ye shall be able to quench all the fiery darts of the wicked." -- Ephesians 6:16
During Lincoln's service as a soldier in the Black Hawk War, he saved the life of an Indian who had entered camp with a paper of safe conduct. When the other soldiers wanted to kill the Indian, Lincoln stood firm and kept the men from murdering the visitor. This was an early example of Lincoln's bravery and his belief in standing firm for one's convictions.
"Admit When You're Wrong"
"Be glad in the LORD, and rejoice, ye righteous: and shout for joy, all ye that are upright in heart." -- Psalm 32:11
Lincoln was known as "Honest Abe" partly because he was never ashamed to admit when he was wrong. "If I have made any assertion not warranted by facts, and it is pointed out to me, I will withdraw it cheerfully," he once remarked.
"Hold Your Temper"
"Let every one that nameth the name of Christ depart from iniquity." -- 2 Timothy 2:19
Self-control and an even temperament were two of Lincoln's most important characteristics during his presidency. He believed that anyone who was quarrelsome and prone to lose his temper was wasting his time and energy.
"Be Determined"
"Come unto me, all ye that labour and are heavy laden, and I will give you rest." -- Matthew 11:28
Lincoln believed that the cause of the Union during the Civil War was just and righteous. It was this belief that Lincoln would draw upon to encourage the soldiers and citizens during the war's darkest hours. "Let none falter who thinks he is right," he told the soldiers. "If God be for you, who can be against you?"
"Do Unto Others, Even Adversaries"
"The righteous shall hold on his way, and he that hath clean hands shall be stronger and stronger." -- Job 17:9
In Lincoln's mind, forgiving both friends and enemies meant the same thing. Freiling points out that the issue to Lincoln was not "friend or enemy" but "about you and how you would like to be treated." This attitude is considered by many to be the cornerstone of what would have been Lincoln's treatment of the defeated Confederacy after the Civil War.
Thomas Freiling's "Abraham Lincoln's Daily Treasure" offers an extraordinary glimpse into the mind, beliefs and feelings of one of America's greatest presidents. Freiling's insightful commentary adds a fresh perspective to the essential components of Lincoln's character. This book is recommended to everyone interested in the life of Abraham Lincoln.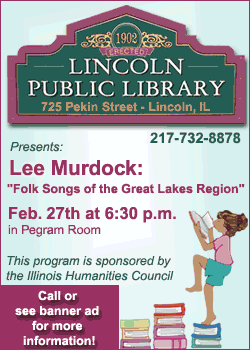 [Richard Sumrall, Lincoln Public Library District]