CONTACT US
E-mail to Ads
LDN is best viewed with
Internet Explorer 5.0 or 6.
---
LDN AWARDS
from Logan County:
Dec. 16, 2001
Local Emergency Planning Committee
Jan. 25, 2001
Logan County Healthy Communities Partnership
from Illinois
Oct. 1, 2001
Illinois Public Health Association
posted daily OVER THE NOON HOUR (CsT)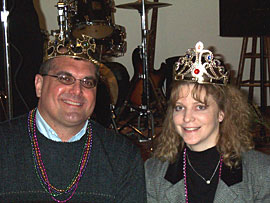 [photo courtesy of the chamber of commerce]
Chris Coyne of State Farm Insurance and Barbie Carter of Logan County Bank were chosen as king and queen of the Lincoln/Logan County Chamber of Commerce's Mardi Gras-style annual dinner. The group helps build and support business in the community. They've plowed into a new year with the theme of "Planting Seeds for Progress" by adding a new economic development director and a government liaison.






Primary changes makeup of city council

Sewer users can soon pay by credit card

Free bowling and meet the Lady Railers party

Book Look: 'Hoot'

Classic films return to Lincoln Cinemas

Oasis update

High school basketball

High school wrestling

LCC teams enter postseason

Birds hope to continue as 'Willie Nelson's team'

Illini pay back Hoosiers in grand fashion

Cook makes life bearable for me
LDNs of the past week: