Boys
Class A regionals
At Stanford
Olympia 19 23 42 64
Central Catholic 10 20 30 55
Olympia -- Olson 8-2-20, Schmidgall 6-1-13, Schultz 3-1-7, Kieser 2-8-12, Dillenburg 2-6-11, Elliott 0-0-0, Williams 0-1-1, Boudeman 0-0-0, Springer 0-0-0. Totals: 21-19-64. Three-point field goals (3): Olson 2, Dillenburg
At Mount Pulaski
Warrensburg-Latham 51, Mount Pulaski 39.
Girls
Corn Belt Conference all-stars
Second team: Jill Floyd (Olympia)
Honorable mention: Laura Beth Litwiller (Olympia), Tiffany Prager (Olympia)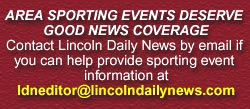 Redbirds drop Valley road game to Drake
[FEB. 27, 2003] DES MOINES, Iowa -- Trey Guidry led Illinois State with 15 points, but the Redbirds were unable to extend their winning streak to three games and fell to Drake, 70-63, in Valley basketball action at the Knapp Center in Des Moines, Iowa.
Illinois State, 6-19 overall, 4-12 in the Valley, led by as many as nine points in the second half but could not put the Bulldogs away late in the game. Marcus Arnold also scored in double figures for the Birds, with 10 points, while Andy Strandmark contributed seven points and a team-high seven rebounds.
Drake, 10-17 overall, 5-11 Valley, was led by J.J. Sola with 16 points, while Luke McDonald chipped in 14. The Bulldogs shot 52 percent (14-for-27) in the second half and outscored the Birds 18-8 in points off turnovers.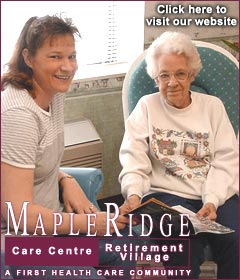 Illinois State had the lead at 63-62 with 1:55 left after Vince Greene drove to the basket for a layup, but Drake responded with a McDonald 3-pointer to put the Bulldogs up by one. Baboucarr Bojang missed a pair of free throws with 1:15 remaining in regulation, and Sola was able to score on the ensuing possession, driving to the basket for a layup.
Drake made three of its four free throws in the closing minute to seal the victory and ended the game on an 8-0 run.
Illinois State continues its Valley road trip by heading to Indiana on Saturday, March 1, for an afternoon game against Indiana State. The contest is slated for a 1:05 p.m. start.
[Rob Huizenga, athletics media relations,
Illinois State University]
Yes, LCHS has had a lot of good players during his tenure, but few know how to put them together to produce poetry in motion out on the court. And that's what Railsplitter basketball is synonymous with.
For those of us who've been treated to great basketball in Roy S. Anderson gymnasium for several decades, we're probably too close to it. We may not even be able to truly appreciate what we have while we have it.
Try this test sometime: Find someone in the crowd who is NOT from Lincoln. Ask THEM their assessment of Railer hoops. I have done this. I invited several friends to games over a three- to five-year period and asked them their thoughts. They couldn't get over it -- a town our size being able to not only compete with the Chicago Kings and Proviso Easts, but oftentimes beat them!
Not many towns can lay claim to the kind of domination that coach Alexander's teams have had, but then few really know what goes into making a championship team and program.
The LDN just pauses now to say CONGRATULATIONS, Railers and Coach "Al." May there be many more to follow!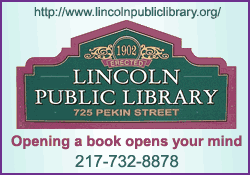 Cook gives Northwestern double vision
The Illinois Fighting Illini rode the second-half hot shooting of senior Brian Cook to send Northwestern down to defeat 73-61. Cook's dominating play accounted for a line that showed 17 points, 10 rebounds while limiting himself to just two fouls. Cook, however, did receive a great amount of help from Roger Powell's 20 tallies and Dee Brown's 18 markers. But, it was Cook's work on the glass that sent the Illini to a resounding 32-24 edge on the boards, to the delight of 15,429 happy United Center fans. Illinois shot 55 percent from the field while holding the Wildcats to 45 percent shooting. Cook is some 90 points from climbing into fifth place on Illinois' all-time scoring list. Also, with the win, coach Bill Self netted his 200th collegiate victory! Next up for the Illini is a Tuesday night home date with the pesky Hoosiers of Indiana University.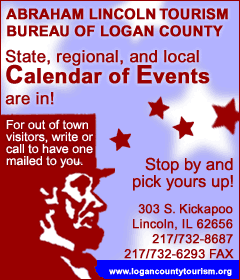 Alexander lifts Redbirds over Marshall in Bracket-Buster
Gregg Alexander's outstanding play lifted the ISU Redbirds to their first road win of the season, at Marshall in ESPN's Bracket Buster series. Alexander continues to will this struggling team back to life. [Click here for game report from ISU.]
Hartsburg 8A brings home the gold
CONGRATULATIONS to coach Matthew Stoltzenburg and his team for winning the 8A state basketball title! Look for these young hoopsters at an upcoming installment of "FANdamonium"…
Speaking of "FANdamonium"…
Join Greg Taylor and his guests, Jeff Benjamin and Tom Larry, as they discuss Lincoln Railer hoops and a host of other topics tonight at 6. You can link to them right here on the LDN, watch them on CITV Channel 5 or listen to them on FIX 96.3 on your FM radio dial. It promises to be a great show. Call them at 735-3306 with your question or comment.