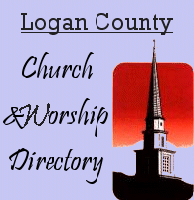 Holy Family Parish
316 S. Logan
217-732-4019
Priest:
Msgr. E. Edward Higgins
Associate:
Rev. Thomas Taylor
Mass:
Sat. 5:00PM
Sun. 7:30AM, 9:00 AM
& 10:30AM
Lincoln Christian Church
204 N. McLean
217-732-7618
Preaching minister:
John Castelein
Worship:
8:30AM & 11:00AM
Website: www.lincolnchristianchurch.org
Trinity Episcopal Church
402 Pekin St., Lincoln
217-732-7609
Pastor: James Cravens
Worship:
7:30 & 9:45AM Sunday
9:00AM Tuesday-Friday

Kingdom Life Ministries
620 Pulaski St., Lincoln
217-732-1466
Pastor: Joe Bennett
Worship:
10AM & 6:30PM Sunday
7PM Wednesday
Lincoln Bible Church
2316 N. Kickapoo St., Lincoln 217-735-5959
Pastor: Don Hoover, phone 217-735-4641
Worship: 10AM Sunday
Sunday School: 9AM
Home Bible class: 6:30PM
Overcomers in Christ:
7PM Tuesday
Teen Club (7th-12th grade); Kids in Christ's Service (1st-6th)
7PM Wednesday
Lincoln Church of Christ
800 Pulaski St., Lincoln
217-735-1130
Minister: Harold Driskell
Worship:
11AM & 6PM Sunday
Bible study:
10AM Sunday
7PM Wednesday
TV program, "In Search of the Lord's Way," Channel 19 WHOI
7:30AM Sunday
Good Shepherd Lutheran Church Association of Free Lutheran Congregations
1140 N. State St., Lincoln
217-735-9320
Pastor Roger David
Worship:
10:00AM Sunday
Sunday School:
9:00AM
E-mail: gslc@ccaonline.com
Immanuel Lutheran Church ELCA
1409 Pulaski St., Lincoln
217-732-6777
Pastor Dan Wissmann
Worship:
9:00AM Sunday
Zion Lutheran Church
Lutheran Church-Missouri Synod
205 Pulaski St., Lincoln
217-732-3946
Pastor Mark Carnahan
Worship:
8:00 & 10:30AM Sunday
Radio, WLLM-AM 1370:
8AM Sunday
TV, Cable Channel 15:
10:00AM Sunday
5:00PM Monday
First United Methodist Church
302 Broadway St., Lincoln
217-732-2204
Pastor: Jame Hahs
Worship:
8:30AM Traditional
11AM Contemporary
Sunday School:
9:45 AM
website: www.gbgm-umc.org/
lincoln1stumc/index.html
To inquire about listing your congregation's worship information, please e-mail us at ldn@lincolndailynews.com or call us at (217) 732-7443.
---
---
Jolly Seniors change meeting date
[FEB. 22, 2003] The Jolly Seniors group from Lincoln Christian Church invites those 55-plus to attend a meeting on Thursday, Feb. 27, at 10 a.m. in the Fellowship Center. Please note the change of date, as the monthly meeting will be on Thursday instead of Tuesday.
The program will feature the jazz band from Lincoln Community High School.
Maxine Seggelke will lead the devotion.
The group will also enjoy a baked chicken dinner, catered by Guzzardo's Italian Villa. Suggested cost for the meal is $4.
For free transportation, please call the church office, 732-7618.
The meetings of the Jolly Seniors provide a warm fellowship of people who care for one another, an enjoyable time filled with great food, fun, interesting programs and a spiritual lift to encourage you in your life.
---
[FEB. 22, 2003] Washington Area Youth Network is hosting an areawide worship night at First United Methodist Church on Wednesday, March 12, at 7. Worship will be led by the David Crowder Band from Waco, Texas. They are a nationally known worship band and part of the Passion Movement. Crowder's music style specifically appeals to youth and he has a very big college following, though as a worship leader his music appeals to all Christians.
Admission is only $3 at the door that night.