Cook couldn't get off in the first half, getting just five shots for a total of six points, but Illinois was able to stay ahead of Purdue thanks to early scoring from Luther Head and James Augustine and five first-half assists from freshman Deron Williams. Illinois held Purdue's two studs, Willie Deane and Chris Booker, to a combined seven points in the opening 20 minutes.
Purdue came out on fire in the second half and had several chances to overtake Illinois in the closing 20 minutes. The Boilers lived at the free-throw line after intermission, as once again the officials decided it was a good idea to call a foul on nearly every second-half possession. The Illini were whistled for an amazing 16 second-half fouls, and a total of 50 fouls were called by the two Ted's (Hillary and Valentine) and rookie ref William Bush. Gene Keady, who does a great impression of the cartoon character Skellator while barking at the refs, brought a greatly improved Purdue team to Champaign and really had his Boilers poised for an upset.
When will the madness end? When will the Big Ten decide paying fans want to watch basketball, not a free-throw shooting contest?
Things looked real good for Purdue with six-plus minutes to go when they pulled within one at 57-56 while Cook was saddled with four fouls on the bench. Even coach Keady could be seen smiling during the timeout that followed, but little did he know Illini coach Bill Self was ready to help his team take control for good.
Illinois would close the game on a 18-6 run, and Purdue would not make another field goal the rest of the game. Self did a great job of substituting through the final six minutes and keeping several Illini in foul trouble from fouling out. Seven Brian Cook free throws in the last four minutes helped seal the Illini victory, and Illinois improved to 3-2 in the conference and 13-3 overall.
Illinois will return to action in State College, Pa., on Saturday against Penn State at 11:15 a.m. The game will be televised by WCIA-TV, Channel 3.
Illini news and notes
1. Cook moved into 11th place on the all-time scoring list Wednesday night, surpassing former teammate Frank Williams. Cook has scored 1,446 points in his Illini career.
2. Three Illinois freshman, Williams, Augustine and Dee Brown, combined for 100 game minutes and scored a combined 32 points.
3. Purdue's bench outscored Illinois' bench 18-6, as only Nick Smith contributed in the scoring column.
4. Luther Head scored 15 points, including three 3-point baskets, and added five rebounds in a good all-around effort in 27 minutes of action.
5. Deron Williams scored 11 points, grabbed a team-high seven rebounds and dished out a team-high seven assists for his most complete game of year. Williams also had two steals and placed good defense on Purdue's Deane, their best player.
6. Coach Self improved to 4-1 against Purdue in his Illinois coaching career, a stark contrast to former coach Lon Kruger, who never did beat Keady and the Boilers while coaching at Illinois. Self also improved his Assembly Hall record to 34-1.
7. The Illini wore their orange jerseys for the first time this season against Purdue.
8. Illinois held Purdue to 32 percent shooting from the field and 19 percent from 3-point land, while the Boilers missed 11 free throws (21-32) on the evening.
9. Both Illinois and Purdue committed 17 turnovers for the game, and the Boilers out-rebounded the Illini 39-36. Illinois had 15 assists, while Purdue had just eight.
10. Illinois and Purdue meet at least one more time this year: Saturday night, Feb. 15, at 7 at Mackey Arena in West Lafayette, Ind. The teams could also meet up at the Big Ten tournament in Chicago March 13-16.
SUPER matchup
Well, it's going to be the Oakland Raiders against that wild man, Jon Gruden's, Tampa Bay Buccaneers! But, who will win? Since Tampa went into a hostile environment and did the unthinkable, they must have the edge in San Diego. The Raiders are old and could really have used the old format of two weeks off before the Big game. Both games seemed to be well-officiated.
Random thoughts
Local and area colleges hoped to be better than their current records at this point, but there's still time to ready for the postseason.
Making my annual trip to watch our local junior high teams play... I saw Carroll Catholic's teams earlier, and they really performed well. LJHS had been up and down a little, but we saw both of their teams this week in two pretty impressive wins.
Is it just me or are any other Cardinal fans worried about how much Houston and Chicago have improved over the winter?
The Birds are pinning their hopes on everyone coming back healthy. When you've been in the playoffs so many times, do you really worry if they miss a year? That whole concept really concerns us, the way sports are run as a business rather than trying to win championships every year!
Don't let the cold winter nights keep you at home...
2003 Technical Education Classes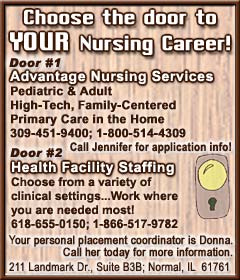 Equal opportunity? There's been a lot of talk about that when it comes to hirings in the world of sports. We don't know about you, but I'd hire the person who gives us the best chance to win… period! All the hype, discussions, crossfires, etc. are not going to change the bottom line for pro franchises and many college programs… winning!
"FANdamonium"
…Right here tonight on the LDN's live link, CITV Channel 5 and FIX 96.3 FM at 6 p.m.! Greg Taylor joins us back in the studio after a two-week hiatus. We also hope to be joined by the Lincoln Elks head golf professional, Mr. Adam Walsh. So, all of you golfers, duffers and hackers, get your off-season golf questions ready and give us a call tonight at 735-3306. We hope to have some other surprises for you as well!
Have a great week, everybody!