At Wednesday evening's board meeting, Carmitchel said the cost for a bare-bones new junior high, without a telephone system, new furniture or adequate casework, will be $7.4 million dollars, and the amount left to build it is about $5.8.
No bids have been let for the new school yet, so the projected shortfall is "based on the assumption that we are going to be unpleasantly surprised when the bids come in," he said. "Nobody is more disappointed than I am," he added.
The cost of the new Central School was originally estimated at $106 per square foot but actually came to $117.89 per square foot for building and site work. The $117.89 figure is being used to estimate costs for the junior high.
Carmitchel said he has had one day to digest the bad news, after projected costs were given to him by construction management firm S.M. Wilson.
Costs also went over budget for the new Central School now under construction behind the existing Central. To get within budget estimates, the board made some major changes, called "value engineering," going to pre-engineered structural steel and a metal roof instead of shingles, and shaving other costs wherever possible.
However, most of the same cost-cutting alternatives were used in the planning for the 51,000-square-foot junior high, especially the use of pre-engineered steel. The unexpectedly high price of steel was the biggest factor that sent up the cost of the new Central, according to Superintendent Robert Kidd.
"We have to come up with a plan," Carmitchel told the board, and he outlined three possibilities to deal with the projected $1.6 million deficit in construction funds.
One plan would be to somehow find more money, such as going to voters and asking them to pass another referendum. In November of 2000, voters approved issuing $4.1 in bonds, which qualified the district to receive an $8,318,181 state grant to complete the $12.4 million building project.
Another plan would be to spend down all reserve money the district has saved for a "rainy day." Kidd expressed reservations about that option because of possible future cuts in state revenue.
The third option, Carmitchel said, was "to drastically reduce the scope of the project."
It wasn't an option he liked. "We are going to be proud of Central School, and we want to be proud of the junior high," he said.
Architect Dave Leonatti suggested that the board put out bids for demolition of the two existing buildings, Central School and the present junior high, so they would have some firm cost figures in mind.
He also suggested the district might save money by changing the design of the school. The present plan calls for a gymnasium and stage design similar to that of the new Central, and a three-story classroom unit, one story each for grades six, seven and eight.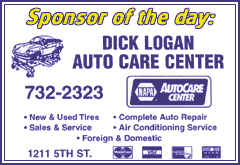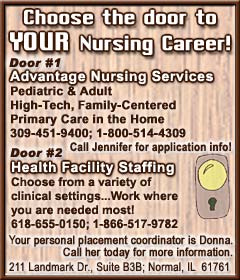 A two-story design might save from $200,000 to $300,000, but it would have the disadvantage of some classrooms without exterior windows. Because of the four-pipe heating and cooling system to be used in the new school, rooms without exterior windows would be comfortable, he said. However, a two-story classroom unit would change the overall look of the building from high and lean to low and boxy.
Board member Marilyn Montgomery suggested the junior high stage could be eliminated, and those students could use the Central School stage for special activities. Leonatti said he had already done a schematic drawing of the school without the stage and with a slightly "toned down" gym. He also pared down the mechanical and kitchen space, altogether cutting about 4,000 square feet. That plan could save as much as $468,000, he said.
"It would still not be the $1 million we need," Carmitchel said.
Board member Steven Rohrer suggested saving the present junior high gymnasium. Board member Joe Brewer said he thought that would make demolition difficult because the gym is not a separate structure.
Other suggestions were to cut out the sixth-grade classrooms and keep the junior high as it is now, just seventh and eighth grades; move the junior high to the new Central School and build a Central School on the junior high site; renovate the old building; and build a new junior high on the site of Adams School on Nicholson Road. The Adams School site has room for another building, but Brewer pointed out the water table is high and site work would be expensive. Bill Ahal of S.M. Wilson said the site might allow for a one-story school, which would also be a cost saving.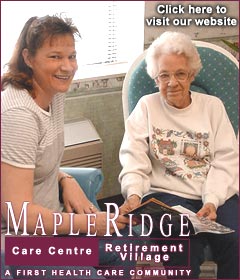 The board scheduled a special meeting on Monday, Feb. 3, at 6:30 p.m. to continue working on the problem. Leonatti will come up with figures for several alternatives, including saving the present gym, and he and the Wilson firm will look at the Adams School site.
Kidd said he would be going over figures to determine exactly how much of the construction money still remains by the Feb. 3 meeting. He said the district has invested the funds from the bond issue, but low interest rates have cut expected revenues from investments.
He said he will also consult with the school district's attorney to determine whether the district can legally adopt some of the alternatives suggested, such as building on a different site.
In other business, the board adopted the official 2003-2004 calendar and set a date of April 8 for a regular meeting at which they will canvass the results of the April 1 election of board members. Last day for filing petitions to run for the board is Monday, Jan. 20, by 5 p.m.
For Champaign, DeWitt, Fulton, Logan, Mason, Piatt and Vermilion counties, including the cities of Canton, Champaign, Clinton, Danville, Havana, Lewistown, Lincoln, Mason City, Monticello and Rantoul:
Snow advisory is canceled.
Light snow will taper off to flurries by mid-afternoon with total snow accumulations between 2 and 4 inches.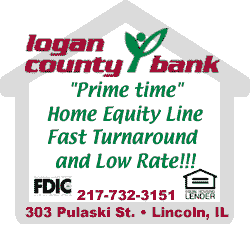 For Cass, Christian, Clark, Clay, Coles, Crawford, Cumberland, Douglas, Edgar, Effingham, Jasper, Lawrence, Macon, Menard, Morgan, Moultrie, Richland, Sangamon, Schuyler, Scott and Shelby counties, including the cities of Beardstown, Charleston, Decatur, Effingham, Flora, Jacksonville, Lawrenceville, Marshall, Mattoon, Newton, Olney, Paris, Robinson, Rushville, Shelbyville, Springfield, Sullivan, Taylorville, Toledo, Tuscola, Virginia and Winchester:
Heavy snow warning is canceled.
The heavier snow has diminished, so the heavy snow warning has been canceled. Light snow will continue to fall across the area, then taper to flurries by midafternoon. Total accumulations will be between 2 and 4 inches along and north of a Taylorville-to-Paris line with lesser amounts to the south of this line.
[News release]
Through a series of executive orders and additional directives, Blagojevich on Tuesday took action aimed at restoring people's faith in their leaders and imposing greater discipline on state spending.
"Today, I am beginning -- and it is only the beginning -- my fight to stop waste and inefficiency in state government," the governor said Tuesday afternoon.
Foremost among the actions Blagojevich carried out was the immediate notification of termination of employment to individuals holding more than 30 positions that were filled in the closing weeks of the previous administration.
Blagojevich has been advised that the term appointments -- which were made by former Gov. Ryan after Oct. 15 -- can be terminated on the grounds that the rules under which they were hired were changed invalidly and are therefore null and void. Specifically, the new rules bypassed appropriate appointment procedures.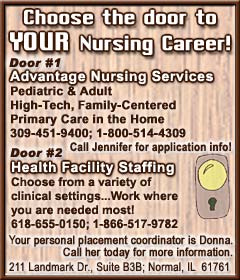 "I will not allow the status quo to stand here in Springfield," Blagojevich said.
"Our state is facing an unprecedented budget crisis. We cannot afford to waste a single dollar. The days of taking care of insiders first and taxpayers last are over," he added.
In addition, Blagojevich directed Central Management Services to clarify that the rule change, which had been pushed forward by the previous administration, had been carried out improperly and should therefore be set aside. By promoting the rules change during the summer of 2002, Gov. George Ryan's administration had attempted to lock political appointees into long-term positions.
The former administration's measure had also weakened assurances that appointees were well-qualified for their positions.
The new governor also appointed Mary Lee Leahy, an attorney who is renowned for her work specializing in ethics and personnel issues, to serve as a special investigator for employment and personnel to revise state hiring rules and to find unnecessary and unqualified personnel.
Blagojevich also placed a hold on the heads of departments and agencies, preventing them from hiring new personnel. He also targeted for reform a perk long favored by state employees: the free-wheeling use of state-owned cars.
"I have voiced my pledge to bringing about change to state government. These are the first steps."
Blagojevich made his comments Tuesday after entering his office in the state Capitol for the first time since taking the oath of office as governor. The executive orders he signed embodied his call for "an end to business as usual in Springfield," representing that a new era in state government is now under way.
His actions were as follows:
Elimination of late-term appointments
Blagojevich took steps leading to the removal of a number of term appointments made by his predecessor in the last weeks of the previous administration. These term appointments included many personal allies of the previous governor and other politically connected individuals.
Among the positions eliminated by Blagojevich were the director of the Illinois Building Commission, who had a salary of $99,000; manager of county fairs and horse racing, at a salary of $80,000; and manager of consumer education and information for the Department of Insurance, at a salary of $101,000.
"I want to be clear -- without exception --- every individual we find who is unqualified for his or her job, every one of these individuals who is not essential to the function of state government, every one of these individuals who does not share my commitment to changing business as usual in state government will be terminated," Blagojevich said.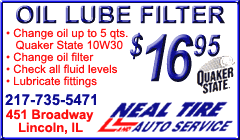 Don't let the cold winter nights keep you at home...
2003 Technical Education Classes
The governor's special investigator for employment and personnel will also be assigned to determine whether the positions to which late-term appointees were assigned are indeed valid positions, whether they existed prior to the appointments and -- if not -- whether they were vacant for an extensive period of time, which would call into question their need.
Employees and appointees who were removed through the actions taken today will have the opportunity to apply for reinstatement to their positions. Their qualifications will be judged on a competitive basis against other candidates.
Declaration that Ryan administration rule changes are invalid
Underscoring his commitment to reform and fairness, Blagojevich took steps to prohibit his administration from taking advantage of the same latitude enjoyed by the previous administration when it moved to lock its allies into long-term positions.
Blagojevich directed CMS to set aside the steps taken over the summer by the Ryan administration that made it easier to lock appointees into long-term positions. The governor did so on the grounds that the rules under which they were hired were invalidly carried out and are therefore null and void.
Blagojevich's declaration would restore the probationary period for such appointments to the original duration of six months, rather than the 30 days to which it had been reduced.
In addition, such appointees would have to again be chosen from an eligibility list to ensure that they are well-qualified for their positions. The Ryan administration's rule change -- which had been sent to the Joint Committee on Administrative Rules -- had weakened that standard.
"I intend to use every power I have at my discretion as governor to eliminate unqualified, unnecessary and overpaid individuals wherever I find them in state government," he said.
"The taxpayers of Illinois deserve only the best and the brightest working for them, and I intend to find them."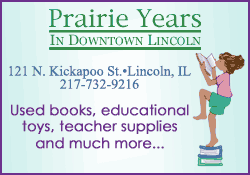 Ensuring need for state vehicles
The new governor also took aim at what is likely a waste of taxpayer dollars -- and, perhaps, an often-abused perk among state government appointees: the use and abuse of state-owned vehicles. He issued an executive order calling on all agencies to conduct a thorough review of the cars used by their employees, and he issued an immediate freeze on the purchase of new vehicles.
Effective immediately, each agency will be blocked from ordering, purchasing, leasing or otherwise acquiring any new vehicles, other than those needed for public safety, road clearing, emergency services or other urgent needs.
The governor cited figures showing that the state owned more than 13,000 vehicles as of Nov. 1, 2002.
Among the agencies in possession of state vehicles were the Historic Preservation office, which has 55 cars; the Student Assistance Commission, which has 24 cars; and the Gaming Board, which has 26 cars.
In at least three instances, individuals had been assigned two state vehicles each.
Placing limits on new state hiring
Given the state's severe fiscal crisis, the governor imposed a hiring freeze to block agency directors from hiring new state personnel. The limitation would apply evenly to department and agency directors appointed by the Blagojevich administration as well as those appointed by the previous administration. To guarantee that all new hiring takes into account all new staffing decisions would require the approval of the governor and his office.
"State government under my leadership will do more with less. That effort begins today," the governor said.
(View the governor's news conference.)
[Illinois Government News Network
press release]