To bring in extra revenue to keep city streets in good repair, the city will try again for a 0.5 percent sales tax increase, in the April 1 general election. The referendum for the sales tax increase was defeated in November.
The first of several informational meetings to give the public details about the proposed tax will be held tonight at 7:15 at Friendship Manor. City officials will be present to answer questions.
On another front, Mayor Beth Davis and three aldermen will go to Washington, D.C., on Jan. 28, 29 and 30 to meet with Illinois Sens. Peter Fitzgerald and Dick Durbin and Rep. Ray LaHood to ask for help with the $9.8 million upgrade of the city's sewer plant.
Aldermen Bill Melton, chair of the sewer committee, Verl Prather, chair of the finance committee, and Steve Fuhrer, former finance chair, will make the trip, along with Grant Eaton, sewer plant manager.
Prather said Environmental Management Company, which manages the city's sewer plant, has advised the city that other communities, some in Illinois, have received federal help with the cost of upgrading sewer plants, and he has high hopes Lincoln can also get some federal money.
He said by going in person, the city officials can talk to legislators about the problems Lincoln is facing, such as the closing of Lincoln Developmental Center, Logan County's biggest employer, and the number of older residents in town who live on fixed incomes. In order to get the $9.8 million loan from the Environmental Protection Agency, the city has had to raise sewer rates. The first step of the raise is already in effect, but the second step will not go into effect until July of this year. Any financial help from the federal government will lessen the amount of the raise in sewer rates, he said.
Originally the cost of the trip for all five city officials was to be paid by EMC, but EMC will pay only Eaton's expenses. Prather said the city will pay the $400 each for the mayor and aldermen, so there will be no question of a violation of the gift ban act.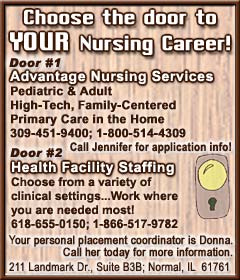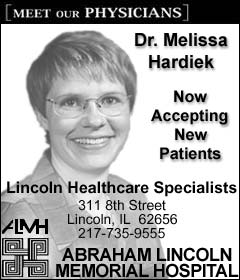 Fuhrer said he believed that if voters were well-informed about the need for the sales tax increase, they would be willing to vote for it. Without additional money coming in, the city cannot afford to make needed updates on infrastructure.
All revenues from the tax increase must by law be used only for infrastructure, which includes streets and roads, sidewalks, sewer line extensions, storm water draining, and treatment facilities.
The increase would bring the sales tax rate in Lincoln from the current 6.25 cents on the dollar to 6.75 cents, still lower than the sales tax in most area communities. However, the tax would not be imposed on certain items, such as food to be eaten at home or medical supplies, including prescription drugs. It would also be excluded from the sale of motor vehicles that are licensed by the state.
If the tax increase passes, the new rate will not go into effect until Jan. 1 of 2004 and will not be collected by the city until April of 2004. The new revenue is estimated at about $550,000 per year. Fuhrer said the cost would be only 5 cents more on a $10 purchase, 25 cents more on a $50 purchase and only 50 cents more on a $100 purchase.
City treasurer Les Plotner suggested that the council consider telling the public exactly what it planned to do with the new tax dollars, such as which streets would be repaired and in what order, and asking for input from the public to see what streets people would like to see fixed.
In other business at the short meeting Monday night, the council approved the appointment of Clara Janet as a new commissioner on the City Planning Commission. Janet is a longtime teacher at Carroll Catholic School.
The council also adopted a flexible benefits plan for city employees as part of their supplementary insurance, which allows them to set aside tax-free funds to pay for day care and unreimbursed medical expenses.
A motion to approve an amendment to the Lincoln College Industrial Revenue Bond loan agreement was tabled.
The county board voted 8-3 Tuesday night to put on the April 1 ballot a referendum for an economic development promotion tax with a maximum levy of 4 cents per $100 of assessed valuation. As in the straw vote last Thursday, board members Mitch Brown, Pat O'Neill and John Stewart opposed the measure. Bob Farmer, Paul Gleason, Dave Hepler, Dick Logan, Gloria Luster, Chuck Ruben, Dale Voyles and Terry Werth supported it.
Ruben, the finance committee chair, said that, based on last year's assessed valuation, a tax of 4 cents per $100 would generate $140,000 to $150,000. A 0.04 percent tax means that the owner of a $75,000 house would pay $9. The owner of 40 acres of farmland would owe $5.38.
Board chair Dale Voyles said he and other board members will discuss how to inform the public about the need for the tax. Ruben and Logan explained at Thursday's board-of-the-whole session that the tax would fund operations of the economic development office, including director's salary, office expense, on-the-job training and advertising.
The referendum sets a maximum tax. If it passes, the board could set the levy at a lower rate. But, as Ruben pointed out Thursday, tax caps limit how much the levy can rise in any year after the rate has once been set.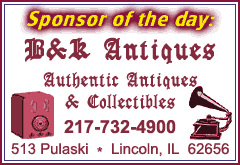 In other business Voyles said the seat of Lloyd Hellman, who died Jan. 13, will be filled within the 60 days required by statute. Residents of District 1 who are interested in being considered for the slot may notify Chuck Ruben, the other district representative, or any other member of the county board. District 1 includes these townships: Atlanta 1, 2 and 3; Eminence; Orvil 1 and 2; Prairie Creek; Sheridan; and West Lincoln 7 north of Route 10 West and Interstate 55.
In response to the vacancy created by Hellman's death, Voyles changed several committee assignments. Newly appointed chairs include Farmer on airport and farm, Luster on insurance and legislative, Werth on road and bridge, and Hepler on safety. Logan is the new 9-1-1 liaison. New committee members include Hepler on airport and farm, Werth and Hepler on finance, Hepler on road and bridge, and Luster on personnel. Voyles said he will adjust committee assignments one more time after the new board member is appointed.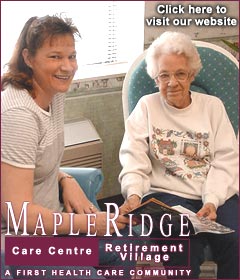 In other business the board approved the highway department's compilation of maintenance projects and materials for 2003. It also voted to accept a list of institutions in which county funds can be deposited during the year. For the first time a credit union -- CEFCU -- is on the list. Treasurer Mary Bruns said the Health Department has a CD there.
In committee reports the board learned that:
--Ankle bracelets are currently being used to detain three juvenile offenders, for a savings of up to $120 per day. Chief Probation Officer Dean Aeilts told the finance committee that the ankle bracelet program is saving the county at least $3,200 a month.
--A new automated phone system has been installed in the safety complex. A person will still answer emergency calls, but employees now have automated mailboxes for messages. Verizon installed the system.
--Changes recently approved by the animal control committee include several that must be voted on by the full board. These ordinance changes, involving fee increases and changes in the minimum wait before euthanizing an animal, will come up for vote at the February board meeting.
--The animal control committee has 10 applicants to interview on Jan. 22 for assistant animal control warden.
--The Lincoln/Logan County Chamber of Commerce annual banquet on Feb. 15 is the first dinner scheduled for the new American Legion Post 263 home. The previous building burned a year ago.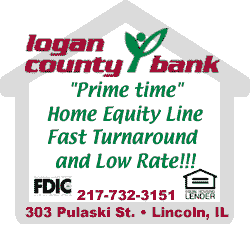 The Logan County Economic Development Council circumvents the limited funding for an economic development director by hiring Mayfield as a part-time director through an executive share program with Lincoln Christian College. Mayfield currently serves as director of partnership at the college.
The chamber of commerce has also contracted with former state Sen. Robert Madigan of Lincoln to represent its interests before the Illinois State Legislature. He will focus on the reuse of the Lincoln Development Center and on obtaining funds for economic development projects such as a commerce park.
The economic development director position has been vacant since Mark Smith's departure last August. Recognizing that revenue shortfalls for both city and county governments make it difficult for them to provide the level of funding they have had in the past, the council opted to fill the position with a part-time director.
Mayfield, who has served on the chamber's board of directors for three years, will focus on bringing new business to Logan County, with an emphasis on developing a public commerce park. He also will work to retain local businesses and help them expand. As an executive shared between the EDC and LCC, he will devote two full days to each entity per week, floating on the fifth day, depending on the workload.
"We are very pleased to have Jeff in the role of economic development director with his energy, enthusiasm and commitment to Lincoln and Logan County," said Lincoln Mayor Elizabeth Davis, chairman of the Economic Development Council. "He will be a great asset in helping us bring economic growth to this area."
With recent legislative redistricting dividing Lincoln and Logan County into several districts, the chamber wanted a person in Springfield who was intimately familiar with the needs of the city and county to assist state elected officials in representing those needs. Madigan will work closely with state Sens. Bill Brady and Larry Bomke and state Reps. Bill Mitchell and Rich Brauer.
"With his experience and contacts, Bob Madigan is a natural to work for us at the state level," said Brian Ash, chamber president. "We expect his efforts to complement our other economic development efforts for Logan County."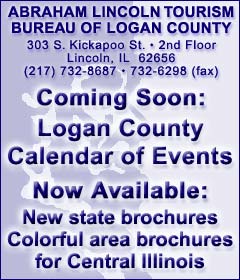 Lincoln Christian College and Seminary first to enter shared executive program with Lincoln/Logan County Chamber of Commerce
Gary Edwards, vice president of development at Lincoln Christian College and Seminary, delivered the following speech in support of Mayfield taking this position:
I am delighted to share in this exciting announcement today. Lincoln Christian College and Seminary is proud to be the first to enter into a shared executive agreement with the Lincoln Chamber of Commerce.
For the past 60 years Lincoln Christian College and Seminary has been a part of this great community. Our faculty and staff have been known for their active involvement in the life of Lincoln.
That which is good for the community is good for the college and the seminary. That is the reason for us entering into this unprecedented agreement. We are committed to the economic health of Lincoln and Logan County beyond just our economic impact on the community, that has averaged $20 million a year for the past three years.
In the late '80s there was serious conversation about moving Lincoln Christian College and Seminary to Indianapolis. The decision was made that we were where we belong. Three years ago the offer to move the campus resurfaced. This question had to be settled before building the Laughlin Center. Once again it was determined we should stay in Lincoln.
This is the right time for us to demonstrate our commitment to Lincoln by sharing a key executive. While the timing is perfect for the chamber, it could not have come at a worse time for us. We have just completed our capital campaign and now must raise an additional $9 million, and Jeff Mayfield is crucial to me in achieving that goal. Nevertheless, I can think of no one is better suited to bring new business to Lincoln and Logan County than Jeff Mayfield.
So it is with pride in Jeff's past accomplishments and what he will accomplish for our community that we announce today we will begin sharing his talents with the Lincoln Chamber of Commerce starting Feb. 1.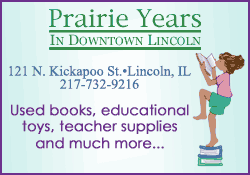 An immediate future, as spoken by Jeff Mayfield
I'm humbled to have been chosen to work with the Economic Development Council representing Lincoln and Logan County.
While the tasks before us are certainly formidable, the potential for what our community and our area can accomplish is unlimited.
We owe a huge debt to the EDC and to people like Todd Lowman, Bobbi Abbott and others who have worked diligently for the last couple of years laying the groundwork for the proposed industrial park.
NOW is the time to mobilize our city and county to create a comprehensive economic development plan. Recently the commerce park has received a lot of attention, but it is only one part (albeit a major one) of a totally successful overall plan.
Success depends on us forging a cohesive, close-knit team that will stay the course, work together, and aggressively and methodically work the plan every step of the way.
Initially, our goals will consist of three major initiatives:
1. Prioritizing the city's and county's strategies for economic growth. And that growth consists of at least two components: the retention of businesses and the attraction of new businesses to our area.
2. Mobilizing city and county government, the EDC and the local chamber of commerce by bringing all entities to the same page of the team's playbook.
3. Developing a procedure to accomplish and measure our goals.
These initiatives will not be accomplished in the first 10 days, nor will they be accomplished in the first 100 days. A former local college administrator once said about Lincoln and Logan County that we "don't tell our story very well." I have not been afraid or even bashful to tell the story of Lincoln and Logan County in ANY way. In fact, I've tried to be an ambassador for Lincoln and Logan County since I first moved here in 1975! I believe in our community and I believe in our people.
IF we bond together, we can replace the long-standing "survival mode" with a new "thriving model!" Our government officials tell us that we have deficit budgets with little or no relief in sight. We need revenue streams now. The future of our town and county depends on us working together to find new income sources. I believe that IF we act quickly and responsibly, we can rapidly position ourselves for future economic stability, if not considerable growth!
Recently, local editorials have quoted a statement from the past that said something like, "It takes a village to raise up a child." Adapting from that, I'd like to suggest that it "takes a village to raise up…a village." In other words, the job that lies before us will NOT be accomplished by one man or by one organization. This must be a countywide project.
Today I'm calling on the great citizens of Lincoln and Logan County to join with me and us to create a POSITIVE economic climate for the future of our children and our grandchildren! May God bless this endeavor, and may God bless Lincoln and Logan County!
Jeff Mayfield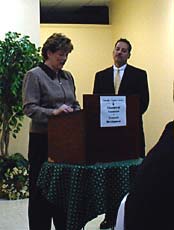 [Photos by Jan Youngquist]
Jeff Mayfield has served as director of partnership since 1999 for Lincoln Christian College and Seminary, where he has created, developed and implemented special fund-raising efforts. He served as director of admissions at LCC from 1995 to 1999 and recruiter and coach from 1989 to 1995. Jeff received his bachelor's degree from LCC in 1979. He has experience as a public speaker, sportswriter, associate minister and youth counselor. His volunteer activities include Habitat for Humanity, YMCA and Fellowship of Christian Athletes.
Although he was born and raised in San Diego County, Calif., Jeff has lived in the Midwest since 1970.
Robert Madigan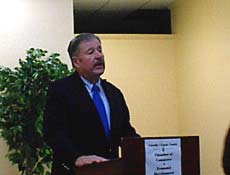 A Lincoln native, Robert Madigan has vast experience as a public official. He most recently served as a commissioner on the Illinois Industrial Commission after representing Logan County in the Illinois State Senate from 1987 to 2001. He chaired the Senate's Insurance and Pension Committee and was a member of the Appropriations, Agriculture and Conservation, Commerce and Labor, Public Health and Education committees.
Madigan is a graduate of St. Patrick Grade School and Lincoln Community High School. He received his bachelor's degree from Millikin University. He was a special education teacher at Lincoln Developmental Center from 1965 to 1966 and worked at State Farm Insurance from 1966 to 1975.
Lincoln and Logan County Economic Development Council
Members:
Elizabeth Davis, mayor of Lincoln, chairwoman
Dale Voyles, chairman of Logan County Board
Dick Logan, Logan County Board representative
Steve Fuhrer, city of Lincoln representative
Todd Lowman, chamber of commerce representative
Bobbi Abbott, chamber of commerce representative
John Dreusicke, at-large member
Jerry Johnson, at-large member
James White, at-large member
Vision:
Through partnering and team building, we will work to provide an economic atmosphere conducive to profitable businesses, enlargement of the tax base and improving the quality of life for the residents of Logan County.
Mission statement:
To promote economic prosperity, social welfare and quality of life in Logan County through a program of encouraging and assisting existing businesses to grow and expand, recruiting new businesses which add to the local economic base and increasing employment opportunities.
[Press release]