Mayor Beth Davis invited Kenneth Gray to attend the meeting. Gray runs a salvage operation that picks up large appliances and scrap metal from local homes and businesses. He uses a pickup truck to collect the salvage and then transfers the items to a large transport truck at his residence. When the large truck is full, which is usually every two days, he delivers the materials to a salvage yard in Peoria.
Gray says he feels that he is being harassed and intimidated by Leslie Last, who works for the city, when Last drives past his home and takes pictures. Last's job is to assure that city ordinances are followed.
The Grays feel that they provide a service to the city. Mr. Gray also believes that he is being singled out by Last. Gray named several other people that in his opinion are in violation of the zoning ordinances like what he is being charged with. He pointed out that in his same neighborhood a semi truck driver parks his truck and keeps it running by computer.
Recognizing that a truck piled with scrap is not an appealing sight and wanting to be good neighbors, the Grays offered to daily cover its contents with a tarp. They asked the council if they could continue to park their truck in their driveway.
Gray continued to say that he felt that Last was discriminating against him.
Several councilmen pointed out that the issue should not be a personal one between Gray and Last. The issue is about zoning. The Grays live in a residential area and cannot run a business from their residence. Bill Bates, the city's attorney, asked Gray if the phone number on his business card was his home phone number. Gray indicated that it was.
Councilman Prather pointed out that the council could not start a practice of changing zoning ordinances for people. The bantering over the issue continued for quite a while.
Mr. Gray finally thanked the mayor for letting them present their concerns and left in frustration.
The council continued to discuss the Grays' request and concerns after they left. They looked closely at the examples of other people violating zoning ordinances that Mr. Gray had pointed out. Many of these examples are of people who live in light industrial districts, such as South Kickapoo Street.
The council tried to come up with ways that Gray's concerns could be addressed. The bottom line is that he runs a business in a residential zone, council member Martha Nietzel said. Bates said those zoning ordinances do not leave you any room for compromise.
Council member Jonie Tibbs expressed her understanding of Gray's concerns.
Council members said they appreciated the service that Mr. Gray provides and that he does a good job. Many members spoke in support of Leslie Last and said that it was Last's job to check on zoning violations and to take pictures of residences that are in violation. They said you deal with this kind of issue as it comes up. You can't go out and resolve every zoning violation all at once. The council also agreed that zoning issues all had to be addressed and treated equally, which they felt Last did.
The mayor said that she would like to see a resolution to this matter, and the council agreed to continue to study it.
The next issue addressed by the council was a letter sent to Jonie Tibbs by Mr. and Mrs. Barry Miller. The letter addressed a concern about people not picking up after their pets. The Millers live in Park Place and indicated that recently people had worked together to beautify the neighborhood. They felt that people were irresponsibly not picking up after their pets when the pets relieve themselves.
The Millers pointed out that recently signs have been posted at Kickapoo Creek Park informing people that they need to pick up after their pets. They wanted the council to consider posting signs in city neighborhoods, on boulevards in particular.
The council discussed this request at length, as it has been presented previously and continues to be an issue that doesn't get better. Alderman Prather said that some city ordinances are impossible to execute.
[to top of second column in this article]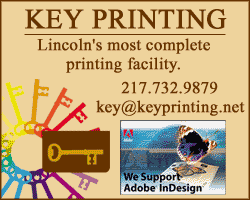 Bates suggested a way that violations of the ordinance could be executed. He said that a third-party witness would need to come forward, fill out a witness report and be willing to testify in court. This would then be given to Leslie Last to look into. If a violation was found, charges could be filed.
The council felt that it would be impossible to post copies of city ordinances in all the neighborhoods. Councilman Fuhrer suggested that people be given a copy of the ordinance when they register their pets at Logan County Animal Control each year. The council will explore this idea further.
Councilwoman Tibbs reported on an animal control committee meeting that she attended. In a one-month period the shelter had taken in 115 animals, 98 of them from Lincoln. Animal Control is running $828.17 short of what they need for the month. Tibbs was impressed by the work efforts at picking up and caring for so many animals, but she is shocked at how irresponsible people are with their pets.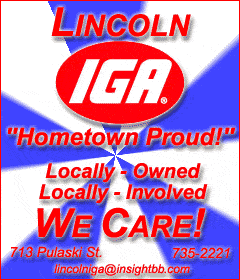 Alderman Glenn Shelton indicated that there would be work done at the Keokuk railroad crossing, beginning at 7 a.m., from Monday, June 30, through Thursday, July 3. Mark Mathon, city engineer, said he spoke with Union Pacific and they will be supplying the detour signs. At his recommendation the detour will use state routes rather than local streets. Traffic will be rerouted to old Route 66 (Lincoln Parkway) all the way around to where it intersects with Woodlawn Road.
Police Chief Richard Montcalm made a recommendation of how the city might keep up its vehicles during tight times. He has done some research and spoken to several local car dealerships about what is available. He has a plan so that the city would not have to spend any money.
Chief Montcalm said he would like to trade in a 1996 Caprice squad car with 147,000 miles and the DARE van that has 58,000 miles for a new vehicle. The 2003 car would not be fully equipped. It would have police lights and minimal equipment. That would become the administrative vehicle he would drive. The car he currently drives is fully equipped and has only 19,000 miles. It would move into the fleet of police cars.
With this plan the city would not have to pay as much insurance, and they would have better cars with less mileage. The council felt that the chief's plan was a good one. They said that they were top-heavy in cars at this time. The council did recommend that Chief Montcalm get proposals from all three Lincoln car dealers before making a trade. He said that is what he intended as that is where our tax base is.
Councilwoman Neitzel reported that the city's insurance is in place for the sesquicentennial. The city must assure that establishments participating in events have insurance and that any fireworks company participating must also have insurance.
Neitzel also reported that the fire and police departments' training procedures have been professionally reviewed and that it was reported that the departments are doing a good job, especially in light of recent cutbacks and a minimal work force.
It was recommended that the city purchase training tapes for the fire and police department employees to view. The council agreed. The fire and police chiefs have plans to use those tapes and implement applicable recommendations from them.
Councilman Prather reported that the public meeting to go over appropriations for city departments would be at 7 p.m. on July 21.
Councilman Crane gave a brief report on plans that the city has to commemorate and honor several historic buildings and homes in Lincoln. Plaques will be given to certain residents for keeping up homes and buildings that have historical significance.
A pamphlet that is nearly ready for distribution will define the specifications for the honor. The buildings and homes must be 75 years old. This is being done in conjunction with the sesquicentennial and is at no cost to the city.
Alderman Armburst also indicated that a plaque will be presented to the Kickapoo Park Creek Park on July 7.
The city council will meet again on Monday, June 30.
[Don Todd]