John Woodfield, owner of Lincoln Antique and Furniture Center at 112 S. McLean, says his similar but larger operations in Chestertown, Md., draw customers from a wide area. In fact, he considers the clearance merchandise and used books in his Lincoln facility such potential draws that he has placed them on upper floors to pull customers past his furniture showrooms.
The third floor carries discontinued items and canceled orders from his Woodfield Furniture Manufacturing in Maryland. Once, he said, he allowed only retailers in his clearance outlet. Now he opens it to the general public.
The used book operation, expected to open by midsummer, will shelve at least 100,000 books. Most come from estate sales.
Lincoln Antique and Furniture Center has been in business since March 20. "We were deluged with friendly, welcoming people at the opening," Woodfield said enthusiastically. Store hours are 10 a.m.-5 p.m. Tuesday through Saturday.
He describes the Lincoln store as a more casual and relaxed business than his East Coast operation. For example, in Maryland he has a refinishing shop with full-time furniture restorers. Here the restored pieces are brought in. There he offers a number of lines of new upholstered furniture; here he has just one line of fine hand-upholstered furniture -- Friendship -- and to simplify ordering, each piece has just one price regardless of the fabric chosen. Even if the customer supplies the fabric, the price remains the same.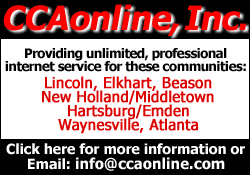 Though the store offers both new and old furniture, Woodfield is partial to the old. As a child he liked exploring his grandparents' attics and basements. By age 16 he was on his own, buying used furniture, refinishing, restoring and selling in flea markets. In 1972 he incorporated Woodfield Enterprises, which now includes a regional antique center, an auction house and a used book store in Maryland. At one time he even owned a restaurant in Annapolis and a fleet of ice cream trucks.
Lincoln Antique and Furniture Center is located in the former Lincoln Furniture & Floor Covering building, which Woodfield purchased from the estate of Glenn Buelter. The building was constructed in 1905 by the Independent Order of Odd Fellows. Originally, the first-floor tenant was Langellier Motor Company, which displayed cars in the front window. Lodge meetings were held upstairs, and the second floor was rented out for social functions.
Woodfield said in Maryland or elsewhere on the East Coast a building like this would cost at least half a million dollars. In a town with the historic nature and charm of Lincoln, he said, private homes would also be almost out of reach.
Woodfield spent over $100,000 refurbishing the building. Projects included removing dropped ceilings; installing drywall, emergency lighting and a fire alarm; replacing heating, air conditioning and some windows; and interior painting. The stoplight in the third-floor window is purely a conversation piece.
When customers enter the store, an employee offers to give them a ride to the third floor and let them walk down. The current elevator must be operated by staff. Eventually, Woodfield said, he intends to install a "real elevator," one that customers can run.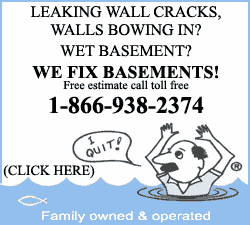 [photo by Lynn Spellman]
John Woodfield
Woodfield said he specializes in finer name-brand furniture, including Ethan Allen, Roxton Temple Stuart and Pennsylvania House. Another specialty is antique paint finishes on both new and refinished furniture. On the second floor are some dedicated rooms with distinctive types of furniture, such as Amish oak. Otherwise, old and new pieces mingle throughout the showrooms. "It's the only store I know like it," Woodfield said. "Nobody's copied the format."
Woodfield chose to come to Lincoln because of a long-standing acquaintance with the Rev. S.M. Davis, pastor of Park Meadows Baptist Church, and a desire to spend time at Davis' church. He met Davis through the latter's national ministry to families. Woodfield quotes friends who told him, "You're the only person we know who could spend some time in another area."
Business interests in Maryland and the fact that the East Coast is the largest source of American antique furniture mean that the family will shuttle between the two locations as the need arises. Currently, almost everything in the Lincoln store comes from the East.

Pete Ross
Pete Ross, former bureau chief of payroll services for the Illinois Department of Human Services, manages the Lincoln store. Other employees are Susie Albert, Dee Baughman, James Harris, Scott Brosamer and Dan Powers. All, including Ross, work part-time.
When in Lincoln, other members of Woodfield's family also work in the store. They include his wife, Theresa, and children Johnny, 20, Julia, 19, and Josiah, 11, who is home-schooled.
Ross said of his new undertaking, "I enjoy it. I went to a lot of auctions and was around furniture anyway." At auctions he looks for bargains, though he said the increasing number of dealers makes them difficult to find.
In the Midwest Woodfield also intends to frequent estate sales and auctions. "At home, I just wait for the phone to ring," he volunteered. "I buy whole housefuls." He said he creams estates, taking the better pieces for his stores and disposing of the rest through other outlets.
He bought Woodfield Furniture Manufacturing from a bank after imported furniture nearly put the 25-year-old company out of business. His formula was to let salesmen go, stop doing shows and downsize the company to cover just repeat business and referrals. "We made the company the size of the market share, not the size of the building," he explained.
Woodfield is a certified appraiser of appreciable personal property but says he no longer has time to appraise estates.
Since opening, the Lincoln store has experienced two successful break-ins and a third attempt. After the first robber took the contents of the cash box, procedures changed to include nightly removal of money.