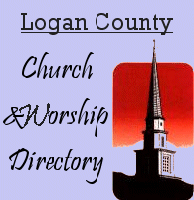 Holy Family Parish
316 S. Logan
217-732-4019
Priest:
Msgr. E. Edward Higgins
Associate:
Rev. Thomas Taylor
Mass:
Sat. 5:00PM
Sun. 7:30AM, 9:00 AM
& 10:30AM
Lincoln Christian Church
204 N. McLean
217-732-7618
Preaching minister:
John Castelein
Worship:
8:30AM & 11:00AM
Website: www.lincolnchristianchurch.org
Trinity Episcopal Church
402 Pekin St., Lincoln
217-732-7609
Pastor: James Cravens
Worship:
7:30 & 9:45AM Sunday
9:00AM Tuesday-Friday

Kingdom Life Ministries
2500 Woodlawn Road
217-732-1466
Pastor: Joe Bennett
Worship:
10AM & 6:30PM Sunday

Lincoln Bible Church
2316 N. Kickapoo St., Lincoln 217-735-5959
Pastor: Don Hoover, phone 217-735-4641
Worship: 10AM Sunday
Sunday School: 9AM
Home Bible class: 6:30PM
Overcomers in Christ:
7PM Tuesday
Teen Club (7th-12th grade); Kids in Christ's Service (1st-6th)
7PM Wednesday
Good Shepherd Lutheran Church Association of Free Lutheran Congregations
1140 N. State St., Lincoln
217-735-9320
Pastor Roger David
Worship:
8:30AM Sunday
Sunday School:
10:00AM
E-mail: gslc@ccaonline.com
Immanuel Lutheran Church ELCA
1409 Pulaski St., Lincoln
217-732-6777
Pastor Dan Wissmann
Worship:
9:00AM Sunday
Zion Lutheran Church
Lutheran Church-Missouri Synod
205 Pulaski St., Lincoln
217-732-3946
Pastor Mark Carnahan
Worship:
8:00 & 10:30AM Sunday
Radio, WLLM-AM 1370:
8AM Sunday
TV, Cable Channel 15:
10:00AM Sunday
5:00PM Monday
First United Methodist Church
302 Broadway St., Lincoln
217-732-2204
Pastor: Jame Hahs
Worship:
8:30AM Traditional
11AM Contemporary
Sunday School:
9:45 AM
website: www.gbgm-umc.org/
lincoln1stumc/index.html
To inquire about listing your congregation's worship information, please e-mail us at ldn@lincolndailynews.com or call us at (217) 732-7443.
---
---
Youth group honoring
mothers and fathers
[MAY 10, 2003] At a coffee on Sunday, May 11, from 9:45 to 10:15 a.m., the St. John United Church of Christ Youth Fellowship will honor mothers and women of the church. Church women also were celebrated at a mother-daughter banquet on April 27. The banquet was sponsored by the St. John Charity Guild
On June 15 fathers and men will be honored at a brunch following 9 a.m. worship at the church, located at Seventh and Maple streets in Lincoln. The St. John Youth Fellowship is again in charge.
---
New pastor speaking for
Mother's Day service

[MAY 10, 2003] The

Rev. Peggie D. Senor, newly appointed pastor of Allen Chapel A.M.E., will present the message for the church's Mother's Day service on Sunday at 11 a.m. Everyone is welcome.

Sunday school, at 10 a.m., will be led by Mario Bonaparte.

The church is at 910 Broadway St. in Lincoln. The phone number is (217) 732-7537.
---
Guild sponsoring ice cream social
[MAY 10, 2003] The Charity Guild of St. John United Church of Christ in Lincoln is sponsoring an ice cream social on Friday, May 16, from 4:30 to 6:30 p.m. On the menu are a choice of barbecue sandwich or hot dog, chips, cake, ice cream, and drink. Members of St. John Youth Fellowship will assist with serving and cleanup.
The cost is $5 per person, with children under 5 eating free. Proceeds from the ice cream social will go toward the new sound system at the church, first used at the community Good Friday service on April 18.
St. John United Church of Christ is located at the corner of Seventh and Maple streets.