CONTACT US
E-mail to ads
LDN is best viewed with
Internet Explorer 5.0 or 6.
---
LDN AWARDS
Local:
Dec. 16, 2001
Local Emergency Planning Committee
Jan. 25, 2001
Logan County Healthy Communities Partnership
State:
Oct. 1, 2001
Illinois Public Health Association
posted daily OVER THE NOON HOUR (CDT)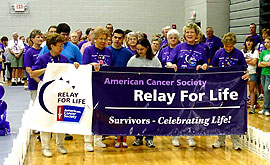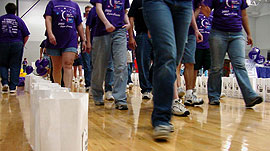 [photos by Bob Frank]
The sixth annual Logan County Relay For Life was this weekend at the Laughlin Center at Lincoln Christian College. Participants walked a path lit by luminaries. Each of these candlelit bags represented not only a person lost to cancer but also a contribution to the American Cancer Society.

LETTERS TO THE EDITOR





Governor unveils $7.4 billion, five-year road program

Road fund raid bad for downstate roads

Letter: Citizens should band together against water rate increase

Marriages and dissolutions

Weekly court reports

Youth group honoring mothers and fathers

New pastor speaking for Mother's Day service

Guild sponsoring ice cream social

High school track and field
LDNs of the past week: